Have you ever noticed that when you buy a new car, the floor mats are often missing? You might think it's just an oversight or a way for the dealer to be cheap.
But there are actually some legitimate reasons why car dealers remove floor mats before delivering new vehicles to their customers.
In this blog post, I'll explore the reasons behind this common practice and what you can do to protect your new car's flooring.
Some car dealers remove the factory floor mats and replace them with fresh ones to make your new car feel even more pristine. Also, dealers may sell the factory mats separately or use them as a bargaining tool to sweeten the deal for you. Either way, removing the floor mats is just a sales technique to reduce the purchase price of the car for you.
A Closer Look at the Profit Motive Behind Removing Floor Mats by Car Dealer
You may have noticed that car dealerships always offer floor mats as an additional purchase or accessory for your new vehicle.
But have you wondered why? It turns out that floor mats are a significant source of profit for car dealers. They can add on extra charges for pre-installed floor mats or sell them separately for a markup.
Additionally, sometimes dealers may offer "discounted" floor mats for a higher price, using psychology to make you believe you're getting a deal.
While it's important to keep your car's interior and floor mats clean and pristine, you should be aware of the profit motives behind these types of add-ons.
Don't be afraid to negotiate or decline these additional purchases altogether.
How Car Dealers Use Floor Mats to Influence Your Buying Decision?
As I previously discussed, keeping your car's floor mats in good condition is crucial for maintaining its overall value. But car dealers don't want you to realize that.
Instead, they use tactics such as removing floor mats from new cars and presenting them as add-ons with a hefty price tag to make more money off of unknowing buyers.
By playing on the fear of damaging your car's interior and the desire for a clean, polished look, dealers are able to convince buyers to pay more for something that should come standard.
However, with some negotiation skills and knowledge about the value of floor mats, you can stand your ground and save some money when it comes to this common dealership tactic.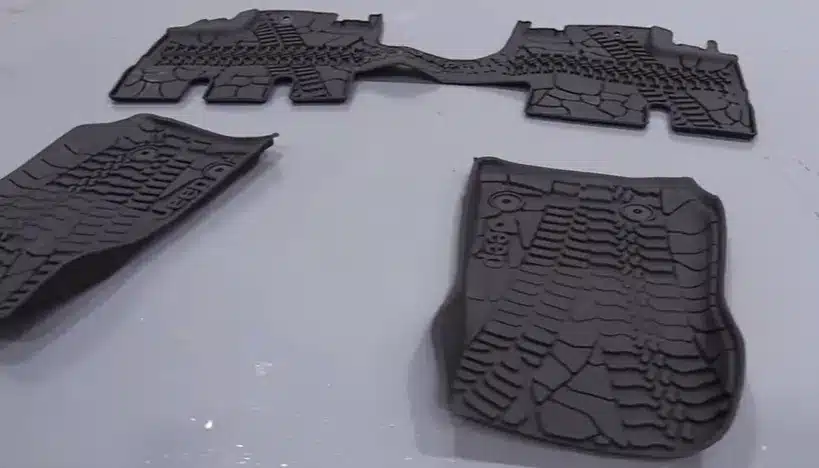 Floor Mat Fiascos: Legal Ramifications for Car Dealerships
When it comes to legal considerations around floor mat sales and removal by a car dealer, there are a few things you should keep in mind.
Dealers are required by law to provide you with certain types of floor mats if they remove them from a car.
This is because the mats are considered part of the vehicle, and removing them could change the car's value or safety features.
It's also worth noting that you have the right to negotiate the cost of floor mats and other add-ons when purchasing a new car.
Don't be afraid to ask for a better deal or to shop around at other dealers for a fair price.
Ultimately, the legal considerations around floor mat sales and removal depend on your specific situation and the laws in your state or country.
But with a bit of research and negotiation skills, you can ensure that you're getting a fair deal from your car dealership.
Floor Mats and Beyond: Expert Tips for Negotiating Car Dealership Add-Ons
The profit motive and psychology behind car dealers' floor mats are sales techniques. So it's time to learn how to negotiate effectively.
You can research and compare the prices of add-ons at different dealer's shops. When negotiating, don't be afraid to ask for a higher price on the car in exchange for throwing in floor mats, protection packages, or other add-ons.
Remember that patience, commitment, and creativity are keys to achieving great things. Additionally, be aware that a dealer is unlikely to deduct a significant amount off the price simply because you don't want an add-on like floor mats.
However, you can try negotiating on other add-ons like fuel or paint protection. Just keep in mind that these extras may also come with their own profit motives and sales tactics.
By remaining firm, friendly, and doing your research, you can negotiate a fair price for your new car without being taken advantage of by pushy salespeople.
What Car Brand Sells Cars with Floor Mats?
Here's a list of car brands that sell cars with floor mats:
BMW: If you're looking for a luxurious ride, BMW offers high-quality carpet and rubber mats designed specifically for your vehicle.
Tesla: Known for their innovative technology, Tesla also offers custom-fit floor mats made with high-quality materials for maximum durability.
Lexus: This luxury brand offers a range of all-season floor mats that are designed to protect your car's interior while remaining easy to clean.
Mercedes-Benz: Experience luxury at its finest with custom-fit floor mats from Mercedes-Benz. They offer stylish and functional options made from the best materials.
Audi: Enjoy a comfortable and stylish ride with floor mats from Audi. They offer all-season and carpet options that are tailored to fit your vehicle perfectly.
| | |
| --- | --- |
| Car Brands | Floor Mats |
| Toyota | Yes |
| BMW | Yes (Upgrade option) |
| Audi | Yes (Upgrade option) |
| Hyundai | Yes |
| Mini | Yes |
| Honda | Yes |
| Kia | Not All |
| Chevrolet | Not All |
Note: Each brand has its own policy, which can change occasionally. Also, offering floor mats with each model varies from time to time and depends on the country. So it's better to ask your dealer whether you'll get a car mat or not with the new car you will buy.
FAQs Related to Car Deler With Floor Mats
I just bought a brand new car; do I need to buy floor mats separately?
It depends on the brand and sometimes the dealer. Most car models come with floor mats designed to fit their vehicles. However, some dealers may choose to defer any accessories, including floor mats, to keep the car's price as low as possible.
Can I negotiate floor mats as part of the purchase agreement?
Absolutely! Most new cars don't come with floor mats unless you have specifically negotiated them as part of the purchase agreement. It's always worth asking to see if they can include them in the deal.
What is the quality of the floor mats that come with a new car?
Factory floor mats are also known as OEM (Original Equipment Manufacturer) mats. These normally come with the vehicle or can be sold to you by the dealership. While some floor mats may be thin and not offer maximum protection, it ultimately depends on the brand and model you purchase.
Why do I need floor mats for my car?
Floor mats take the brunt of mud, dust, and snow, so your nice carpet doesn't have to. A good set of floor mats will make driving your car much more comfortable and protect your car's interior from unnecessary wear and tear.