Lift kits are used to get better ground clearance on your Jeep Wrangler. It's pretty popular among adventure enthusiasts. They like to modify their vehicle before going on a ride. Such modifications make the journey smooth and well-performed.
A 2.5-inch lift is the first choice of modifications. Also, with the right lift kits you can easily lift your Jeep Wrangler. But what are the pros and cons of the Jeep Wrangler 2.5-inch lift with 33-inch tires?
A 2.5-inch lift kit will give you better ground clearance and extra space for bigger tires like 33-inch. It will also affect the overall handling to improve your control of your Jeep Wrangler. However, you might face some mileage loss though it's way less than other, more extensive lift kits.
The installation process is a bit tricky. If you are not experienced enough, you can consult a professional or go to a repair shop for the modification.
Benefits Of A 2.5 Inch Lift
Lift kits are used to increase the stock height of your vehicle to match the desired size while going off-road. However, there are also some other benefits of 2.5-inch lift kits, as it's a bit different from bigger ones. It also matches the 33-inch tires.
Here are some other benefits:
Better Ground Clearance
A 2.5-inch lift kit will give your Jeep Wrangler better ground clearance. That's because it will increase the height from stock ones by about 2.5-inch which will provide enough ground clearance for bigger tires.
Less Mileage Loss
Lift kits with larger tires result in mileage loss. That's because larger tires and lifted height decrease aerodynamics. These tires are a part of the unsprung weight of your vehicle.
Therefore, the extra weight will increase fuel consumption to cover a similar distance. But it's less than other higher lift kits.
Effect On Handling
Obviously, bigger tires with 2.5-inch lifts will show differences in handling capability. You will feel stable and better handling with the lifted version of your Jeep Wrangler.
However, the steering wheel will feel a bit heavier than before. Increased unsprung weight is responsible for such situations.
Room For Bigger Tires
When you install a 2.5-inch lift kit, it gives you room for larger tires. And with the 2.5-inch lift kit, you can install 33-inch tires in your Jeep Wrangler. As a result, it will improve your overall off-road experience.
How to Choose The Right Lift And Tires?
Well, it's crucial to choose the right lift with tires, or else improper settlement might damage your Jeep Wrangler. Therefore, you must consider some facts while choosing the lift and its compatible tires.
Budget
The first thing that will come to you while making such a modification is your budget. Typically, the lift kit accessories are pretty affordable. But the price varies based on the performance you want from your Jeep Wrangler. 
Desired Tire Size
Choosing the right lift kit also depends on your desired tire size. For example, if you want 37-inch tires on your Jeep Wrangler, a 2.5-inch lift kit won't do the job. Without proper room in the frame, it won't scrub each time the wheels turn.
Vehicle's Model And Factory Suspension
Don't forget to consider your Jeep Wrangler's model and factory suspension. That's because some models have factory suspension, enough for minor adjustments. And sometimes the modification might cost you destroying the warranty.
Read Related: Jeep Body Lift Vs Suspension Lift: Differences & Which Is Better?
Intention To Use The Vehicle
A clear-cut idea about your intention to use your Jeep Wrangler is also essential. How much do you want to spend off-road? Or how much will you use it on a daily drive? If you ought to do extreme and frequent off-roading, you would need bigger tires with more extensive lift kits.
Installation Process
Typically, people go to a professional repair shop when they want to install lift kits and bigger tires. However, you can also install them if you have the proper tools.
To install lift kits, you will need the following:
Jack stands
33-inch tires
2.5-inch lift kits
Track bar brackets
Screw kits
Wrench for bolt removal
Springs
Here's what you should do:
Step #1: First, secure the Jeep's position so it doesn't move while installing the lift kit.
Step #2: Use a couple of jack stands and put them under the frame. Lift the Jeep, locking up by the frame, not the axle.
Step #3: Remove the wheels. It's better to start with the rear side.
Step #4: Release any tension holding the axle, like taking off the chalks, springs, brake line bracket, and the sharks.
Step #5: Lower the axle to remove the factory spring and take off the rest of the mentioned parts in the previous steps.
Step #6: Use a jack to separate the frame and the axle.
Step #7: Install the new aftermarket springs with shocks. You can also add track bar brackets for better support.
Step #8: Do the same for the front wheels. Take some professional advice whenever you get stuck on a stage.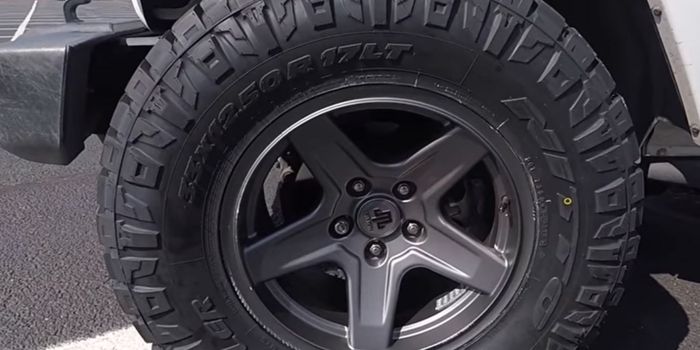 Enjoying The Benefits Of Your New Lift And Tires
A new lift kit with bigger tires will give you a unique experience to enhance. You can now enjoy your off-road adventures without worries because your Jeep Wrangler is ready to support you throughout the journey.
The new bigger tires with 2.5-inch lift kits will give better handling with the steering and better impact resistance on road bumps. So, new adventures will never stop. However, you must go through proper maintenance to extend the life of your modification.
That's because dust and debris can stick to the inner fender as they are now more exposed because of the extra ground clearance.
You must remember that these modifications will cost you not only during the installation but also in the future. It's because of the extra fuel consumption. And the steering wheel will be tough to control at first.
Conclusion
Lift kits are suitable modifications for those riders who want to enhance the performance of their Jeep Wrangler during their adventures. If you are one of them, you start with a 2.5-inch lift with 33-inch tires.
Hopefully, the discussion on the Jeep Wrangler 2.5-inch lift kit with 33-inch tires has given you enough idea about the pros and cons of the modification. So, why wait? Get your lift kit now and install it to see the result. Enjoy your adventures while maintaining safety!