If you want to enhance your Jeep suspension, there are two ways to go about it. Adding a body lift to your Jeep is one way.
The alternative is to install the other type of lift called a suspension lift. The stock suspension components are swapped for longer ones, considerably boosting clearance.
A suspension lift stretches the suspension, whereas a body lift elevates the entire car, separating the body from the frame. As a result, body lifts increase your vehicle's ground clearance and handling.
On the other hand, the suspension lift raises the Jeep's height and offers the highest Vehicle lift options.
After reading this article about Jeep body lift vs suspension lift, choosing one for your Jeep depends on your personal preferences.
Body Lift At A Glance
Installing body lift equipment between the Jeep frame and body requires unbolting the Jeep body from the Jeep frame. Using body lifts is a standard method of mounting bigger tires on the Jeep.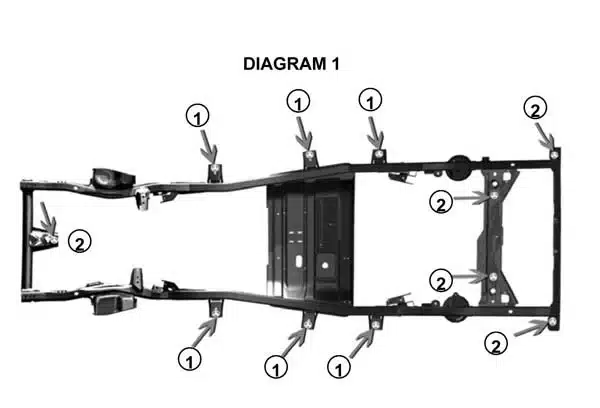 They are also a great choice for Jeep enthusiasts who want to boost their Jeeps only for aesthetic reasons. It lets them show off their frames since they become more prominent after a Jeep body lift is installed.
Body lifts sometimes apply when Jeeps lack factory clearance to fit bigger tires. But the most significant drawback is that it increases the center of gravity.
So before buying a lift kit, you must know how it works and its pros and cons.
Pros
Provides a small amount of space between the fenders and tires
Easy to install and inexpensive
Eliminates friction issues with large tires
Boost the Jeeps' aesthetics
Retain Jeeps' factory suspension geometry
Cons
It doesn't have a predicted impact on on-road performance
It looks unsightly due to a noticeable gap between the body and frame
Trouble shifting manual gearbox unless you change shifter hole
Suspension Lift At A Glance
To increase the ride height, you can use a suspension lift. It is carried out to enhance the off-road capabilities of trucks, SUVs, and other off-road vehicles or for aesthetic reasons.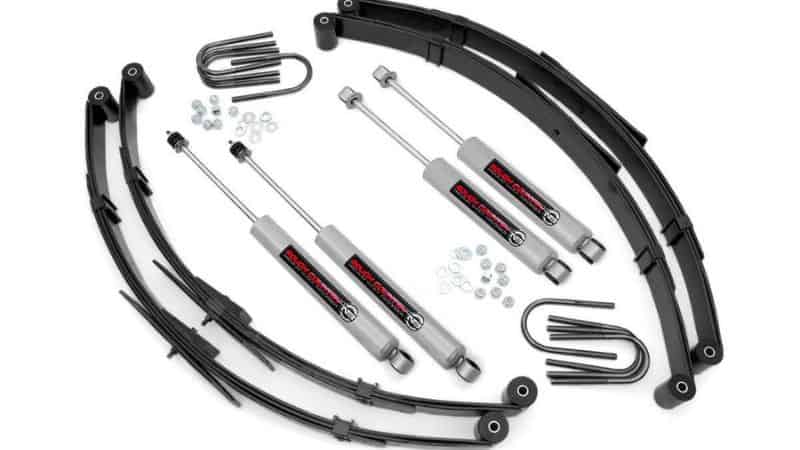 Higher ground clearance, takeoff, steeper approach, and break-over angles, as well as room for bigger wheels and tires, are all possible with suspension lifts.
A suspension lift provides you with more safety and ground clearance. But it is not without its drawbacks too. Because of the modifications, your Jeep might not pass the safety inspection.
So here are the advantages and disadvantages of suspension lifts at a glance.
Pros
Increased suspension of driving off-road
Provides room for big tires to fit
It makes it possible to improve handling
It offers more ground clearance
Provides more safety
Highly recommended by the users
Cons
Costly and challenging to install
Can cause additional wind resistance
Steering geometry may be compromised
Control arms might need to be adjusted
A Short Comparison Table Between Jeep Body Lift & Suspension Lift
Both body and suspension lifts have advantages, but which is better depends on what you intend to perform.
A body lift should work if you only want to achieve a bit of off-road driving. But you might require the extra strength of a suspension raise if you intend to engage in more vigorous off-road driving.
Here's a comparative analysis to better grasp the differentiating points:
| | | |
| --- | --- | --- |
| Topic | Body Lift | Suspension Lift |
| Cost | $100 – $750 | $300 – $2000 |
| Labor cost | $180 -$630 | $400 – $2500 |
| Safety | Less | More |
| Time to install | 2 – 7 hours | 10 – 15 hours |
| Ground clearance | Less | More |
| Road used | Regular | Rough off-road |
Jeep Suspension Lift Vs Body Lift: Key Difference
Jeep body lift and suspension lift offer a more comprehensive ride and greater room for massive tires and wheels. But they differ in pricing, how the car behaves, and how they affect the center of gravity.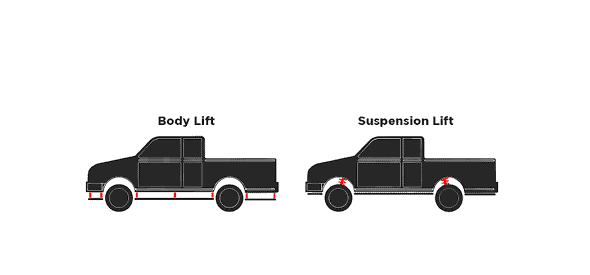 To assist you in selecting the lifting technique that is perfect for you, we'll go over a few of these features in more detail.
1) Ground Clearance
Because body lifts only raise the body, the distance between the floor and the bottom of your car stays the same. Whereas, a suspension lift raises the vehicle's frame 1 to 3 inches, increasing the amount of ground clearance.
Leveling kits only raise the front suspension. That's because the lowest point on the chassis of a Jeep with a sloping stance is the front. But you will still have overall ground clearance equal to the height of the leveling kit.
2) Lift Size
A suspension lift is the most excellent solution if you want the maximum ride height conceivable.
Technically, a body lift may be built to provide you with an extremely high ride quality, but that would just seem silly. Most cars can elevate their bodies a maximum of 3 to 5 inches whereas suspension lifts have a maximum lift of 9 inches.
However, they will be expensive and require significant steering and suspension modifications. In addition, they are primarily used for extreme rock crawling or to create the appearance of an SUV or high-riding truck.
The stability issues that a significantly increased center of gravity imposes at great heights cannot be eliminated, not even by the best-designed kits. The weight transfers to the outside, which may impact stability during a hard, rapid turn.
3) Road
When deciding between a suspension lift and a Jeep body lift, it's crucial to consider how the vehicle will be used. A suspension lift would be a better choice if it is used off-road.
The most fantastic option will be a body lift if you want to preserve your car's aesthetics while raising it just enough to relieve pressure on the power steering.
4) Cost
The cost of lifting your Jeep/truck will vary depending on whether you want to increase the ride height or the ground clearance.
The least expensive way to raise the ride height is to use a body lift, but the only way to increase ground clearance is by using a larger tire or a suspension lift. If upgrading on a tight budget, the cost of setting out the lift will be considered.
By far, body lifts are the most successful in this regard. They generally come with basic body block kits, and their suspension and steering rarely need to be changed.
5) Installation
The body lift is easy to install and takes 2-7 hours. On the other hand, a suspension lift takes 10-15 hours which is very difficult to install.
A suspension lift kit will cost you an average of $300-$2000, and the labor cost will be $400-$2500. On the other hand, a body lift will cost only $100-$750, whereas the labor cost will be $180-$630.
So, if saving money is your plan, you should go for a body lift.
6) Handling
When raising a vehicle, a maxim is frequently cited: "Lift as much as required, but as little as feasible." Although it may appear like someone is putting a damper on your plans to attach a crane to your cab, this is actually wise counsel.
It is related to the center of gravity of your car. Every vehicle is designed to handle as well as possible based on where the gravity center is positioned.
Since the car's mass is being lifted, the center of gravity is altered by every lifting technique. That's because greater weight is set higher on the vehicle, and body roll during turns will be increased as a result.
You can read How To Lift A Jeep Wrangler – 10 Quick And Easy Tips
Conclusion
Many new Jeep owners are unaware that a factory Jeep is not intended for the intense off-road use frequently depicted in newspapers and television. So you need a Jeep accessories lift kit to drive your Jeep along those bumpy routes and up those steep hills.
Overall, a suspension lift is something we'd advise simply because it's much safer, provides you more ground clearance, is more attractive, and is easier on your truck. While it is more costly than a body lift, the sum of all these benefits justifies the price and makes it worthwhile.
So, Jeep body lift vs. suspension lift, what is your choice? After reading this article, we hope you can now make your decision. Now hurry up, and buy the suitable lift kit for your car!