Jeep Wranglers have excellent off-road capabilities and ruggedness. A reliable jack is essential for any Jeep owner not only to change tires but also to be a lifesaver in emergencies. 
However, with so many options on the market, it can be challenging to know which one you should choose. You can consider some important facts when looking for the best jack for Jeep Wrangler. 
Jeep Wranglers are heavy, so it's essential to find a jack that can support the weight of your Jeep. Second, you should consider the type of terrain you'll be driving on. If you plan off-roading, you should have a jack that can handle uneven surfaces and rough terrain.
I have done extensive research and testing on it. After that, I identified the top five jacks for Jeep Wranglers. These jacks have been tested for weight capacity, durability, ease of use, and versatility. 
Whether you're a seasoned off-roader or a casual driver, you will find a jack on this list that will meet your needs. Let's dive into the top five jacks for Jeep Wranglers and find the one that is perfect for you.
Our Top Picks
Arcan Floor Jack (best lightweight jack) – This Arcan Floor Jack is pretty light but sturdy as a rock with aircraft-grade material. It allows easy movement and adjustment for Jeep Wrangler.
BIG RED Bottle Jack (best for commercial lifting) – Big Red Bottle Jack is my personal recommendation for its secure gripping. It has a great deal within everyone's budget.
Hi-Lift All Cast Jack (best for heavy vehicles) – This jack can lift your Jeep higher and allows you to work under it easily. It's safe and durable with high-quality material.
Best Jacks for Jeep Wrangler
Arcan 3-Ton Quick Rise Aluminum Floor Jack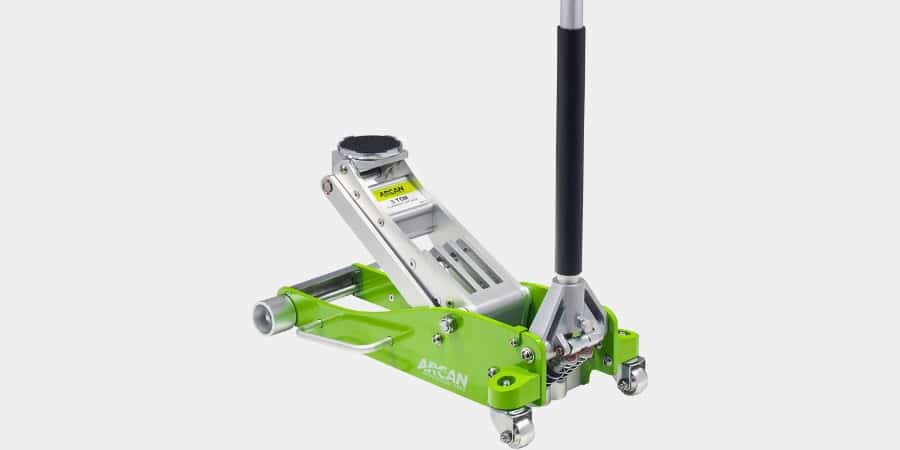 My elder brother recently purchased the Arcan 3-Ton Quick Rise Aluminum Floor Jack. It has Dual Pump Pistons & a Reinforced Lifting Arm (A20018). 
This jack is made of lightweight aircraft-grade aluminum, making it easy to move around, and you can adjust it with ease. The lifting capacity of this jack is 6,000 lbs, which is perfect for lifting a Jeep Wrangler. 
The dual pump pistons can quickly raise the floor jack saddle to load, while the reinforced lifting arm increases strength, chassis torsion control, and durability. You can position the jack conveniently with the help of the side-mount handle.
You can lift your Jeep with a low height of 3.75" and a high height of 18". This jack also complies with ASME PASE-2019 safety standards.  That means it's safe to use.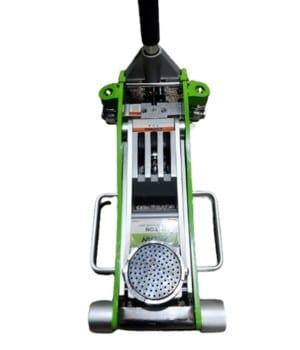 I really like this jack because I can move it easily and have to put less effort into operating the handle. You may have to give more strokes to achieve the same level, but that shouldn't be a big deal. 
You will feel secure while using this jack because it's solid and well-built. My brother said he is really happy with the purchase, and he has recommended this jack to me as I need a reliable and sturdy floor jack.
Pros 
Lightweight and durable.
It can rise faster than other jacks.
Can lift up to 3 tons
Easy sliding under low-clearance vehicles.
Cons
BIG RED T90403B Torin Hydraulic Welded Bottle Jack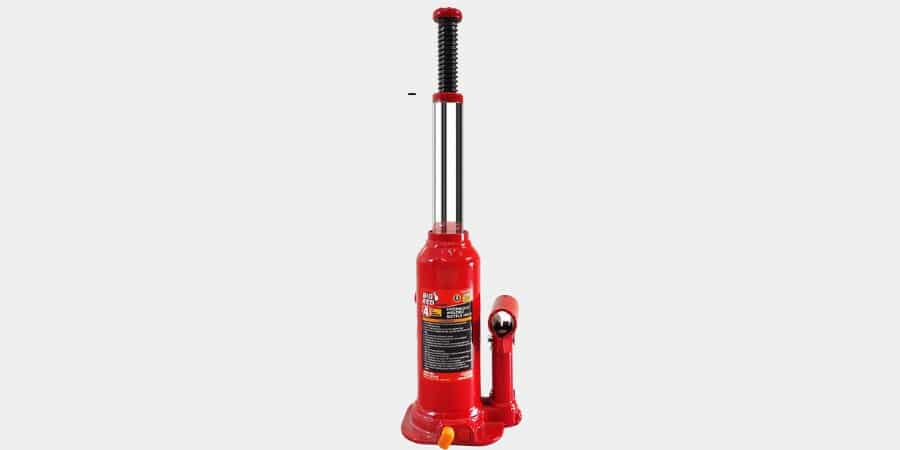 I'm excited to share my experience with the BIG RED T90403B Torin Hydraulic Welded Bottle Jack. This jack is perfect for both residential and commercial use. 
It has a lifting range of 7-1/2″ to 14-5/16″ with a 4-ton (8,000 lb) capacity. There is also a serrated, heat-treated saddle that provides a secure grip and generous lifting area.
Once, I used two of these jacks to raise a 3000 pounds walkway slab. It was quite a heavy job, but the jacks made it easy with their glide-action pressure pump. It can lift with minimal effort. 
 This jack has a wide lifting range. The adjustable screw top extension makes it possible.
You will love the jacks' drop forged alloyed steel construction. The engineered construction ensures quality and durability. 
Big Red T90403B jack delivers leak-free performance as it has an inner and outer welded structure. This jack is a great deal for the price of your Jeep Wrangler.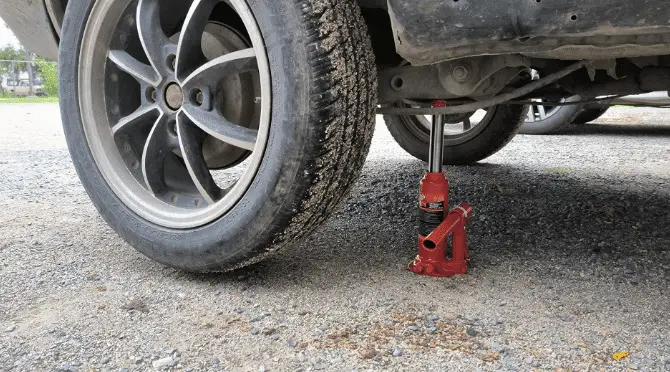 You will have a yearlong warranty and won't have to worry about safety; it matches ASME PASE safety standards. I highly recommend you this jack for lifting a Jeep Wrangler.
Pros
It can lift up to 4 tons.
The compact size makes it easy to store and carry.
Durable and rust resistant.
Affordable price.
Cons
Slower than other jacks.
No carrying handle.
BIG RED T10152 Torin Steel Scissor Lift Jack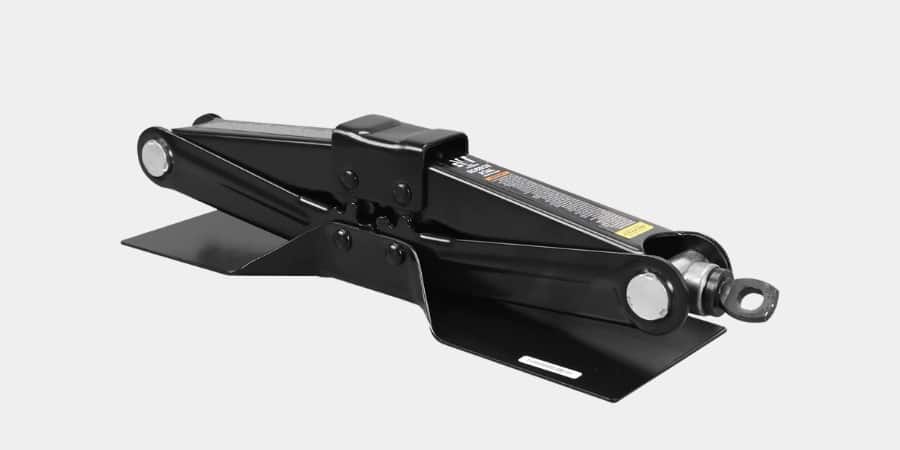 BIG RED T10152 Torin Steel Scissor Lift Jack Car Kit is a compact and collapsible jack. You can use it as a replacement or an extra utility jack, and it will fit perfectly in the trunk of your Jeep. 
This jack has a lifting range of 4-1/8″ to 15-1/8″ and a 1.5-ton (3,000 lb) capacity. It's perfect for emergencies. 
In this jack, you will get a drop-forged alloyed steel construction which ensures durability and quality. Big Red T10152 is stable as the extra-wide base adds stability and strength. 
You will also get a one-piece handle that delivers quick response and speed. Many users have recommended this jack as it saves time and their back.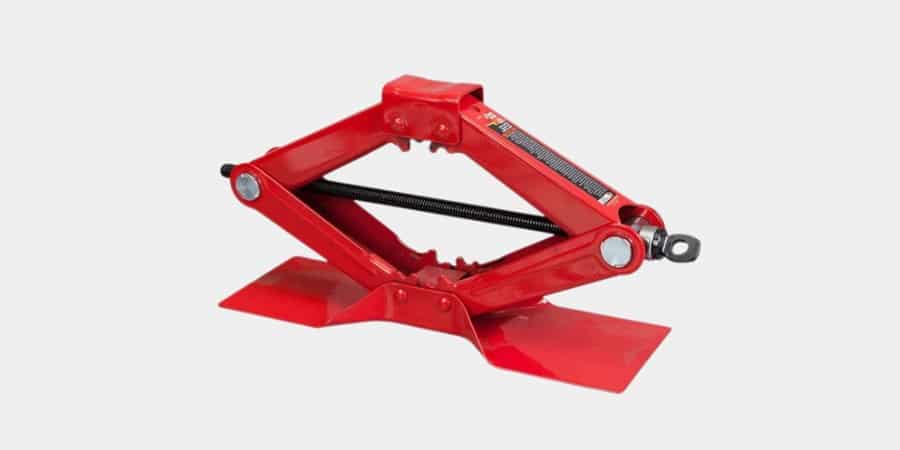 You don't have to worry about your safety while using this jack. It matches ANSI/ASME PASE standards. You can crank your Jeep right off the ground just within 30 seconds! The best thing about this jack is it's pretty easy to use.
Pros 
Made from heavy-duty steel.
Rust resistance finish.
Easy to use.
Affordable and relatively inexpensive.
Cons
Not suitable for larger vehicles.
HI-LIFT JACK HL485 48 In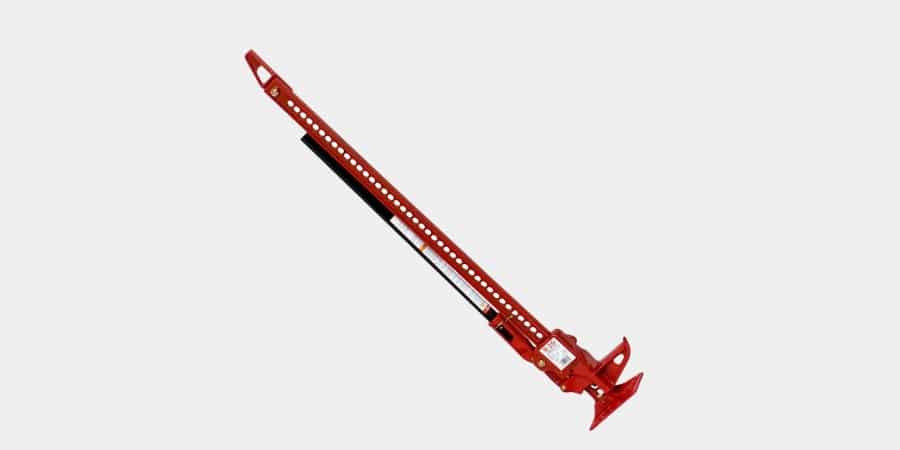 If you have a Jeep Wrangler and you love adventure and off-roading, HI-LIFT JACK HL485 is a great tool for you.  
It's made of sturdy cast iron and can lift up to 4660 pounds. This makes it perfect for big vehicles like trucks and jeeps.
One of the things I love about this jack is its adjustable top clamp/clevis, which makes it easy to clamp and winch. I also appreciate the safety bolt that's designed to shear at 7000 pounds, which will ensure your safety while using it. 
Another great feature is the 4-1/2 in. long lifting nose. It provides positive contact with the load. You can reverse the steel bar if you want to extend its life.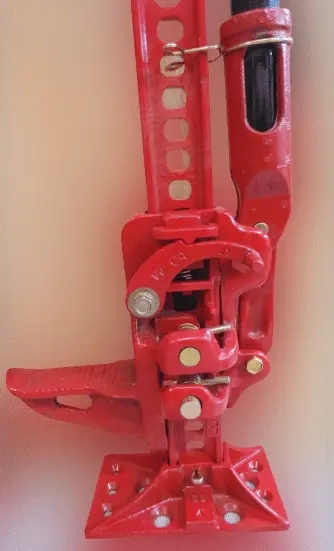 This jack is light in weight and easy to maneuver, which makes it perfect for on-the-go adventures on your Jeep Wrangler. 
Pros
Maximum lifting height.
Suitable for lifting heavy objects and heavy vehicles.
Durable construction with high-quality material.
Cons
Heavy and bulky; difficult to transport or store.
Sunex 6602LP 2 Ton Low Rider Steel Service Jack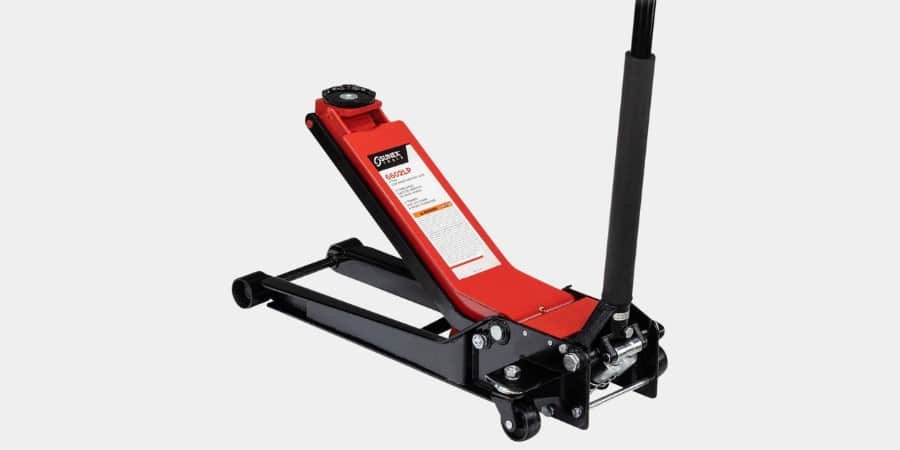 I recently got my hands on the Sunex 6602LP 2-Ton Low Rider Steel Service Jack, and let me tell you, it's a game changer. 
First off, let's talk about the features. The 2.75″ min-height is perfect for sports cars and flat tires, while the 24″ max height is versatile enough to lift pick-ups and SUVs and, of course, your Jeep Wrangler. 
The rapid rise technology and dual pump pistons help it reach a maximum height in just 6.5 pumps. The 18″ throw is long enough to reach all lift points under the vehicle. 
It fits right under the bumper up to that front jack point of your Wrangler. So, you don't have to mess around with planks of wood or ramps or jacking one side then the other. 
But let's get personal for a second. This is not your average jack. It's a high-quality piece of equipment. You will also see a quick-disconnect button on the handle which is thick steel and solid.
And the paint is smooth, with no drips or runs, and there were no sharp edges or poor-quality stampings. All the welds looked good. 
And let's talk about weight. This jack is not heavy, in fact, it seems about on par with most similar-sized steel jacks. You can roll it easily, even on your rough and sloped driveway. 
Pros
Low profile design.
Durable steel construction.
Sturdy and long-lasting.
The dual pump ensures quick lifting.
Cons
Cannot lift more than 2 tons.
Should have been some safety features there. 
Buying Guide
When choosing the best jack for your Jeep Wrangler, you must consider some important features. Here are some factors to keep in mind:
Weight Capacity
The weight capacity of the jack is an important consideration. You should make sure that the jack is capable of lifting your Jeep's weight. A weight capacity that exceeds the weight of your Jeep is a suitable option.
You can read about whether Jack up a Jeep by the differential or not.
Height Range
The height range of the jack is also important. Sometimes you may need to work underneath your Jeep. So, the jack must be tall and lift your Jeep high enough.
It is important for you to work under your Jeep comfortably. So, look for a jack with a height range that meets your needs.
Portability
If you plan on taking your jack with you on off-road trips, portability is an important factor. Look for a jack that is lightweight and easy to store. 
You can find some jacks with carrying cases or bags to make transportation easier.
Construction
The construction of the jack is important for durability and safety. You should look for a jack that is made from high-quality materials and has a sturdy construction. 
You can also go for a jack that has a coated finish. It will protect the jack against rust and corrosion.
Price
You must look for the price and choose according to your budget. Price is always a consideration when making a purchase. Look for a jack that fits within your budget but doesn't sacrifice quality for a lower price. A high-quality jack will last longer and be safer to use.
Now, let's take a quick look at the following table to understand more about these facts:
| | |
| --- | --- |
| Feature | Consideration |
| Weight capacity | It should be more than your Jeep's weight |
| Height range | The height should fulfill your needs. |
| Portability | Lightweight and easy to store |
| Construction | Choose a jack with sturdy and durable construction |
| Price | It should be within your budget |
FAQs
Here are some common questions about getting the right jack for your vehicle.
What kind of jack do I need for my Jeep Wrangler?
It depends on your personal preferences and needs. Don't forget to check the fitment to ensure it will work on your specific Wrangler model.
Is the weight capacity of my jack important?
Yes! It is important to select a jack that can meet the weight requirements of your Jeep Wrangler. You can look for a jack that has a weight capacity of five thousand pounds. It's more than enough for a Jeep Wrangler. 
How can I mount my jack to my Jeep?
There are many mounting options available, such as a bolt-on mount or a hood bracket mount. You must select a mount that is compatible with your jack and your Jeep Wrangler model.
Summary
A jack is a must-have tool for every car lover. When you are driving a vehicle like Jeep Wrangler, you must have plans to go off-roads where a good jack can be a real lifesaver.
I have collected some of the best jacks here to help you here. All 5 jacks are safe and suitable for changing the tires of a Jeep Wrangler. I would personally recommend you use the Big Red Bottle jack. It can take the weight of your Jeep easily and it's affordable as well.
Don't forget to share your thoughts and experiences in the comments section below! And as always, stay safe and happy exploring.