Jeep Wranglers are pretty reliable when exploring the wild and going off-roading. They are also used in towing cars, tractors, removing doors, roofs, etc. But what about the boats? Can a Jeep Wrangler tow a boat? Is it durable enough?
A Jeep Wrangler can tow small boats like pontoons, ski boats, personal watercraft, small fishing boats, sailboats, and airboats. However, you need to learn the towing capacity of your Jeep Wrangler model because they all have different towing capabilities. You can also increase the towing capacity with some modifications.
Don't use a two-door Jeep Wrangler for higher-weight boats, or you might damage the chassis. It would be best if you also learned the dry boat weight before towing. Ask for help from professionals if you are confused.
Is It Possible To Tow A Boat With A Jeep Wrangler?
Yes, a Jeep Wrangler can easily tow a boat. It has the power and capability to tow any small craft or fishing boat. But there should be relative ease and capacity of the Jeep Wrangler.
Several deciding facts work behind your Jeep Wrangler's towing capacity. If you want to know whether your Jeep can tow specific boats, you need to consider these two things:
The average dry weight of the particular boat you wish to tow
Your Jeep Wrangler's towing capacity
It also depends on Jeep doors. For example, if your Jeep Wrangler is of two doors, it can't tow the boats like the four-door Jeeps.
That's because the maximum towing capacity of a four-door Wrangler is higher than that of a two-door Wrangler. It also depends on the Jeep tires and the fuel capacity of your Wrangler.
Types Of Boat A Jeep Wrangler Can Tow
Before knowing the specific towing capacities, you need to learn about what type of boat you can tow. Let's have a look at those boat types:
Pontoon Boats
These types of boats are pretty suitable for different water activities. You can even ride them with all your family members. So, the weight is pretty high. A pontoon boat can even provide better stability in fishing and skiing.
It's suitable for four-door Jeep Wranglers as a small pontoon can weigh about 2000 pounds. So, you better not try towing them with a two-door Wrangler.
Ski Boats
The minimum weight of a ski boat is about 1700 pounds. And it can weigh up to 3000 pounds. So, a two-door Wrangler can't tow these boats. Even a four-door Wrangler can struggle while pulling.
So, it would be best to choose ski boats of lower weight for Wrangler towing. The four-door Jeeps will be compatible with most ski boats.
Personal Watercraft
Personal watercraft (PWCs) are suitable Jeep towing boats. That's because all the PWCs are lightweight. Their weight doesn't exceed 1000 pounds.
Some PWCs even weighed about 450 to 500 pounds. So, you can easily tow them with a two-door Jeep Wrangler.
Small Fishing Boats
You can also call the fishing boat a bass boat. They are most popular in fishing. And the fishing boats are compatible with towing with all types of Jeep models, whether Jeeps are of two or four doors.
However, you need to check the boat's weight when they are dry. That's because sometimes the bass cat jaguar boat can weigh about 2150 pounds which can't be towed with a two-door Jeep Wrangler. Such a heavy towing bass boat with a Jeep Wrangler should be a four-door model. 
Sail Boats
This could be a tricky one because of their colossal weight variations. Because of their low weight, models like minicat-310 can easily be towed with a two-door Wrangler.
However, the higher models can be unsuitable for such Jeeps, weighing around 2000 to 4000 pounds. So, you would need four-door Jeep Wrangler models to tow those sailboats.
Lastly, check the freshwater capacity and fuel weight. They can quickly turn the table of your Jeep Wrangler's towing capacity.
Air Boats
An average airboat weighs around 2000 pounds, which is suitable for two-door Wranglers.
If there are extra weights on the boat trailer, you would need the four-door Jeep Wrangler. In fact, they are qualified to tow most airboats.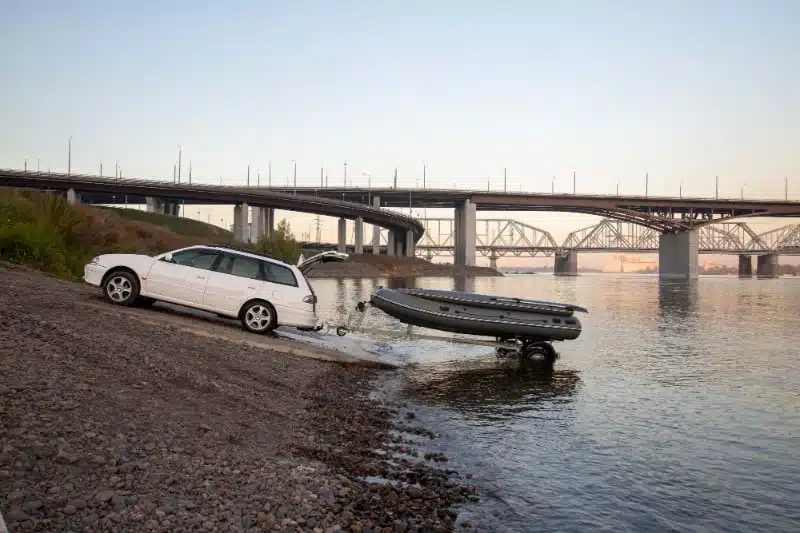 Towing Capacity Of A Jeep Wrangler
There are variations in Jeep Wrangler models, which is why each has a different max towing capacity. So, it's crucial to know the towing capacity of your Jeep Wrangler according to the model.
Jeep Wrangler TJ Model (1996-2006)
The TJ model of Jeep Wrangler has a towing capacity of 2000 pounds. The short wheelbase is the primary reason for such low power while it has the same engine (4L) as the Jeep Cherokee.
A Jeep Cherokee has the maximum towing capacity of 5000 pounds because of the longer wheelbase. It can easily handle the higher weight.
Several owners tried to increase the Jeep Wrangler's towing capacity. But it seems to be an impossible task.
Jeep Wrangler YJ Model (1987-1995)
It's one of the oldest models of the Jeep Wrangler. A YJ model can easily tow 2000-pound boats. The Jeep Wrangler tow capacity can be increased up to 2700 pounds (according to some owners).
But it would be wise to discuss the towing capacity with the manufacturers before you ought to tow a heavy boat. 
Jeep Wrangler JK/JKU Model (2007-2017)
This Jeep Wrangler has two variants: JK and JK Unlimited. The towing capacity of the Jeep JK is about 2000 pounds. The company has introduced the Unlimited model because the capacity is a little low.
The Jeep JK-Unlimited's towing capacity is about 3500 pounds which can handle many heavy-duty boats. So, use the Unlimited version while towing the sailboats or other boats weighing over 2000 pounds.
Jeep Wrangler LJ Model (2004-2006)
Typically, people know this model as a long Jeep. It has a much longer wheelbase than most Jeep Wrangler models. The towing capacity of a Jeep Wrangler LJ model is about 3500 pounds.
It's the first Jeep Wrangler to touch just high towing capacity and is near to a Cherokee model.
However, the Jeep has low subpar stopping power on brakes and weak chassis. So, the experts advise not to exceed the maximum towing capacity and stay under 3000 pounds.
Jeep Wrangler JL/JLU Model (2018-Present)
The latest Jeep Wrangler model comes in two variations: JL and JL Unlimited. A typical JL model has a towing capacity of 2000 pounds. That's because it has a short wheelbase.
If you want more power, you can use the Unlimited version. The Jeep Wrangler's Unlimited towing capacity is about 3500 pounds. It's possible because of the longer wheelbase.
Here's a visual representation of the boat towing capacity of Jeep Wranglers.
Expert Advice During The Towing
You need to maintain some safety during the towing of a boat. And some tips will help you with the procedure.
Always check the hitch and clip. Don't forget to check the trailer lights and connect the trailer safely. Sometimes the trailer tires might get loosened. So, check the tires properly. It would help if you kept some extra tires for emergencies.
Don't start the procedure before knowing how much a Jeep Wrangler tow. Otherwise, there would be some unwanted incidents.
Secure the hitch and tighten the boat properly. Don't leave any loose straps on the trailer. Go through the connection twice or thrice for confirmation.
Frequently Asked Questions (FAQs)
Bottom Line
Jeep Wranglers are pretty impressive rides on rough terrains. That's why most people use the Jeep Wranglers on adventures like mountain trips. You can even use it for towing cars. But is it applicable for boats!
Hopefully, the discussion on whether a Jeep Wrangler can tow a boat has answered your concerns. It would help if you chose whether to use the two doors or four-door Jeep Wranglers to tow a boat based on the weight and towing capacity.