Wrapping your Jeep Wrangler is a popular way to alter the appearance of your vehicle. While many factors will affect the total cost, this article will estimate what it would cost to wrap a Jeep Wrangler.
What is a Jeep wrap?
A Jeep wrap is a vinyl graphic that covers the exterior of your Jeep. You can customize it to any color, design, or style you wish and it will protect your car's paint from scratches and weather damage. In addition, the proper installation of warps on your Jeep can make it look amazing and turn heads everywhere you go!
Reasons to Get a Jeep Wrap
There are many reasons to wrap your Jeep. However, the following are a few of the most important ones:
1. Protection from the Elements: Jeep wrapping protects your paint job from sunlight, rain, and snow. This is extremely important since it keeps your Jeep looking brand new for a longer time.
2) Increased Resell Value: A wrapped Jeep is more appealing to potential buyers than an unwrapped Jeep. Thus, you can expect to receive a higher price for your vehicle when it is time to sell it.
3) Advertising and Marketing: A high-quality Jeep wrap will act as a mobile billboard, helping you promote your business or product wherever you go. This is an effective way to get your brand out there and increase awareness.
4) Personalization: A Jeep wrap is a great way to personalize the vehicle and make it uniquely yours. You can choose the colors, design, and even add your personal touches. It is a great way to make your Jeep stand out from the crowd.
5) Protection from Scratches and Dings: A Jeep wrap will help prevent scratches and dings on your vehicle's paint. As a result, your Jeep will look its best for many years.
6) Easy to Remove: Jeep wraps are easily removed, which allows you to return to the stock look whenever you want. It is a great feature if you ever decide to sell your Jeep.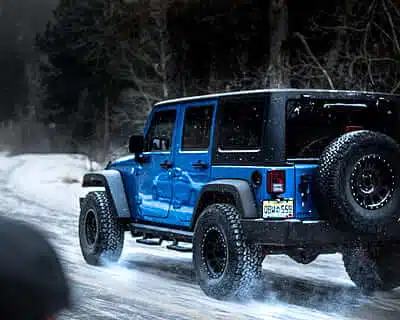 Before wrapping your Jeep Wrangler, consider the following factors
There are a few things to consider before wrapping your Jeep Wrangler.
Painting Vs. Wrapping a Jeep Wrangler
When it comes to Jeep Wrangler customization, there are two popular routes: painting or wrapping. Each has its own advantages and disadvantages, so how do you determine which is the best option for you?
Painting your Jeep Wrangler is the best option. Once the paint job is complete, it is unlikely that you will wish to change it again anytime soon (or ever). The color options are virtually limitless, and with the right painter, your Jeep will look like a completely different vehicle. However, this can be an expensive, time-consuming process that may not be suitable if you intend to keep your Jeep stock in terms of appearance.
Wrapping your Jeep Wrangler is a less permanent solution that can be easily undone. Many wrap designs are available in every color imaginable, so finding the perfect look for your ride will be easy. Moreover, wraps will not damage your paint job like a painting might (although they should still be applied by a professional), and they are much cheaper than a complete paint job. However, wraps are susceptible to wear and tear and may not last as long as you hope.
So, which is right for you? Only you can decide. Take into consideration your budget, time frame, and desired appearance before making any decision.
Type of wrap
Before you wrap the Jeep Wrangler, there are several things you should consider. The first and most important consideration is the type of wrap you desire. Three types of wraps are available: vinyl, carbon fiber, and leather.
Vinyl wraps are the most common type of wrap; they're affordable and come in various colors and textures.
Carbon fiber wraps give your Jeep Wrangler an edgy appearance.
Leather wraps add a touch of luxury.
Once you have decided on the type of wrap you wish to purchase, it is crucial to find a reputable vendor who can provide you with high-quality wraps at an affordable price. Research online to find customer reviews and compare prices before making a purchase.
Custom Print Vinyl
Many different materials are available, but custom print vinyl is often the best option. You can print any design or logo you desire with this durable material, ensuring your Jeep looks exactly how you want. Another important factor to consider is the price.
Although custom printed vinyl can be more costly than other materials, it is important to remember that you get what you pay for. Vinyl with custom-designed graphics will last longer and look better than lower-quality materials, so it is well worth the investment.
Available options for wrapping your Wrangler
Wrapping your Jeep Wrangler is possible in two steps; one is a full wrap, and the other is a partial wrap.
Full Wrap: A complete wrap will give you maximum coverage while protecting your vehicle's paint from scratches, nicks, and UV rays. A full wrap starts at $2000 and up.
Partial Wrap: A partial wrap is a less costly method of achieving some of the benefits of a full wrap. You can choose to cover only the hood, roof, or other sections of your Jeep. The cost of this option starts at $500.
Tools You Need to Wrap Your Jeep Wrangler
There are a few things you will need to wrap your Jeep Wrangler.
– Vinyl cutter or plotter
– Tape measure
– Scissors or knife
– Squeegee
– Soap and water solution
– Heat gun
– Laminate (optional)
Tips For Vinyl Wrapping a Jeep Wrangler
Several guides are available to help you wrap your Jeep with the vinyl wrap technique. Below are some tips we compiled to make the process as smooth as possible.
Before starting your Jeep, you should thoroughly wash it. This will help the vinyl adhere more effectively and last longer.
Use a mild soap and water solution to clean the surface. Do not use any harsh chemicals or cleaners.
Dry the Jeep completely before starting to apply the vinyl.
Start with a small section of vinyl and work your way around.
Use a squeegee to smooth out any bubbles or wrinkles.
Be sure to trim the vinyl around any curves or edges.
When you are finished, step back and admire your handiwork!
What is a vinyl wrap?
Vinyl wrap is a material that can be applied to the exterior or interior of a vehicle. It is made of strong, weather-resistant materials that can be customized in various colors and designs. Wrapping your vehicle in vinyl protects from scratches, dents, other damage, and insulation and privacy.
What are the benefits of a vinyl wrap?
The benefits of getting a vinyl wrap for your Jeep Wrangler are numerous. The obvious benefit is that it will protect your paint job from scratches, dents, and other damage. It can also enhance the appearance of your vehicle, making it appear as if it were brand new. Furthermore, a vinyl wrap can help keep your car cooler in the summer and warmer in the winter.
Moreover, when you apply a vinyl wrap to your Jeep, it will possess an attractive look that will contribute to its distinctiveness. Jeep owners often choose this option because it is a great way to display their personality and make their vehicle unique.
Another benefit may be that they are looking for protection against scratches or other forms of damage. Wrapping your vehicle in vinyl is also easy to update its appearance if you grow tired of the original design.
Answered: How Much Does It Cost To Wrap A Jeep Wrangler
The cost of a vinyl wrap for a Jeep Wrangler varies due to many factors, so there can be no definitive answer to this question. However, typically, the price of such a project will range from $1,500 to $3,000.
There are many reasons why someone might want their Jeep Wrangler wrapped in vinyl. Perhaps they would like to change the color or style of their vehicle without having to paint it.
What factors affect the cost of Jeep Wrangler vinyl wrapping?
Various factors influence the final cost of Jeep Wrangler vinyl wrap installation. Factors such as the size and complexity of the project and the materials utilized may play a role.
Factors of vinyl wrap
Quality: In terms of quality, there are three types of vinyl: cast, calendered, and pressure-sensitive. Cast vinyl is the most expensive but also the highest quality. It has a thin vinyl layer and can conform to complex shapes. Calendared is typically cheaper. However, it is also of lower quality. When wrapping your Jeep Grand Cherokee, Jeep Wrangler, or any vehicle, it is thicker and more difficult to work with. As a middle option, pressure-sensitive offers a good balance between quality and price.
Brand: Many vinyl brands are available, each with a different price point. The more popular and well-known the brand, the higher the cost.
Color: Certain colors are more expensive than others. For example, chrome and other specialty colors can be more expensive.
Design of vinyl wrap
Another important factor is the design of the wrap. A more intricate and detailed design will require more labor and time to install and be more costly. Thus, it is important to work with an experienced professional who can help you create a design that will fit within your budget and look fantastic on your vehicle.
Size of your Jeep Wrangler
Depending on the size of your Jeep Wrangler, vinyl wrap installation may cost more or less. In general, the larger the vehicle, the more material is needed to cover it, and therefore the higher the cost. Also, a complicated or unusual design will increase the installation time and cost.
Additional services if needed
One of the most important factors is the work required to wrap the vehicle. For example, if the car is heavily customized or has intricate details and curves, it will take longer and need more materials, which will result in a higher cost.
Additional services may also affect the price. For example, if you desire graphics or lettering added to your wrap, the cost will increase. Additionally, if you need someone to remove the old vinyl before installing the new wrap, that service will be included in the price.
Local area (Market)
Depending on the location, the cost of vinyl wrapping a Jeep Wrangler will vary. For example, if you live in a large city such as Los Angeles or New York City, the cost will be higher than in a small town or rural area. Due to the higher level of competition for service providers in larger metropolitan areas, they can charge higher prices.
Labor Force
Additionally, the labor force affects the price. If you need more people to install the vinyl wrap, it will be more expensive.
How can one reduce costs when wrapping a Jeep Wrangler?
Wrapping your Jeep Wrangler is one of the best ways to keep it looking new. The process protects your vehicle's paint and protects it from the elements. However, before spending much money on a professional wrap, you can follow several ways to reduce costs.
Consider vinyl wrapping rather than painting your Jeep: A vinyl wrap is expensive and lasts longer. For a professional look, find a company that specializes in Jeep wraps. You can save a great deal of money by performing the work yourself if you are handy and have the time. However, keep in mind that this is a significant undertaking and will require some time to complete.
Use a coupon: Many companies offer special deals if you are a first-time customer. You should research and see if you can find a contract before committing to a company.
Get different designs and colors for your vinyl wrap: To reduce the cost of wrapping your Jeep Wrangler, you should get different designs and colors for your vinyl wrap. It will save you money in the long run.
Avoid extra services: When you get your Jeep wrapped, you may be tempted to add extra services such as a clear coat or an anti-UV treatment. However, these additional services can add up and cost you far more than the wrap itself. So, unless you really need them, you should skip them and save yourself some money.
Partial wraps: If you are seriously trying to reduce expenses, you may want to consider partial wrapping. It will only cover a part of your Jeep, but it will still provide some protection and style. Furthermore, it will be much less expensive than a full wrap.
Avoid getting a very tight wrap: If you get a wrap that's too tight, it will be more likely to peel off. Not only will this look terrible, but it will also void the warranty. You should thus loosen up your budget a bit and choose a wrap that is not too tight.
Alternatives to Vinyl Wrapping
A few alternatives to vinyl wrapping can enhance your Jeep Wrangler's appearance at a lower cost. The following are some of our favorites:
Paint Protection Film (PPF): A paint protection film is a thin, clear film applied to the painted surfaces of a vehicle. It protects the paint from scratches, chips, and other damages. You can either hire a professional to install PPF or do it yourself with the help of some basic tools.
Carbon Fiber Wrapping: Carbon fiber wrapping gives your vehicle an exotic appearance without cost. It is made from lightweight carbon fiber material that is easily wrapped around any surface on your car. Since it is not permanent, you can change the style whenever you want.
Custom paint job: This is the most expensive option, but it will also provide a unique appearance. You can choose any color or design that you want to have applied to your vehicle. It is a great choice if you are searching for something truly original.
FAQ
Why is vinyl wrapping so expensive?
There are several reasons why vinyl wraps are expensive. Firstly, they require a great deal of labor to install properly. In addition, the installation of a wrap requires a significant amount of experience and expertise, which is why labor costs are often high.

Another reason for vinyl wraps' high price is the materials used. Vinyl is not a cheap material, and it requires considerable effort and time to apply properly to a vehicle. Moreover, customers can choose from many different colors and textures. As a result, the price is somewhat higher.

Lastly, many people choose vinyl wraps because they want their Jeep or other objects to stand out. Since each wrap is tailored to the needs of a specific customer, the cost is even higher.
Is it cheaper to paint a Jeep Wrangler or to have it wrapped?
There is no definitive answer to whether it is cheaper to paint or wrap a Jeep Wrangler. Costs for wrapping a Jeep Wrangler depend on its size, complexity, and materials used, whereas costs for painting a Jeep Wrangler depend on the type of paint, labor, and other factors.
Conclusion
So, what's the bottom line? How much does it cost to wrap a Jeep Wrangler? As you can see, numerous factors contribute to the overall cost of covering your vehicle. The type of material you select, the size and complexity of the design, and even your location can all influence the final cost.
Having said this, we can give you a general idea of what to expect. You can expect to pay approximately $1,500 to $2,000 for an average-sized Jeep Wrangler (around 17 feet long) wrapped in vinyl without graphics or designs. If you need something more complex or high-end, like carbon fiber or 3M Di-Noc wraps, you will have to pay a more significant amount – anywhere from $3,000 to $5,000 or more.