Jeep enthusiasts are very concerned about Jeep's appearance and love to customize them whenever possible. Jeep wrapping is another great idea to give your Grand Cherokee a stylish look. However, there are various Jeep Grand Cherokee wrap ideas available. Which one would you prefer?
The most famous and common Jeep wrapping idea comes with vinyl. It has various color and texture options in every price range. You can also get a custom-made wrap for your Grand Cherokee Jeep. A high-quality PPF and carbon fiber wrap option are also available for you.
If cost isn't a fact, you should get a durable one with rich quality that gives the Jeep enough protection. You shouldn't just change the wrap after a few months. Learn the cost-deciding facts for making better decisions.
---
Wrap Ideas For Jeep Grand Cherokee
Wrapping your Jeep Grand Cherokee will provide a stylish look and protection from minor damages and dirt. It may cost a bit, but it's worth every penny.
However, there are many options for wrapping your Jeep Grand Cherokee. It would be best to know the option before starting the Jeep wrap. Here are the common ideas of Jeep Grand Cherokee wrap:
1. Vinyl
Vinyl films are the most common wraps of cars and Jeeps. They come in a great variety of colors and textures. It's also pretty easy to install these polymeric wraps. On top of that, you will find several affordable vinyl wraps om the stores.
There's also the option of partial or full windows tint wraps. The partial wrap is available for those who want to cover the top and bottom sides. But you can get the full window tint if you want some privacy.
2. Matte
Many Jeep enthusiasts consider the matte wrap a classic one. They don't provide any sparkles or any unwanted attention to your Jeep. Instead, it's made with polymeric resin and vinyl to create a light-absorbing surface.
And because of that, matte wraps last longer than most glossy Jeep wraps.
2. Glossy
When it comes to glossy wraps, jolly-minded people like it pretty much. They want the sun's reflection on their Jeeps, especially when there is sparkle texture on the wraps.
That's why it has greater popularity than vinyl or matte wraps. But, unfortunately, the installation cost is also higher because of its popularity.
3. Custom
You can also make custom wraps for your Jeep Grand Cherokee. Numerous custom colors for your Jeep wrapping give you the freedom to choose the suitable one.
Custom paint wraps are pretty much available in the market. You can create your color and give it to the laborers or choose from their collections.
First, make sure the paints are suitable for your Jeep surface. Otherwise, any reactive component might ruin your precious Jeep.
4. Carbon Fiber Vinyl Wrap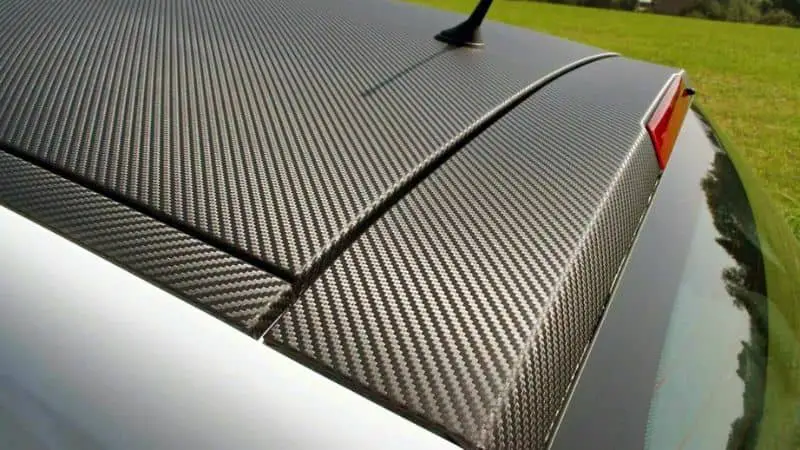 Carbon fiber wraps are getting popular because of their unique texture and stunning appearance.
Jeep Grand Cherokee is not originally made of carbon fiber. But you can give it a look of carbon fiber with the special vinyl wraps. The wraps are pretty durable and protect from small scratches or dust. However, getting the carbon fiber wraps will be a bit costly.
5. Paint Protection Film (PPF)
PPF would be one of the advanced wraps for your Jeep Grand Cherokee. That's because the PPF is made of thermoplastic polyurethane materials.
This component can protect from chemicals, toxins, UV exposures, rock chips, light scratches, etc. So, its popularity is increasing day by day. You can use the PPF for your Jeep's paint protection.
---
Related Cost Facts
Wrapping the Jeep Grand Cherokee isn't cheap. Therefore, it would be best to consider several facts alongside the wrap type for your Jeep.
Here's a short review of those facts that will affect your Jeep wrapping cost:
Color
Color is one of the prime factors of wrapping cost. White and black color is always the cheapest option for the Jeep enthusiasts like you.
However, metallic touch on white or others gives an extra value. On top of that, different color combinations are also pretty expensive.
Design
Generally available designs are not very costly. But if you want some custom colors with different designs and images, you need a huge bite from your wallet.
You can ask for help from any graphic designer to give you a look you want. However, even the simplest one with graphic design will be expensive.
Texture
Texture means glossy, carbon fiber, matte finish to your wraps. Each of them has a different price range. You need to spend likewise if you want more texture on your Jeep wraps.
Otherwise, get the cheapest one with a low-quality texture. As you spend money and time on wrapping, you should get a better one.
Size
Another crucial concern is the Jeep size. For example, if you have a two-door Jeep, you will have to spend less on both wraps and labor.
The larger ones with four-door will cost more. For example, a four-door Jeep can cost you $2000-$8000, whereas a two-door Jeep will cost you half.
On top of that, the cost will also vary whether you want full window tint or partial wrap because it will decide the size.
Installation
When wrapping your Jeep, you need to rely on professionals. However, they charge an hourly rate. So, if the process gets lengthy, the charge will go up.
Such occurrence is applicable for the Jeeps with various curves and tough-to-reach areas. In this way, the installation will take more time than usual.
Brand
Brand value is also a fact to consider in terms of Jeep wrapping. But, again, you can compare it with tattoos.
If you want long-lasting, durable, and high-quality wraps, you need to spend a bit extra than average. But if you choose to get a normal one for the being, you can get it done on average cost.
---
Pros And Cons Of Jeep Wrap
Though the wrap provides an attractive appearance to your Jeep Grand Cherokee, it also has some drawbacks.
Pros
It gives a new and different look to your Jeep Grand Cherokee. 
You can choose from several colors, textures, and styles.
Wrapping can cover the faded paint surface and protect the new paint from scratches and dust.
Wraps don't fade over time like the paints.
Wraps are temporary modification means you can change them anytime you want.
Carbon fiber wraps can give the feeling of having carbon fiber-made Jeeps.
Cons
Wraps don't last as long as the paint of your Jeep.
Wraps are pretty expensive, and so is the installation cost.
It takes much time, effort, and patience to install the wraps.
They are prone to fading and scratches.
---
Finally, Jeep Grand Cherokee is perfect for adventurous rides. That's why Jeep lovers want their ride partners to look their best. And wrapping is the best option to change the Jeep Grand Cherokee's appearance than other modifications. You can choose the look and style of the Jeep as you wish.
Hopefully, the Jeep Grand Cherokee wrap ideas discussion provided all the necessary information. So now you can choose the suitable wraps for your Jeep Grand Cherokee. And consider the cost of deciding facts while getting the wraps.
Featured image source: Reddit