Jeep Grand Cherokee is the perfect and powerful SUV with several editions and trims like Grand Cherokee SRT. So, you can make the best use of your money. Today we will compare two of the best trims.
Trailhawk and Trackhawk both have slight differences in features. The Trackhawk is suitable for the roads, but Trailhawks go well with the offroad journey. Yet, the most significant difference is in their engines. For this reason, the fuel economy changes drastically.
Before diving in deep, let's see a general overview of Jeep Trailhawk vs Trackhawk. Then, we will compare the two models. So read along to know more!
Jeep Trailhawk Overview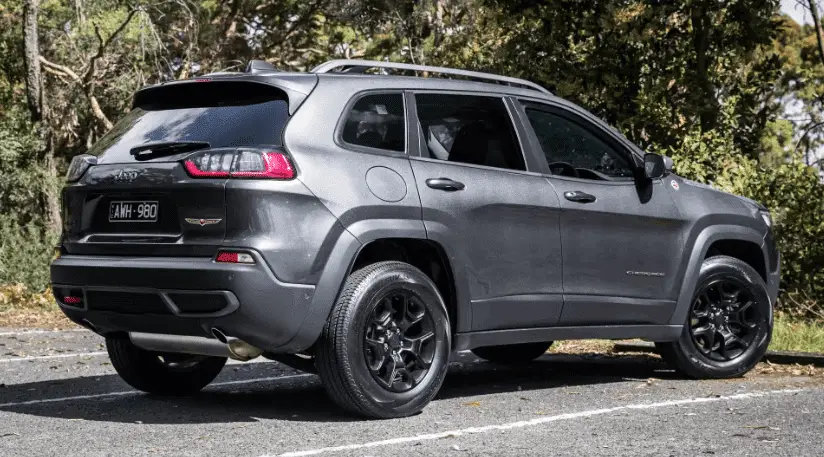 You will find the trim Trailhawk in models like Compass, Renegade, Cherokee, and Grand Cherokee. But we will only talk about the Grand Cherokee Trailhawk.
Jeep Trailhawk comes with a standard 4WD light display and exceptional off-road features like skid plates, improved traction, control on hill descent, and more!
Pros
Decent off-road performance
Better fuel economy
Thinner wheels
Less weight
A lot cheaper
Cons
Less powerful engine
Lower towing capacity
Jeep Trackhawk Overview
Trackhawk is the ultimate SUV with both speed and luxury. This high-performance Jeep was designed with a 4WD system too. Some random Jeeps can not compete with Trackhawk based on speed and raw power.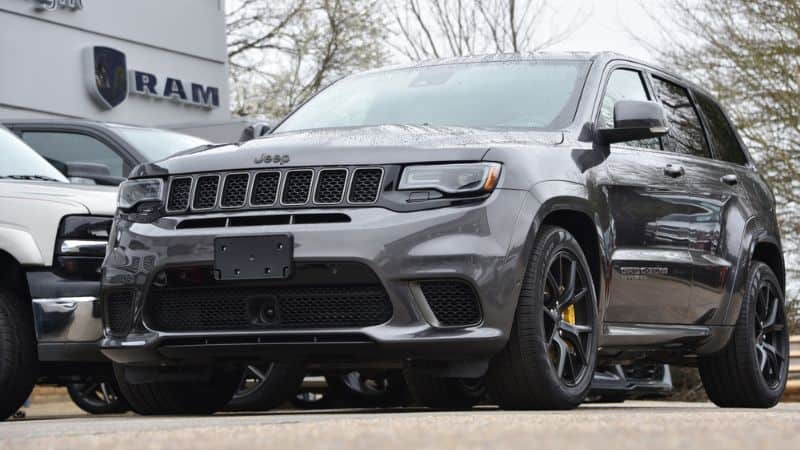 The on-road experience of the Jeep Trackhawk is mind-blowing. The performance of the V8-cylinder Engine will steal your heart. Again, both high-performance SUVs have an excellent system for Launch Control.
Pros
Most powerful engine
It speeds up really fast
Better towing capacity
Wider wheels suit roads better
Beast on the road
Cons
Really expensive
Poor fuel economy
Comparison Between Jeep Trailhawk and Trackhawk
You are getting almost the same feature on both of the Jeeps. But what are the differences? Well, we will discuss the similarities and dissimilarities of the Jeeps here.
Performance
The engine of the Trailhawk 2021 edition is a 3.6 L V6 cylinder. You may upgrade it to a 5.7 L V8 Engine with extra money. Trailhawk can speed up to 137 miles per hour.
Jeep Trackhawk has 707 horsepower and 645 lb-ft of torque and a 6.2 L V8 Gasoline Engine. The immense power generates a whooping top speed of 180 mph.
Moreover, you can speed up the high-performance SUV from a standstill up to 60 mph in only 3.5 seconds.
Off-Road Features
You will get six-piston front brake calipers from Brembo brake in both Jeeps. Brembo brakes have exceptional power, an absolute necessity while driving offroad. But, again, the four-wheel drive provides extra control.
Trailhawk and Trackhawk have a slight difference regarding the off-road features. You will get a better suspension in the Trailhawks. Trackhawks feature lowered suspensions with wider tires.
In addition, both Jeeps come with ample storage, delivering the most comfortable ride experience.
Fuel Economy
Are you looking for better mileage? Then Trailhawk will be the perfect choice for you because you will get around 21 MPG combined mileage in the Trailhawk, which is about 8 MPG more than the Trackhawks. That means you will get only 13 MPG on the Trackhawks.
Moreover, in the city, you will get 18 MPG on the Trailhawk and 11 MPG on the Trackhawk. In the case of a highway, Trackhawk delivers 17 MPG, and the other gets 25 MPG. So, the Trailhawk is more cost-efficient if you think of it.
Wheels
The Jeep Grand Cherokee Trackhawk has wider wheel sizes. For the front and rear wheels, the wheel size is 18X8 inches in Trailhawks. On the opposite side, Trackhawk wheels have a dimension of 20X10 inches.
So, Trackhawk wheels are 2 inches more than the Trailhawk wheels on both dimensions. The quality of Trackhawk wheels is slightly better too. You will find good safety features on both of them.
Towing Capacity
You can have an easy guess. Which one do you think will have a greater towing capacity? Here is a hint – the more the engine power, the more your vehicle can tow.
Well, you guessed it right. The Trackhawk can tow up to 7200 pounds. On the other hand, Trailhawks have a 6200-pound towing capacity.
Weight
Trackhawks are heavier than Trailhawks. It is a reason why Trailhawks do better off-track.
Five thousand four pounds is the base curb weight of the Trailhawk. Not surprisingly, Trackhawks weigh about 300 pounds more. Trackhawks have a base curb weight of 5356 pounds.
Pricing
"Double the power, double the price." Trailhawk starts from $47,350, and you must spend $88,365 to get the 2021 edition of Trackhawk.
The price may seem unfair when you compare the two Jeeps. But, on the other hand, they are almost identical, and all the features are similar. So, where are you investing all this money?
Well, Trackhawks have the most incredible machines with a lot of horsepower. The tires and brakes are slightly better.
Additionally, you will get an upgraded power system. That's why Trackhawks will cost you almost double the price of the Trailhawks.
Jeep Trailhawk Vs. Trackhawk Comparison Table
Here is a table for easy comparison between Jeep Trailhawk and Trackhawk:
| Key Feature | Features | Jeep Trailhawk | Jeep Trackhawk |
| --- | --- | --- | --- |
| | Type | 3.6L V6 Gas Engine | 6.2L V8 Gas Engine |
| | Transmission | 8-Speed Automatic | 8-Speed Automatic |
| | Towing Capacity | 6200 lbs | 7200 lbs |
| Fuel Economy (MPG) | City | 18 | 11 |
| | Highway | 25 | 17 |
| | Combined | 21 | 13 |
| Tank Capacity | – | 24.6 | 24.6 |
| Wheels | | 18X8 inches | 20X10 inches |
| Pricing | | $47,350 | $88,365 |
Which One To Choose?
Trailhawk and Trackhawk are both cool Jeeps with a lot of features. Moreover, you are getting almost every component of Trackhawks in the Trailhawks minus the expense. So, you can go for the cheaper option. But what if you have the budget for both of them? Which one should you choose?
People who regularly go on an off-track journey should go for the Trailhawk because they have better suspension, thinner tires, and more mileage.
Yet, if you drive more on the roads, you should go for the Trackhawks. It is because you will get the ultimate speed and wider tires. Additionally, the small mileage number can not hurt you on the roads.
Final Words
By now, you should know the difference between the Jeep Trailhawk vs Trackhawk. Which one do you think is the best? Let's see what the users think.
Some customers said they prefer Trailhawks. The reason for their opinion is the cost efficiency of the Jeep. Moreover, 130+ MPH top speed is enough for most of them. On the plus side, you are getting a towing capacity of 7200 pounds!
Yet, some customers think that a Trackhawk is a better investment. They are not looking at the money but the best of the best performance of a Trackhawk. If you are going to buy a Jeep, take a closer look. Thus you will know which one suits you better.
FAQs
Is a Jeep Trackhawk bulletproof?
Yes! The 2021 Jeep Trackhawk is bulletproof, offering Level B6 armoring, designed to protect against 7.62×39, 5.56×45, 7.62×51, and M80 Ball rounds. It also features a 175db PA system, LED lighting, and other features for ultimate security.
Does the Jeep Trailhawk have a Turbo?
Yes! The 2019 Jeep Cherokee Trailhawk offers an all-new option – a 2.0L Turbocharged 4-cylinder engine that produces 270 horsepower and 295 pound-feet of torque. This turbocharged engine is exclusive to the Trailhawk and replaces the defunct V-6, giving you better fuel economy than before.
Does the Trailhawk have a sunroof?
Jeep Grand Cherokee Trailhawk does not come standard with a sunroof. However, the 2021 Cherokee Limited does come standard with CommandView Dual-Pane Panoramic Sunroof. If you are purchasing a used Jeep Grand Cherokee, you can likely find a model with the Dual-Pane Panoramic Sunroof, which spreads across the entire roof and allows you and your passengers to soak in the sights, sun, and stars.
Is the Jeep Trailhawk good for off-roading?
Absolutely! The Trailhawk offers a great ride and handling for its class, with wider wheels, all-terrain tires, increased ground clearance, Active Drive Lock with a rear locker for more traction, and a 56:1 crawl ratio that gives you a controlled throttle response when driving off-road. Plus, it has two levels of ride height adjustability and enough traction customization to get you out of almost any situation.
Is a Trailhawk a V8?
Yes, the Trailhawk was previously available with both V6 and V8 engine options. It offers a range of available engine options, including an efficient everyday V6 engine, an available high-performance V8 engine, or the 707-horsepower supercharged 6.2L V8 HEMI MDS VVT. With this powerful engine, the all-wheel-drive Trackhawk rockets to 60 mph in just 3.5 seconds and can hit a top speed of 180 mph.
Does a Trackhawk have a V12?
No, the Jeep Grand Cherokee Trackhawk is powered by a supercharged 6.2-liter Hemi V8 engine. However, there is a one-off sleeper car with a V12 race engine. This car was made in limited quantities of between 99 and 150, and 25 of them were exclusively for the track.
How many HP is in a Trackhawk and Trailhawk?
The Trackhawk is powered by a 6.2-liter supercharged V-8 engine that produces 707 horsepower and 645 lb-ft of torque. The Trailhawk is outfitted with the Pentastar V-6 engine, which produces 295 net horsepower.