Goodyear's Duratrac and BFGoodrich's KO2 are two of the most popular options for off-road tires. Both brands have established themselves as reliable choices for 4×4 enthusiasts.
They have some similarities but also have some notable differences that can affect their performance on the trails.
In this blog post, I'll compare their key features, strengths, and weaknesses to help you choose the right tire for your needs.
Whether you're a weekend warrior or a serious off-roader, this guide will provide valuable insights to help you make the right decision.
BFGoodrich KO2 At A Glance
BFGoodrich is an American tire company that was founded in 1870. BFGoodrich has a record of exceptional performance and several victories in international competitions.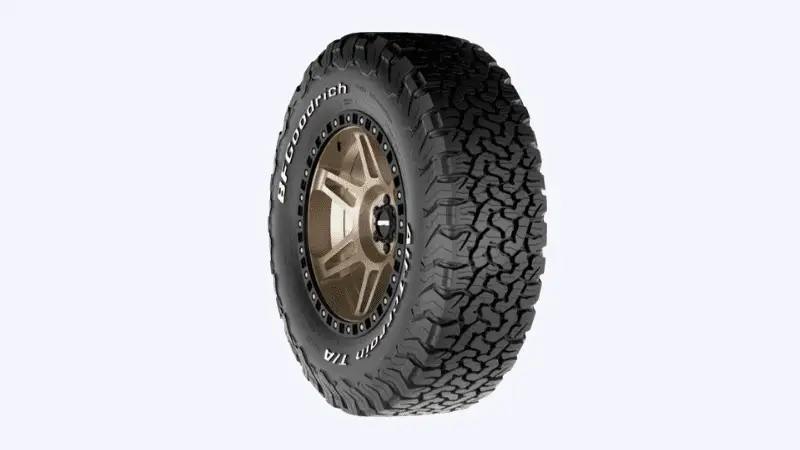 You can see a lot of customers gave numerous positive reviews of their multiple tires. It includes the BFGoodrich All-Terrain KO2 tire, BFGoodrich Advantage Sport LT, BFGoodrich g-Force Sport Comp-2, and others.
The KO2 tire is specially built for Jeeps, SUVs, and pickup truck drivers. You can use it on- and off-roads across all terrains.
It can boost your driving confidence by giving you more control. You can thank it for its all-weather traction and rugged durability.
PROS & CONS
PROS
Excellent off-road performance
Outstanding traction
Wear balance rate
Tough tread design
CONS
Heavyweight noise Need additional sizes
Goodyear Wrangler DuraTrac At A Glance
The Goodyear Wrangler DuraTrac performs well in any environment. It has excellent off-road performance and refined on-road traction and handling.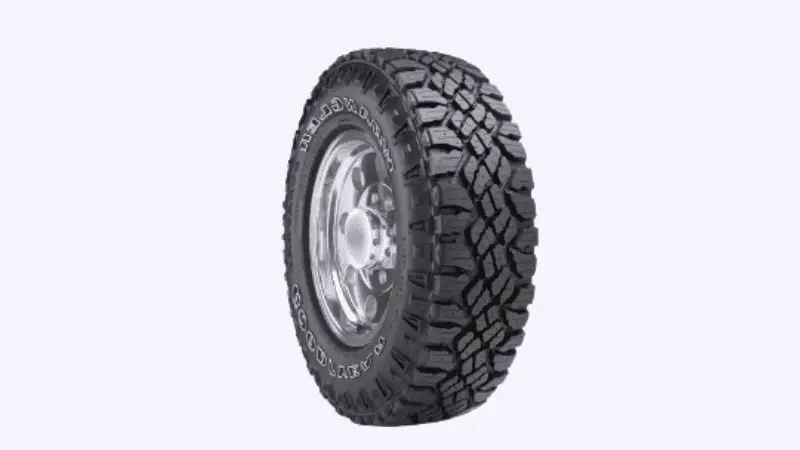 The drivers of trucks, SUVs, commercial vehicles, and Jeeps, the DuraTrac will get the most recent Goodyear tire technology. It will provide them best all-around driving performance.
This tire has steeply sloped center tread blocks. It provides more traction and lateral stability. As a result, it is safe for users to use in wet and dry conditions.
If you are seeking a dependable answer for most driving circumstances, then the Wrangler DuraTrac is the right answer for you.
Goodyear created this product to perform well for hauling, towing, and on slick surfaces on the highway.
PROS & CONS
PROS
Good stability on dry roads
Prolonged treadwear warranty
Studded Lt-metric sizes
Outstanding performance in the rainy season
CONS
Noisy at higher speed
Not suitable for deep mud
A Short Comparison Table
Before moving on to the detailed comparison, let's take a quick look at the comparison table to have a quick idea about the differences between these two tires:
| | | |
| --- | --- | --- |
| Features | Goodyear Wrangler DuraTrac | BFGoodrich All-Terrain T/A KO2 |
| Traction | Excellent on snow and mud, good on wet and dry surfaces | Excellent on all surfaces, especially in mud and snow |
| Durability | Strong, long-lasting tread | Strong, long-lasting tread |
| Comfort | Can be noisy and rough on the pavement | Relatively quiet and comfortable on pavement |
| Off-road performance | Very good in deep mud and snow, good in rocky terrain | Excellent in rocky terrain, good in mud and snow |
| Price | Generally less expensive | Generally more expensive |
| Noise on the road | Slightly noisier | Very less noise |
| Size and dimension | 15 – 22 inches | LT sizes |
Comparison Between Goodyear Wrangler DuraTrac Vs. BF Goodrich KO2
A lot of companies produce all-terrain tires. Goodyear and BFGoodrich are among the best of them.
In this section, I will show you the detailed research result which I have done recently. You will see a comparison between the various features of these two tires.
1) Tread Pattern
The BF Goodrich KO2 tires have a distinctive tread design with increased sidewall durability. These tires have extensive, interconnected tread blocks and a jagged sidewall.
This tread design of KO2 provides a solid biting force when you drive on uneven terrain.
These tires have big sidewall sections and smaller inside tread sections. They also have deep, aggressive-looking tread blocks.
Uneven terrain and bumpy roads are no problem for the deep treads of Wrangler Duratrack tires.
2) Traction Capability
You get more cornering stability and traction from the BF Goodrich KO2 wheels. These tires will also give you confidence on muddy tracks or dirt roads.
The Goodyear Wrangler DuraTrac wheels provide good traction like the KO2. It performs excellently in most off-road scenarios.
But, some sections are compromised by the tread pattern. However, traction loss won't be a significant issue while you normally drive on all terrains.
3) Load Ranges
You can consider the Wrangler DuraTrac as a commercial tire because it has F load ranges in addition to E, C, and D ranges.
On the other hand, BFG KO2 develops the D, E, and C load ranges.
4) On-road Performance
The on-road performance of these tires is pretty important to the drivers. Both tires can perform well on the road. Let's take a look at how they perform in different road conditions:
(i) Winter Performance
Both tires can function even in the worst winter weather because they have the 3-peak mountain snowflake rating.
Yet, they operate differently because of their technical characteristics.
(ii) Icy Roads
When you travel in icy or snowy conditions, heated tires can be an issue. But, driving on ice surfaces is safe with the KO2's cutting-edge 3D sipes technology.
With KO2, you don't have to worry about how much snow falls or how severe the winter weather is.
The DuraTrac is undoubtedly a capable tire in both light and deep snow. You will have excellent grip and snow performance with the deep treads.
However, the KO2 is comparatively better in winter performance and traction on iced-over roads.
(iii) Wet Road
A larger contact patch used by BF Goodrich ensures that more tire treads will contact the ground when driving on slick surfaces.
The Goodyear DuraTrac offers excellent wet performance. Duratrack is a better option than KO2 when you drive on wet roads.
5) Road Noise
The BF Goodrich KO2 tread pattern can give you a guarantee of reduced road noise. There are small blocks placed strategically to improve acoustic performance.
DuraTrac performs average in terms of noise reduction. The ventilation inside the tread is likely to be noisier.
6) Off-road Performance
You can rely on both these tires when you are off-road. They are pretty good at it.
KO2 has shoulder designs with serrations that protect it when running on harsh rocks. It's also a great choice for muddy tracks.
You will have a great grip over the rocks with a DuraTrac tire. The deep tread and wide grooves will help you get over mud.
(7) Size and Dimensions
If you are finding the perfect fit for your vehicle, the Duratrac offers more size options from 15 to 22 inches.
But KO2 is primarily available for LT sizes. You should consider your vehicle's size and load capacity to make the best decision.
Long-Term Value: Comparing Durability, Lifespan, and Maintenance Costs
When choosing between the Duratrac and KO2 tires, the long-term value is an important factor to consider.
Lifespan
You would want to invest in a tire that will last for a long time. It also has to be durable and cost-effective maintenance.
Both tires are known for their long lifespan. The Duratrac boasts a 5-year/65,000-mile tread life warranty, and the KO2 has a 50,000-mile tread life warranty.
Durability
The Duratrac has a tougher sidewall design and deeper tread depth, making it more resistant to punctures and rips on rough terrain.
The KO2 also has a strong sidewall and is made with a cut and chip-resistant compound, ensuring it can handle rocky terrain and harsh gravel roads.
So, it means both tires are durable enough for different kinds of trails.
Maintenance Cost
When it comes to maintenance costs, you can be a little happy about it. Both tires require less maintenance and little attention beyond regular rotations and alignments.
However, the Duratrac may require more frequent rotations due to its deeper tread design. But it's not a big issue if you run it on regular tracks.
Consumer Reviews and Feedback: What Do Actual Users Say about Duratrac vs KO2?
You should consider user reviews and feedback into account before choosing one between these two tires.
Many users have praised the Duratrac for its impressive mud and snow performance. Others have found the KO2 offers better on-road comfort, stability, and traction.
Some off-road riders who took part in several off-road racing mentioned that DuraTrac had given them a better grip on the mud. Some other riders said KO2 did great on rocky trails.
You can have valuable insights when you hear from actual consumers. It will help you to decide which tire might be the best fit for your specific needs and preferences.
Safety and Reliability: Factors to Consider
You must consider safety and reliability when choosing between the Wrangler Duratrac and the BF Goodrich KO2.
From the above comparison and research, you can easily understand that both tires are winter certified, making them safe to use on snow and ice.
But, they have differences in strengths when it comes to off-road performance. The Duratrac is good in mud and snow, while the KO2 is better in sand, dirt, and rocky terrain.
It means if you want to ride on ice, you can choose either of them easily. But if ice is not your concern and you have other specific preferences, you might need to choose according to that.
Final Verdict
As you can see in this article about DuraTrac vs. KO2, both serve as on and off-roading tires. If you need a less noisy, rugged, and capable tire with solid traction, the KO2 is a better option.
So, if you want an all-terrain wheel with a prolonged tread life and is better for sand or dirt roads, the DuraTrac is preferable.
After reading this article, I hope you can decide on the right tire for your vehicle. Now, hurry to the store and buy your preferred one!
Related:
Toyo Open Country AT3 Vs Falken Wildpeak AT3W: What Is Better?