The Jeep Grand Cherokee and Toyota 4Runner are two mid-size SUVs with well-deserved reputations for off-road capabilities. They have the strength to contend with almost everything. When the road ends, both are more durable than the average contemporary crossover.
The Jeep Grand Cherokee fuses the brand's reputation for off-roading with the better on-road handling of a unibody design. It is one of the first vehicles of its kind.
On the other hand, the body-on-frame veteran Toyota 4Runner continues to appeal to those who prefer a truck-like experience. The car is more straightforward and has remained firmly planted in the SUV segment.
But which one is perfect for you in the battle of Jeep Grand Cherokee vs 4Runner? Give this article a thorough read to clear up your confusion!
Jeep Grand Cherokee At A Glance
The Rugged Wrangler is probably what comes to mind when you shut your eyes and imagine a Jeep. Still, the Jeep Grand Cherokee is just as vital to the commercial success of the renowned off-road manufacturer.
On the inside, the new Grand Cherokee is more admirable and quieter than the outgoing model, offering higher fuel efficiency. Its demand is increased by combining excellent off-road capabilities with on-road finesse.
Furthermore, it provides luxury equipment and amenities and has the rugged, natural appearance that Jeep owners cherish.
The Jeep Grand Cherokee is among the top options for the mid-size SUV market. And the reasons behind this are its off-road prowess, ruggedly beautiful look, and a variety of high-end equipment. It receives feature updates across all trim levels for the 2023 model year.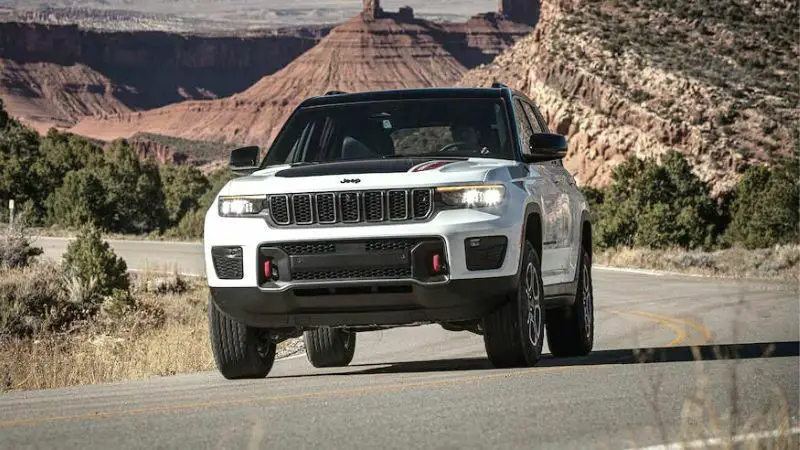 Pros
Rugged off-road capability
Powerful engine lineup
User-friendly infotainment system
Pure comfort and functionality
Cons
Small cargo space for a mid-size SUV
Low safety score compared to the class
Toyota 4Runner At A Glance
Safety was a priority in the design of the Toyota 4Runner. A multitude of the car's features helps to keep drivers safe.
The Toyota Safety Sense system is the most crucial among them. This system incorporates Automatic High Beams, a Pre-Collision System with Pedestrian Detection, Dynamic Radar Cruise Control, and Lane departure warning.
Unfortunately, the Toyota 4Runner differs from most mid-size vehicles and SUVs that litter the highways and fill suburb driveways.
This results from the 4Runner's older-than-new design that showcases a pickup-truck structure and provides fundamental off-road skills.
This year, Toyota unveiled its retro-inspired 40th Anniversary Special Edition, a part of 2010 4Runner's fifth generation.
Additional standard safety features for this full-size SUV include side-impact door beams, eight airbags, a tire pressure monitoring system, a backup camera, and others.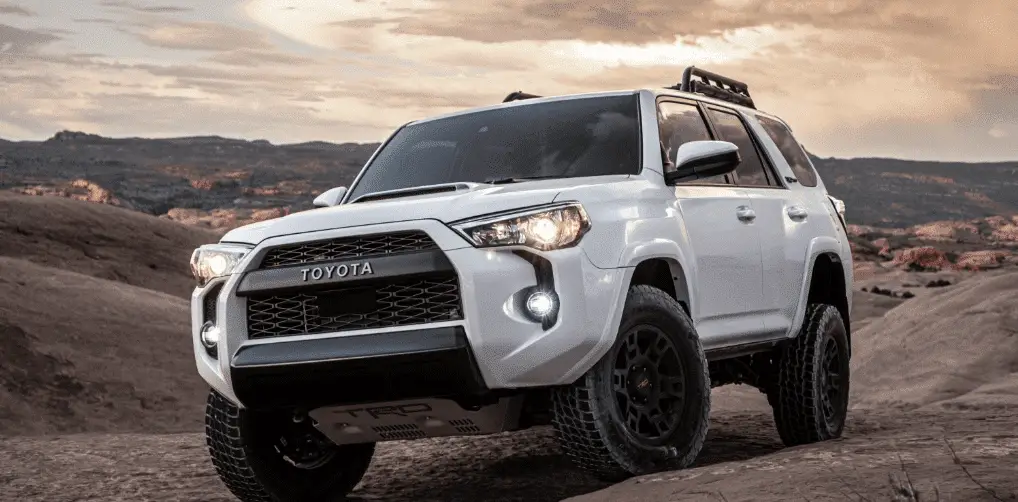 Pros
Strong off-roading and towing abilities
Wide variety of designs
Versatile cargo area
 Optional slide-out floor
Cons
Poor fuel economy
Outdated interior
A Comparison Table Between Jeep Grand Cherokee & 4Runner
Here is a comparison table to make it easier for you to make your choice faster between the two vehicles.
| | | |
| --- | --- | --- |
| Features | Jeep Grand Cherokee | Toyota 4Runner |
| Horsepower | 293 | 270 |
| Engine Option |  3.6-liter V-6 | 4.0-Liter V6 |
| Towing Capacity | 7,200 lbs. | 5,000 lbs. |
| Cargo Space | 70.8 cubic ft | 89.7 cubic ft |
| Price | $38,325 | $37,605 |
Core Difference Between Jeep Grand Cherokee and Toyota 4Runner
There are only two excellent choices for full-size SUVs: the Jeep Grand Cherokee and the Toyota 4Runner. Both have many characteristics that make them ideal for exploring far-off places.
But you cannot buy both at a time. So, to compare and choose the perfect one for yourself, you must also know the differences.
1) Safety
The Grand Cherokee and the 4Runner offer similar safety and driving assistance technologies.
This consists of a lane departure warning system, electronic stability control, a backup camera, blind-spot monitoring, and adaptive cruise control.
Toyota has updated the essential safety equipment for the 4Runner. It still falls short of the suit in the more recent Grand Cherokee. Moving up the trims does nothing but exacerbate the distance.
2) Cabin Space
To carry all your gear, whether you're trekking or shopping, you need a lot of room.
The Jeep Grand Cherokee offers a maximum cargo space of 70.8 cubic feet when all the seats are folded. Its volume is 37.7 cubic feet, with these chairs elevated.
Regarding load capacity, the Toyota 4Runner is the undisputed champion. You have plenty of space with the seats folded down 89.7 cubic feet. Compared to the Grand Cherokee, that is roughly 20 extra cubic feet.
3) Fuel Economy
All features are set aside; fuel efficiency is a significant worry when choosing an SUV. The two cars are comparable in this instance, but one stands out as the winner.
The Grand Cherokee hybrid plug-in has a fuel efficiency of up to 56 combined MPGe in electric mode. And in hybrid mode, it has 23 combined mpg. Its estimated gas mileage is 22 combined mpg compared to the gas-powered one.
In contrast, the 4Runner's estimated combined gas mileage is up to 17 mpg.
4) Design
Your preferences will differ as usual when choosing one of the two vehicles by design.
Toyota's traditional SUV design has a certain allure, and the Jeep can be snazzy without being obnoxious.
Since the 4Runner has been driving around with the same appearance since 2014, prospective buyers have had plenty of opportunities to form an opinion on its aesthetic attractiveness.
5) Price
The price of a car is frequently a critical determining factor.
The Grand Cherokee's starting price for the Laredo E variant is $38,325. But the starting price of the SR5 model of the Toyota 4Runner is $37,605.
The Grand Cherokee can get very pricey, even though it may be less priced initially. The Summit Reserve, the top trim, has a starting price of $64,780. The TRD Pro, the top grade of the 4Runner, only costs $52,420.
6) Off-road Capabilities
The Grand Cherokee and 4Runner both have excellent off-road skills.
Both SUVs have a cutting-edge four-wheel drive system and off-road-enhancement tools like all-terrain tires. A suspension calibrated for off-road driving and off-road drive modes is also provided.
The TRD Off-Road and TRD Pro grades of the 4Runner are the finest to purchase for off-roading. The SRT, Trailhawk, and Trackhawk are notable Grand Cherokee versions for off-road use.
Conclusion
Both being the off-road kings, the Jeep Grand Cherokee and Toyota 4Runner will serve you a variety of features. But your preferences will differ as usual.
The 4Runner has been around with a consistent appearance since 2014 with minor changes. So, the buyers have had plenty of time to form an opinion about its worthiness.
On the other hand, Jeep Grand Cherokee offers a comfortable ride on the rugged off-road. And they are upgrading their models every year.
So, Jeep Grand Cherokee vs 4Runner? Which one do you like more? After reading this core comparison, we hope you can make your decision as soon as possible and hurry to the store to buy your desired one!
Citation: