As a Jeep owner, you know the joy of taking your loved ones on exciting outings. For this reason, most Jeep owners seek out soft top Jeep windows to roll down the top, breathe fresh air and feel more connected to nature.
But you should pay as much attention to the soft top on your vehicle as you do to the Jeep. Since the sailcloth, fabric, or vinyl that soft tops are often constructed of tends to collect grime quickly, these should be cleaned regularly.
However, washing your Jeep's soft top with only water causes it to dry out and break because of prolonged exposure to the sun or rain. Besides, your Jeep won't look nice with a dry, damaged soft top.
So, when cleaning a soft top, it's essential to pick a solution that won't strip the paint or alter the color. But shopping for the best product is not a piece of cake, as many window cleaner options are available for Jeep soft tops.
Here we've come up with our six best cleaners for Jeep soft top windows where you can find your suitable fit. No need to worry about quality as the products have been chosen after assessing the best features, market value, and customer reviews.
6 Best Cleaner For Jeep Soft Top Windows
There are a wide variety of different cleaners available, each with its own set of advantages and disadvantages and other details such as whether or not it is safe to use on a certain kind of soft top.
To help you choose and buy the best soft top cleaner for your Jeep, we assessed some of the most effective cleaners on the market. Everything is guaranteed to be of the highest quality. We wish you the best of luck in choosing the right one.
1. Chemical Guys HOL_996 Convertible Top Cleaner, 16 oz.
(Best Jeep Soft Top Cleaner)
With Chemical Guys' top-notch cleaning kit, your Jeep's top will shine like new. If you always prefer to take good care of your Jeep top, you'll adore this.
This kit from Chemical Guys is both practical and affordable. One of the formulas is a standard cleaning, while the other is a protective coating.
In addition to being color-safe, its effects also last a long time. It's a fabric-friendly spray that may be removed from cotton or other materials.
This cleaner and protector package is excellent for any Jeep Wrangler, no matter how brand new or ten years old your vehicle is, with any soft top. This solution can be used with minimal effort and remarkably removes stubborn stains and grime.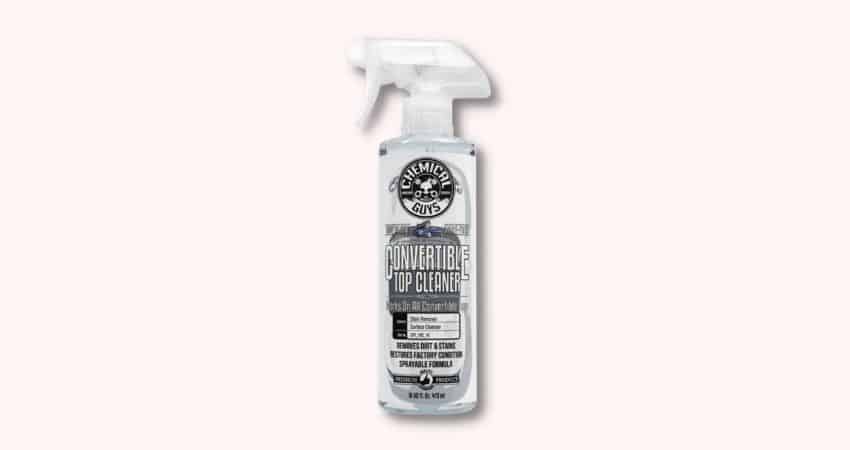 Pros
Smooth cleaning and color protection for convertible tops
Safely eliminates stains and specks of dirt
Helps to restore stock appearance
Sprayable formula convenient to use
It doesn't affect any color
Cons
Don't have good water resistance
Not a reliable sealant
2. Raggtopp Convertible Top Care Kit, 14 oz. (Best Cleaner For Vinyl or Fabric Soft Top)
This convertible top care kit by Raggtopp is an ideal soft top cleaner if your Jeep has a fabric or vinyl top. It does a fantastic job of cleaning and protecting the material.
The top color will remain vibrant even in the harsh sunshine because of the formula's UV protection. This way, your Jeep's soft top paint won't damage even if you spend the day outside in the summer.
This Raggtopp convenient bundle includes everything required to keep your fabric convertible tip-top shape. To safeguard your investment from natural and human-made deterioration, you need RaggTopp cleaner and protectants.
It protects against grease, bird droppings, salt, dirt, or other elements. Apply the protector once you've finished cleaning. Each included recipe is high-quality and will not leave any sticky residue.
Pros
Suitable for the soft fabric top
Strong UV protection
Restore the glossy look
Protects from salt, bird droppings, grease, and dirt
Can be used as a sealant
Cons
3. Forever Car Black Convertible Top Dye, 8 oz. (Best Cleaner For Black Convertible Tops)
If the color of your Jeep was once vibrant but has since faded due to exposure to the sun and heavy rain, you may quickly restore the color. This chemical solution has been formulated to make converting colors as straightforward as possible.
Black convertible tops are the perfect ones to be used with Forever Black Cleaner. A foam applicator and black top gel are also included.
This solution not only cleans but also colors the fabric. Thus, it shouldn't be applied on tops of a lighter color. Vinyl acquires a new color and a high shine using this product.
As an added advantage, it's pretty environment-friendly. And the solution is entirely water-based, and there is no silicone or oil.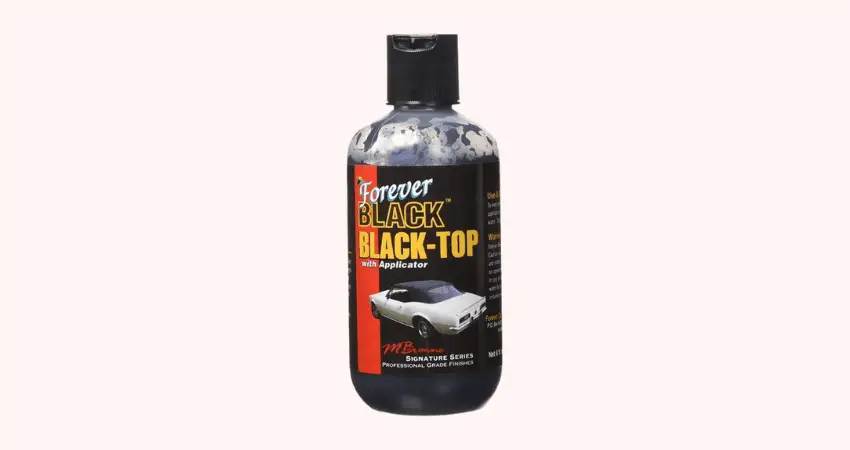 Pros
Includes foam and black top gel
Works as a water repellent
Protects your Jeep from harmful UV radiation
Provides a long-lasting black color
Eco-friendly product with no oil and silicone
Cons
4. Bestop 1121100 Vinyl Fabric Cleaner, 16 oz. (Best High-Quality Cleaner For Stubborn Dirt)
If you're looking for an efficient cleaner that removes nearly all frequent sorts of stains a Jeep soft top encounters, go no further than Bestop's 11211-00.
This cleaner doesn't affect the paintings either. Therefore, there is no need to avoid touch with the Jeep's paint during application.
In addition, Bestop 1121100 is made with an antioxidant mix with a low pH and no residue. So, when you're using it, the soft top surface is left undisturbed; the stains are removed, and the top is left clean.
As a benefit, excellent results can be achieved on fabric and vinyl. So, you can apply this cleaner to remove dirt inside and outside of fabric and vinyl.
Lastly, a non-toxic, eco-friendly formulation is used to ensure the product is suitable for the environment and soft top windows of a Jeep.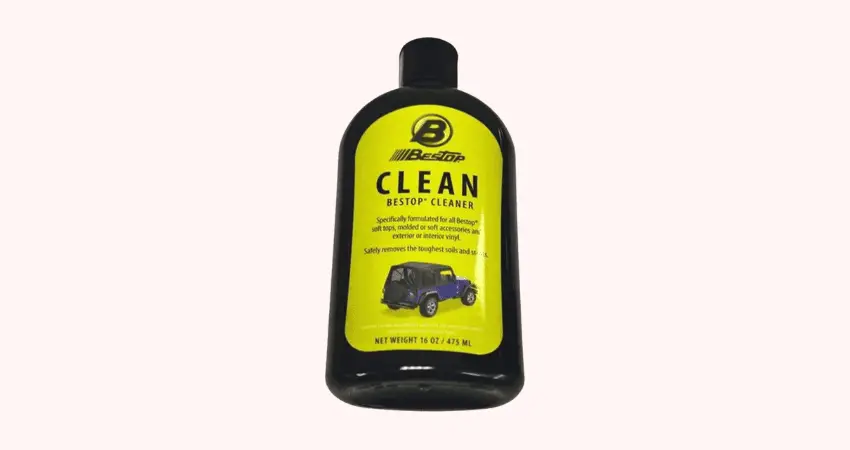 Pros
A reliable cleaning solution for the Jeep soft top
Non-toxic, biodegradable, and eco-friendly solution
Safely eliminates most stubborn dirt and stain
Works best on fabric and vinyl
Gentle to a painted surface
Cons
The product is a bit pricey
Sometimes it takes time to take out spots
5. 303 Tonneau Cover and Convertible Top Cleaner, 16 fl oz. (Best Cleaner For Both Hard & Soft Tops)
When removing tough stains from Tonneau covers, car bras, and vinyl or fabric convertible tops, 303 Tonneau cleaner is a decent deal. The formula may safely eliminate and brighten soft and hard tops.
There is an excellent middle ground between mild and rough with this cleanser. It's safe for use on your Jeep and won't damage the finish, but effective enough to remove even the most set-in stains.
In just a few short minutes, the cleaner finishes the task. The product is a spray that can be used with any cloth. It could take as long as ten minutes if there is a lot of grime to remove.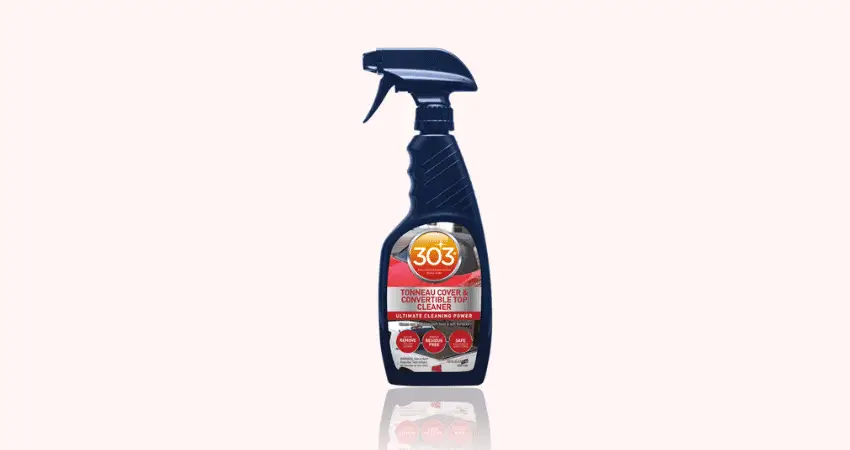 Pros
Decent performance on soft and hard tops
Leaves no residue after cleaning
Fast action formula
Takes a few minutes to clean
A spray-based cleaner is convenient to use
Cons
Not suitable for glass cleaning
6. 500 ml Protex World Convertible Soft Top Canvas Cleaner (Best Value Jeep Soft Top Cleaner)
This product from Protex is ideal for soft tops made of canvas. The sealant is intended for usage following cleaning. It helps maintain the soft top watertight and stain resistant.
And what's more, it imparts a bold and uniform gloss that goes well through the soft canvas on top of the vehicle.
Just apply this with a brush and leave it to dry thoroughly. However, using the coloring agent following Protex Canvas Cleaner is advised.
Protex Convertible top cleaner has been formulated to restore canvas's faded soft tops. And the fabric of the soft top can absorb it so quickly. So the outcome is pretty long-term.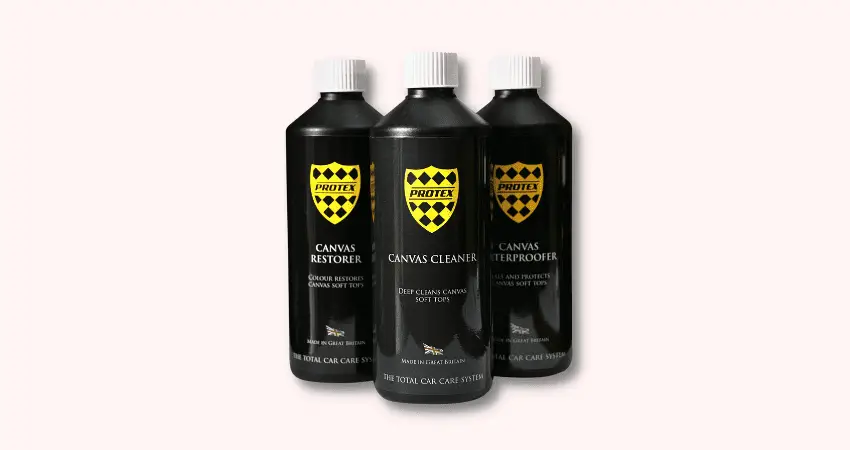 Pros
Prevents the accumulation of green mildew
Deep cleaning to maintain canvas color
Removes regular dirt
Performs as a sealant
Can be applied by brush
Cons
It may be harsh on the paint
Not perfect for light colors
Things To Consider Before Buying The Best Jeep Soft Top Windows Cleaner
There are many details to remember while searching for the best convertible top cleaner for your Jeep. Unfortunately, not giving these things some thought may lead you to get a cleaner that isn't suitable for your soft top.
As a result, your Jeep's soft top may appear worse than before, or you may have to dispose of it. Some quality cleaners can aid in the cleaning procedure.
However, the best Jeep soft top cleaner should have certain features. So consider these before purchasing.
Material
Think about the kinds of fabrics used for your top first. Not every top surface can be cleaned effectively with every cleaner. And a soft top cannot be washed with a hard cleaner.
You should use cleaners explicitly designed for vinyl if you intend to clean it. If your soft top is made of canvas, look for a cleaner specializing in treating that material.
Applying Procedure
Some cleaning solutions are sprayed on, some are mixed with water, and others are applied dry. Ensure the cleaner you choose is one that you can easily use. If not, your first cleaning procedure might be challenging.
Most importantly, while cleaning the top windows of a Jeep Wrangler, one should avoid some common mistakes.
Color Restorer
The dirt, grime, or other spots on your Jeep soft top may require some cleaning. But, elimination is only half of the cleaning process. It also involves making your soft top look as good as new.
Some cleaners may not offer sufficient protection for top colors. Therefore, you may require a color restorer. It'll help you to restore your soft top's original color.
A color restorer can shield the fabric against UV radiation and other color stains. If you require an additional layer of protection, you may get one. It's entirely your choice.
Some cleaning products double as safeguards, preventing surface damage while disinfecting. Try a 2-in-1 product if you need cleaning and protection.
pH Balanced Formula
The pH-balanced cleaning formula makes it safe on vinyl or canvas and effectively removes the dust and debris accumulating on the soft top over time. Unfortunately, even the most stubborn grime cowers in defeat when faced with this type of cleaner.
Additionally, it inhibits the development of mildew and maintains the suppleness and smoothness of the soft top.
Eco-Friendly Or Not
All cleaners are chemically based. Therefore, they can quickly destabilize the natural equilibrium.
Make every effort to acquire a soft-top cleaner for your Jeep that does not harm the environment. Nature is our best friend. Therefore, no toxins or chemicals should be avoided that could damage it.
The high-priced option, or the one with measurable pricing, is the most likely to be completely safe. However, some cheap cleaners can destroy nature. Be sure to check out the ingredients before making your decision.
4 Steps To Clean Jeep Soft Top
If you're an enthusiast of off-roading, your soft-top Jeep deserves regular care. You will need a few items to adequately clean your Jeep's soft top windows.
A Bucket and a hose
Warm Water
Microfiber Clothes
Plastic Cleaner
Color Restorer
Car Wash Shampoo
Sprayer
Step 1: Starting With Soft Top Fabric
First, fill a bucket with warm water and add a car cleaning shampoo. Then, take a hose and wash the fabric of the soft top.
Soak a rag with shampoo or apply Chemical Guys foamy soap, a car upholstery cleanser. For optimal results, move the brush in a straight line while using the solution on the surface.
Finally, dry the soft top with a warm towel and let the Jeep Wrangler air-dry. The soft top can be damaged by vigorous rubbing.
Step 2: Cleaning The Windows
Spray the windows with lukewarm water to remove any dirt and dust on the surface.
After rinsing the windows, apply the soapy formulation you prepared previously. Utilize a clean, soft cloth to remove any remaining moisture.
Step 3: Applying The Soft Top Plastic Cleaner
After thoroughly drying the windows, it's time to apply a plastic mending solution to give them a glossy appearance.
First, shake the plastic cleaner's container, and spray immediately onto a clean microfiber cloth. Afterward, utilize the fabric to gently wipe the soft top windows in a circular motion.
Step 4: Adding The Protectant
As soon as the windows are completely dry, proceed to the final stage: apply the protectant.
Leave the protectant to settle for approximately 5 minutes after spraying it straight on the windows. Then wipe the solution with a fresh microfiber cloth to conclude.
Well Done! Now you're ready to drive your Jeep with a new glossy soft top appearance.
Final Words
When you own a Jeep, you know that the most complex and common challenge is keeping up with maintenance. However, experiencing the clean air and stunning scenery may be hindered by the dirt that continually accumulates on the soft top windows of your Jeep.
We hope the information we've provided will help make decisions concerning soft top cleaners. This list of the best six cleaners for Jeep soft tops results from extensive research.
In conclusion, you can use the list to narrow down your options and pick the best one. However, don't forget to prioritize each requirement before jumping to a final verdict.