Shocks will be a crying need when you love to ride on rough roads or your regular office road is full of terrain. The Rancho has built quite a reputation for making shock absorbers.
The RS 5000 and 9000 models are pretty famous among all the models. So, which one will you choose compared to Rancho 5000 vs. 9000?
Rancho 9000 is an upgraded version of all the previous models, including the 5000. It's a bit more costly than the 5000 and provides better performance and stability in off-road performance.
The 9000 model also has a higher working life than the 5000 ones. But the extra thickness on the Rancho 9000 might be a problem for some vehicles. It has a gas-pressurized mechanics design with nine valve adjustments. But the 5000 has ten adjustable valve knobs.
So let's learn more details to decide the most suitable one for your vehicle.
An Overview Of Rancho 5000
The Rancho 5000 is one of the most popular shock absorbers on the market for Jeep owners and enthusiasts. It stays on the favorite list of trucker Jeep lovers.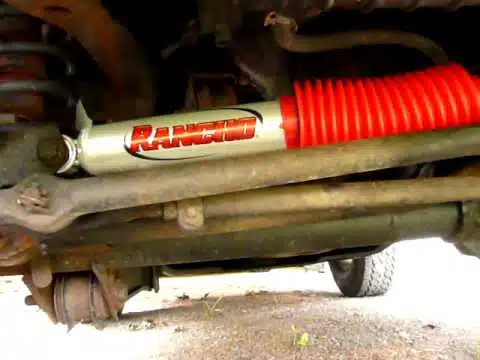 The absorber has a twin tube body that contains the primary piston. Its 21 inches baseline only weighs around 4 pounds.
The piston forces the hydraulic fluid to help with the flow through the tubes. As a result, when you drive in a tropical zone, the absorber dampens and lessens the impacts.
It's primarily used for SUVs and trucks. The Rancho 5000 shock absorber makes your vehicle comfortable even on rough roads.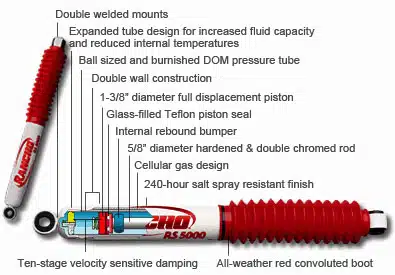 Pros
Perfect for highway rides
Appropriate for tropical zone driving
Less weight
Affordable price range
Included protective boot compatibility
Cons
No gas-pressurized mechanics
Can handle low-pressure
Smaller length
An Overview Of Rancho 9000
The Rancho 9000 shock absorber is an upgraded version of its previous models. This shock absorber contains a gas-charged twin tube with a beefy body. Its surface is about two and a quarter inches.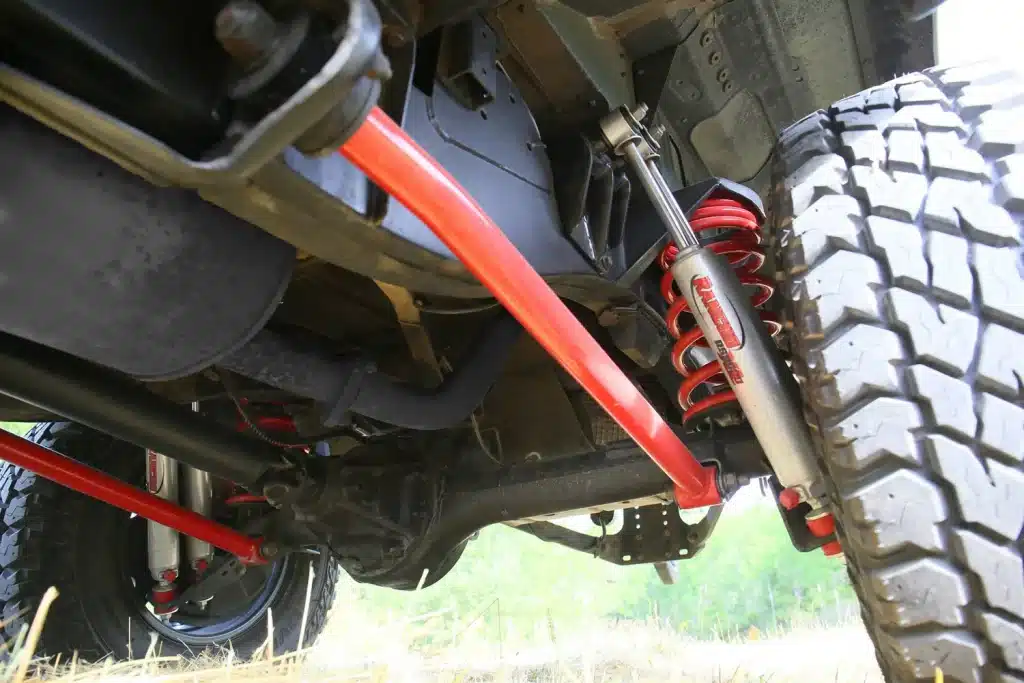 It's truly made for off-road rides with Jeeps and other vehicles. However, sometimes the shock absorber isn't compatible with the cars because of the thickness and lift kits. It also has an adjustable knob to fit with the main setup.
The Rancho 9000 shocks contain a robust gas chamber of gas-pressurized mechanics. Nine-level adjustable valve setup is suitable for SUVs, trucks, and Jeeps.
Pros
Properly equipped protective boot
Gas charged shocks
Better mileage than previous models
Robust gas chamber
Best option for off-road riding
Cons
A bit more costly than other models
Thickness might be an issue for some vehicles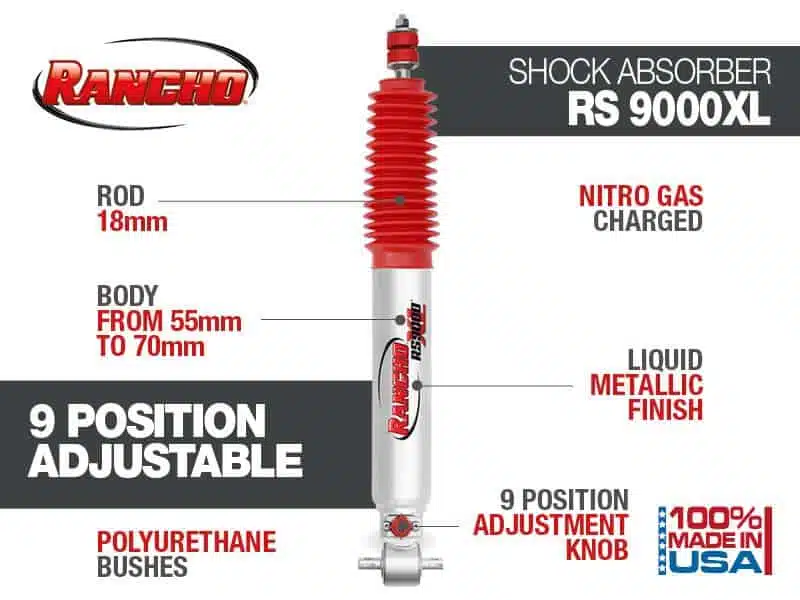 A Short Comparison Table
Got little time! Then you can look at this short table to get a quick view of the comparison between Rancho 5000 and 9000.
| | | |
| --- | --- | --- |
| Topic | Rancho 9000 | Rancho 5000 |
| Cost | Costlier than previous models | Affordable range |
| Mileage | 50 to 100k miles | 50 to 70k miles |
| Gas pressurized mechanics | Robust gas chamber | No |
| Dimensions | 24.2 x 3.3 x 3.3 inches | 21 inches |
| Performance | Better performance on any roads | Suitable for tropical zones |
| Usage | Comfortable highway rides and towing | Perfect for both off and on-rides with consistency |
| Debut | 2014 | 1985 |
| Surface design | Gas charged | Twin tube body |
| Piston length | 60mm | 35mm |
| Weight | 7 pounds | 4 pounds |
| Valve setup | Nine levels of adjustment | Ten levels of adjustment |
| Vehicle type | Both off and on-road Jeeps, SUVs, and trucks | Mostly on-road SUVs and trucks |
Difference Between Rancho 5000 And 9000
It's crucial to know the differentiating point if you want shock absorbers and are confused between Rancho 5000 and 9000. So, before making any decision, let's see how they differ from each other:
Functions
The fundamental functions are the major part of differentiating these two shock absorbers. Both of them are well-designed to sustain all kinds of weather. The Rancho 9000 has nine stages of adjustment knobs, while the Rancho 5000 has 10.
As a result, the Rancho 5000 has better strength. Its weight capacity is also higher than the Rancho 9000.
Type
Monotubes categorize the Rancho 5000, and the Rancho 9000 is organized by tri tube. The monotubes are suitable for city vehicles because a single tube piston is enough to provide pressure for the gas inside the shock absorber.
On the other hand, the Rancho 9000 has a modern design. The tube types and smooth pistons can absorb the impacts more effectively. You can also say that the 9000 model is the improved version of the 5000 version.
Performance
The Rancho 5000 was launched in 1985 with a particular purpose. It can sustain and absorb light off-roading and on all city terrains. But when it comes to heavy off-roading with a full load, the 5000 model will struggle.
The upgraded 9000 is the best for off and on-road terrains. And because of the nine different positions of the shock absorber, the vehicle can perform smoothly. 
Best Off-Road Support
Both of them are pretty famous and reliable shock absorbers. However, the Rancho 5000 is not improved adequately because of the old design. As a result, it can't handle heavy rides on rough roads.
On the other hand, the Rancho 9000 can easily absorb heavy off-road impacts, whether loaded or without.
Cost
At present, the price of the Rancho 5000 is in the affordable range. So you can definitely use it on your vehicle if you are not an off-road enthusiast.
But because of the latest technology and inventions, the Rancho 9000 is more costly than previous models. However, it's not in the high-end range.
Size
The Rancho 5000 has a 35mm diameter and 21-inch length of the piston. But with the 9000 model, you will get a longer diameter of 60mm. Such extra thickness helps with performance and stability.
On top of that, it has 24 inches in length for adjustable and smoother use. Some people buy it because of its excellent shock length.
Mileage
As an invention of modern technology, you can expect better mileage from the Rancho 9000 model. In addition, it can continue the service as a shock absorber from 50 to 100k miles.
On the other hand, the Rancho 5000 is a little bit behind. It can serve you from 50 to 70k miles. After that, you need to change the shock absorber and install new ones.
Vehicle Types
The Rancho 9000 is suitable for off- and on-road vehicles such as SUVs, trucks, and Jeeps. But you can use the Rancho 5000 model for little off-road cars like trucks and SUVs.
Built Quality
Both shock absorbers are pretty reliable and suitable. However, you might find some aftermarket shocks that are poorly designed and quickly break down while working.
But the Rancho shocks are made of heavy-duty steel with zinc coats. Therefore, the Rancho 5000 is equipped with highly protective features.
On the other hand, the 9000 models have all the features 5000s and all the upgrades after that.
Final Words
Shocks are pretty handy to enjoy riding on rough roads and terrains. Rancho's 5000 and 9000 are pretty popular models that give a comfortable experience on your vehicle. But you need to get one, right?
Hopefully, the complete discussion on Rancho 5000 vs 9000 has shown you all the different points. Now, think for a moment and go over the point over and over so that it gets easier to choose among them. Then, enjoy your off-road journey without any hassles!
Citation: