Do you own a Jeep and don't know about the Jeep ducking games? This is a pretty exciting and popular game among Jeep drivers. The kits are pretty cheap and available in the market. But there are some rules you must follow to play the game. So, what are the Jeep ducking rules?
It would be best if you bought some rubber ducks and a marking pen to play the game. Next, please write a message with popular hashtags like #DuckDuckJeeps or #DuckingJeeps on the tag and attach it to the duck. Now, find a Jeep and put your rubber duck on the Jeep.
If you're active on social media, take a selfie and post it. Don't forget to be friendly if you catch a fellow Jeep driver while doing it.
A Brief History Of Jeep Ducking
During the Covid-19 pandemic, Allison Parliament, born and raised in Ontario, Canada, presently residing in Alabama, developed Jeep Ducking.
In June 2020, she was coming back home to join her family when Covid-19 spread. While returning, she stopped at a gas station to refuel her Jeep after a 20-hour drive.
While refueling, a man noticed her Alabama license plate. He pushed Allison against the Jeep, committing a physical attack.
She went to her uncle's house in a smaller town to escape the horror of this experience. Her uncle had numerous vehicles she could borrow instead of using her own.
She took a Jeep Wrangler from her uncle. Next, Allison entered a little store while visiting her relatives and purchased a bag of ducks there. But as she was leaving the store, she noticed a Jeep. Allison wrote "great Jeep" on one of the ducks on the Jeep. Right then, the Jeep owner appeared, and they laughed it out.
Recently, She created a Facebook group and an Instagram account for others to share their random acts of kindness with other Jeepers. The Instagram account has more than 34,000 followers, while the Facebook group has more than 57,000 members!
What Are The Rules Of Jeep Ducking?
Now that you know the great Allison story of Jeep ducking, you must follow a few rules to play this funny and exciting game. These rules make the game more interesting and enjoyable altogether.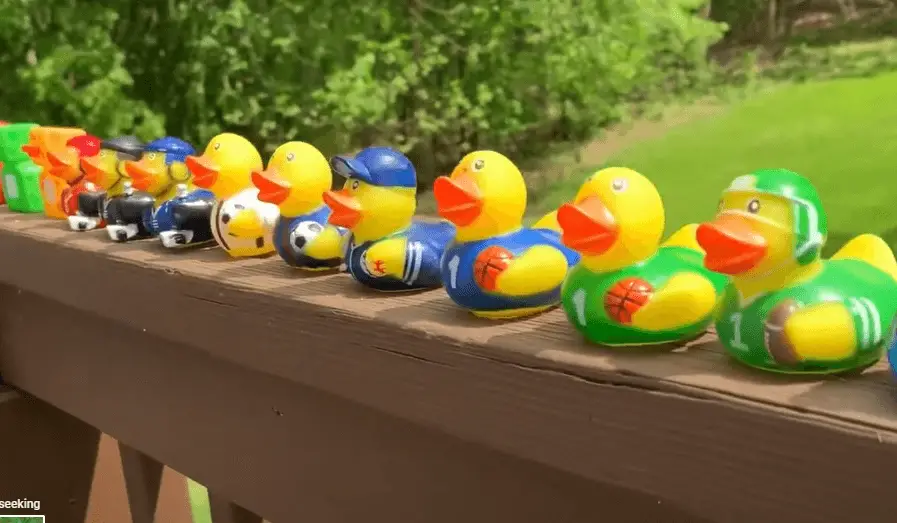 Rule 01: Buy Rubber Ducks & A Pen
First, you must buy some small rubber ducks to play this game. These rubber ducks are available in super shops or any toy store. Try to buy as many rubber ducks as possible to continue this tagging game. Don't forget to buy a marking pen while purchasing rubber ducks.
Rule 02: Tag The Ducks
While tagging the ducks, use hashtags like #DuckDuckJeeps or #DuckingJeeps on the tag. You'll find these cheap tags in the same super shop. Use a marking pen to write the message before putting the label on the duck.
Rule 03: Find A Jeep
Now that you've tagged the rubber ducks, you should find a Jeep as soon as possible to make things interesting. If you're driving and going to refuel your Jeep, you'll find Jeeps in the gas station.
Rule 04: Put The Duck On The Jeep
Once you've tagged the rubber ducks and found your Jeep, put the ducks on the Jeep. Many people prefer to put the rubber duck outside the Jeep since it's a nice gesture.
Rule 05: Post It On Social Media
You should click a selfie after you've tagged the Jeep with a rubber duck. Then, post your selfie on social media platforms like Facebook, Instagram, and Twitter. Don't forget to use the official hashtags.
Rule 06: Stay Friendly
It's the last yet most important rule you should maintain. Some people found it offensive at the start of this trend. So, if you're tagging someone's Jeep with a duck, and they don't know the rules, be friendly while teaching them about them.
How To Select A Jeep For Ducking?
Selecting a Jeep for tagging with a duck is the painful part of the game. Since Jeep tagging with duck has become a trend, choosing a Jeep hardly matters. However, you don't know when to meet a 'Karen' while tagging the Jeep!
Don't go for Jeeps that look a bit formal or decorated. Instead, choose a modified or trim-level Jeep. Owners who drive these types of Jeeps are primarily aware of this trend. They'll play along when you're putting the ducks on the Jeep.
If you can teach the rules to new Jeep drivers, it's okay to play this exciting game. Meanwhile, tag the Jeep secretly with a duck if you like to have fun. It'll keep the owner in awe while you'll have all the fun.
What To Do When Someone Ducks Your Jeep?
Jeep Ducking has the advantage because you don't have to maintain the regulations always. If someone ducks your Jeep, you can give the duck to another Jeep driver, create a collection, or give it to a young person as a gift.
You can gain a reputation among your friends and relatives for handing out rubber ducks. This is a better way of remembering someone than some worse sheep ideas.
The game's objective is to encourage people with positive energy. It's up to you to play the game again or not. However, you subconsciously take part if the rubber duck makes you happy while influencing you to treat people better.
So, if you like to keep the game going, you should tag another Jeep in your neighborhood. It'll make the game funnier and more enjoyable.
Is Jeep Ducking A Positive Trend?
Why wouldn't Jeep ducking be a positive trend when it spreads love and joy among people? Of course, Jeep ducking is an exciting game spreading positivity around the globe. No one knew it'd be such a big hit when the trend started.
It acts like a chain reaction once you begin to play the Jeep ducking game. When you tag someone with a cute rubber duck, it won't offend them at all. Instead, they must continue the game by tagging other Jeeps.
The Jeep ducking trend merges smoothly with the Jeep wave. You can wave at the tagged Jeep driver while setting off from the fuel station. This creates a better and strong bonding between the drivers.
Frequently Asked Questions (FAQs)
How much should I spend to play Jeep ducking rules?
You should pay no more than $50 to purchase the essential equipment for the Jeep ducking game. The total cost includes the rubber duck price and the marking pen. However, you can spend even more money to make the game exciting.
How can I keep ducks on the Jeep's dash?
It's pretty elementary to keep the rubber ducks Jeep's dash. You can black paint yardsticks and use the same color of velcro. Don't forget to put black velcro on the ducks too. You can quickly fix the yardstick with ducks on the Jeep's dash.
Should I join a social platform while playing Jeep ducking?
You can join social media to keep the tagging game exciting. Posting a selfie on any social platform might make you an online celebrity. There're various social media sites like Facebook and Instagram you can join. You'll be amazed to discover many people with the same idea.
Does Jeep ducking have any educational purpose?
Of course, Jeep ducking has educational purposes. The founder, Allison, founded a non-profit organization called Jeep Grant to support educational purposes. Teachers can gather money to purchase various class accessories to make the educational method easier.
Can I duck a Jeep Wrangler?
You can put a duck on a Jeep Wrangler since it's a version of a Jeep. You can also put these ducks on Jeep Gladiator, JK, Rubicon, and other Jeeps. 
Can I bend the rules a bit while playing the Jeep ducking game?
You don't have to maintain all the rules while playing the ducking game. For example, you can use the used ducks you gathered from other drivers to tag a new Jeep. You don't have to post a photo on social media if you're an introvert.
Final Words
Jeep ducking is a trendy game for Jeep owners, especially for fresh Jeep drivers. It's impossible to know about every human's nature. So, tagging the Jeep might offend some drivers. However, it's a pretty rare case.
I hope the analysis on Jeep ducking rules has cleared your doubts regarding the rules. However, these rules are pretty friendly, and you don't have to follow all of them.
You can send a positive vibe to fellow Jeep owners and help the organization to educate more kids. So, buy as many ducks as you want and start playing the Jeep ducking game as soon as possible!