Many Jeep wrangler owners decide to remove the hardtops and enjoy the open air during the spring and summer months of the year. Nothing compares to this feeling, right?
But the issue of where to store that big piece of metal becomes somewhat of a concern for people who might not have as much storage space as they would want.
The top can be hung in your garage using a hoist. You can use carriers, which are comparatively small and allow moving the hardtop easier. Last but not least, we have carts, which resemble carriers but are slightly different from them.
Please take a look at these practical suggestions for how to store the Jeep hardtop to keep it secure and make the most of your available space.
Read: Can You Convert a Soft Top Jeep to Hardtop – Ultimate Guide
How To Remove The Hardtop?
You will see many videos and articles explaining how to store your hardtop. But none of them will tell you the first step, removing the hardtop. So, you should first remove it before storing your jeep hardtop.
To do so safely, you'll need to enlist aid, such as a gear or a friend. A Jeep hardtop typically weighs roughly 140 lbs. That is a significant amount of weight to lift above your head.
Have a friend or two assist you lift the lid off the car so you don't hurt yourself or your hardtop. Or you can just buy a removal tool instead of bugging your buddies.
You can safely and quickly remove your Jeep's hardtop in under two minutes with the help of TopLift Pro's ingenious hoist for Jeep hardtop storage and removal.
4 Best Ways To Store Jeep Hardtop
How do you maintain a clean hardtop when driving without the top? What's the most effective way for a typical driver to keep a Jeep hardtop?
There are several options, and each has advantages and disadvantages. These suggestions could be helpful depending on the budget and the effort you would like to put into this project.
1) Hardtop Hoist
There are two types of hardtop hoists available. One is electronic, and the other is manual. The benefit of this hoist is that it does not rely on the physical power of the people using it.
The hardtop is raised and lowered using electric hoists powered by robust, heavy-duty electric motors. Even if the rope is dropped, the anti-drop device keeps the hoist from falling.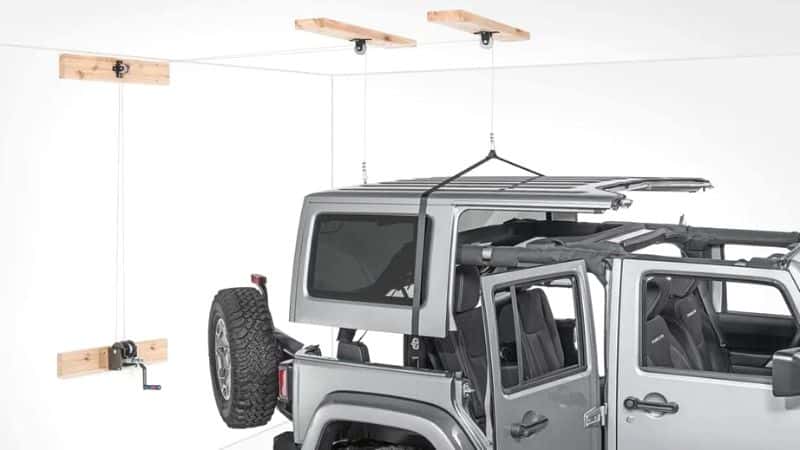 Although these gadgets are pretty strong, installation issues may arise. Sturdy roof support is needed to sustain the sizable electric motor used in these hoists. However, if you carefully plan, you may maximize using this robust lifting device.
This sophisticated device's additional exciting benefit is that it does more than only lift the roof. It serves as static storage as well.
Instead of using an electric motor, the manual technique lifts the Jeep's hardtop evenly, thanks to strengthened pulleys that help spread the weight.
This technique is typically less expensive than an electric hoist. However, it may present us with significant installation and operational challenges. In addition, it will cause your vital force to experience considerable wear.
2) Transport and Storage Cart
Jeep owners are increasingly choosing this storage solution in recent years. The trolley's ability to do triple duty as a lift, a valuable means of transit for your hardtop, and a location for storage is a significant benefit.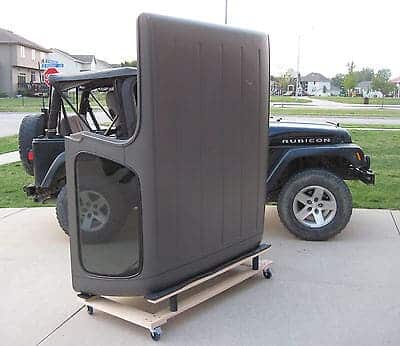 The nice part is that you can quickly and easily remove it while the hardtop remains on the Jeep by just attaching it. It has an anti-scratch coating and a support bar. It is a terrific deal if you add heavy-duty casters.
However, the price is a little excessive, especially given that it only consists of a few metallic components fastened together with a few more bolts. But these hardtop carts will last you for many years if you're willing to pay the top price for strength and security.
A storage cart can be a good investment for a single Wrangler driver who likes to handle everything himself. And one person may quickly assemble this trolley.
3) Hardtop Carrier
Alternatively, you can use a hardtop carrier or a storage rack. I highly recommend using a U-Box hardtop carrier which is solid and lightweight. The carrier features soft, protecting touch points for additional safety and fits every Wrangler shirt. This product is much simpler to put together and use than the storage hoist.
First of all, the design and construction are relatively straightforward. Second, installation is simple; you may put the hardtop together yourself.
A brief observation: The predrilled holes sometimes come as a letdown. Sometimes they aren't lined up correctly; other times, you'll need to drill a little bit deeper. Although it's not too dramatic, remember that you'll need a drill.
4) DIY System
DIY hardtop lift systems' primary strength is that they give Jeep Wrangler owners complete creative freedom and access to their resources. DIY enthusiasts will always favor this approach over others.
This alternative may resemble the manual hoist somewhat. Its key distinction may be that nobody follows a formula when developing this system.
The drawback of this method is that it is frequently possible to omit crucial measures that guarantee safety and effectiveness when taking apart the hardtop.
Final Words
Keeping your freedom panels and hardtop attached to your Jeep or removing it depends on your preference. But to enjoy the weather better, we suggest you pull that and store it in a perfect place so you can wholeheartedly enjoy the air breeze.
So how should the Jeep's hardtop be stored? Should you use the hoist system and leave the hardtop hanging in your shed, garage, or other spare room? Or would the carts and carriers be a better option?
Everything comes down to your everyday needs. Examine the choices on today's list, then choose the one that matches your circumstances. They all have strong points and weaknesses. We hope this article about how to store the Jeep hardtop was helpful.
Featured image source: Natewillyjk (Wranglerforum)