As a Jeep owner, you must have faced confusing issues selecting the perfect Jeep tires. The Toyo AT3 and the Falken AT3W are two of the best terrain tires available in recent times. These two tires have different features and purposes. People often find it challenging to select the best one for their vehicle according to their needs. 
First, you need to be sure about your requirements, and if you already know which features you want in your terrain tires, you can easily select one from these two. 
I'm here to assist you with the full comparison of Toyo open country AT3 vs Falken wildpeak AT3W. I'll discuss their key features, on-road, off-road performance, noise level, comfort comparison, and all other characteristics.
So, let's get started.
Who Would Use These Tires?
Let me tell you about these tires shortly. Then you'll come to know which one you require.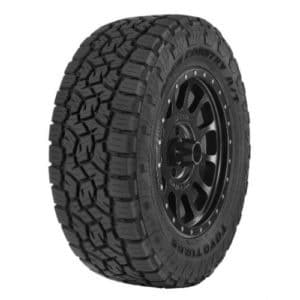 These tires are available in LT, passenger-rated, and even flotation sizes. Both of them are Three Peak Mountain Snowflake Rated. So both of them are certified for severe winter driving conditions.
Both use the silica-reinforced compound to help with chip and cut resistance and add extra life onto the tread-wear. And both of them have pretty good tread-wear warranties against manufactures defects.
For example, the Open Country from Toyo has a 65,000 tread mile warranty for passengers and Euro sizes, and then the LT and flotation sizes, it's up to 50,000 miles.
Wheares, Falcon Wildpeak AT3W, now these have a 50,000-mile tread-wear warranty on all of their sizes. So there is a little bit of giving and take there. You can get 50,000 miles warranty on LT and flotation sizes on the Open Country, whereas Falken Wildpeak is 55,000.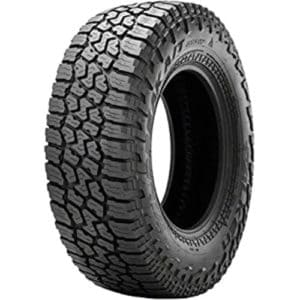 However, if you are getting passenger or Euro Sizes, Toyo Open Country is far better and probably the best tread-wear warranties. 
Since we're talking about the different designated sizes between Euro, passenger, LT, and flotation, the Toyo Open Country has 133 different sizes that fit 15 in wheels up to 22-inch wheels.
O n the other hand, the Falken Wildpeak, still fits on 15-inch wheels up to 22-inch wheel sizes but is only available in 75 different sizes.
So there may be a lot rarer or less purchased types of sizes you can get available with the Toyo Open Country AT3, whereas that might not be available for the Wildpeak.
Toyo AT3 vs Falken AT3W Comparison Chart
| | | |
| --- | --- | --- |
| Features | Toyo Open Country AT3 | Falken Wildpeak AT3W |
| Brand | Toyo Tires | Falken |
| Size | 265/70R17 115T | 265/75R16 |
| Rim Width | 10.7 Inches | 7.5 Inches |
| Section Width | 265 Millimeters | 265 Millimeters |
| Rim Size | 17 Inches | 16 Inches |
| Load Index Rating | 115 | 116.0 |
| Warranty | 65,000 Miles | 55,000 Miles |
| Load Capacity | 2679 Pounds | 2756 Pounds |
| Speed Rating | T | T |
| Construction | Radial | Radial |
Toyo Open Country AT3 Vs Falken Wildpeak AT3W: Features Comparison
Tread Appearance
We judge our tires with what we can visually see. The Falken Wildpeak has a similar but different design pattern than what the Toyo Open Country has. 
The tread depth of the Falken Wildpeak ATW is slightly deeper than the Open Country AT3. So if you are looking for that extra Mudd or snow evacuation out of there, extra water evacuation out of the tread voids, the Falken Wildpeak will have a little bit more of an advantage there. 
Both of these tires have a similar hybrid tread design-looking pattern. There are a little bit bigger, bulkier shoulder lugs on both tires. Inner treads are closer grouped, which gives excellent blender performance for both on and off-road traction.
The lateral voids on both tires are pretty wide and placed pretty decently apart. The Falken Wildpeak's center tread blocks have sharper edges than the Toyo Open Country's.
Noise Comparison
Road noise is a thing to mention. Tires make noise because of their tread designs. Because the designs are primarily lug-based, they make a little noise.
Looking at the hybrid tread designs with these two terrain tires, having that close group together, the center tread pattern will reduce road noise, and you'll experience almost noise-free driving.
With these two tires, the Toyo Open Country performs slightly better in terms of road noise.
Comfort Comparison
Because the Toyo AT3 has less blocky patterns than the Falken ATW, it doesn't mean that the Toyo will give more comfort. 
The Falken ATW uses bead apex technology to make it more flexible and comfortable than ever. In that case, it beats the Toyo Open Country. So the Falken ATW will give you more comfort compared to the Toyo.
On-Road Performance
E-commerce sites provide excellent reviews of both tires. Although, the Falken AT3W is more weighty. Hence, they won't balance as easily as Toyos. You might experience shaking and be less in control in later wearing levels.
Another important factor is steering response. This can be challenging for all-terrain vehicles. The task is even harder for all-terrain vehicles with rugged-terrain designs. I would like to go with the Toyo Open Country AT3 for its more responsive steering.
In spite of the fact that weight can be an important factor in this category, I would like to stick with the Toyo AT3.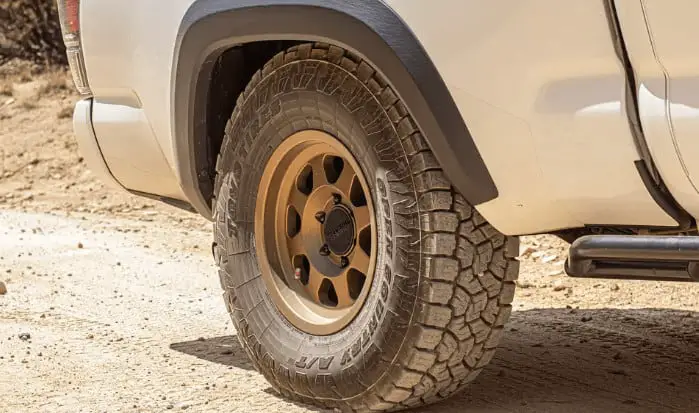 In this section, our last checkpoint is cornering. A wider shoulder can make cornering easier. This section should be brief. Even though some ratings may indicate. Otherwise, I find Falken Wildpeak AT3W to be a better performing tire when cornering.
As a result, these tires are in direct competition in this category. The choice is yours. I, however, prefer Toyo tires. Certainly, Falken tires would be more affordable than Toyos.
Wet Performance
Wet performance depends on two different things. One is wet traction, and the other one is hydroplaning resistance. Wet traction is available in most terrain tires, but it's hard to get the hydroplaning resistance on a tire.
Hydroplaning is caused when your vehicle is at high speed and the air pressure of the tires is low. Though both of these are good tires for jeep, but the Toyo performs better than the Falken Wildpeak tires.
Toyo Open Country has better hydroplaning resistance compared to the Falken Wildpeak tires. So, Toyo is recommended here.
Durability & Tread wear
The Toyo AT3 has a higher void ratio and wider grooves compared to the Falken ATW. So, the contact patch of the Toyo becomes reduced, and the rolling resistance is much lower. Because of the lower rolling resistance, tire's treadwear is reduced to some extent, which makes it a durable option.
The tread compound of this tire is made of carbon black, so the tread life is greatly extended. Additionally, the steel belts and polyester cords also increase the durability of the Toyo AT3.
The Falken has narrow grooves, which helps it increase the contact patch with the road, and the rolling resistance becomes higher. This is why its tread will wear out faster than other tires, and the vitality is also reduced.
A rim cushion protects the sidewall, silica rubber compound makes it more durable and steel in the tread also increases the durability of the Falken Wildpeak ATW.
Winter Performance
Both these tires will satisfy you in winter when you are driving in deep snow or icy conditions. 
The Falken Wildpeak ATW impresses me when driving on deep snow. The traction of this tire is impressively better, and also it helps you when you are driving on an icy road and on wet ground. The silica rubber compound helps it to perform better in extremely cold weather.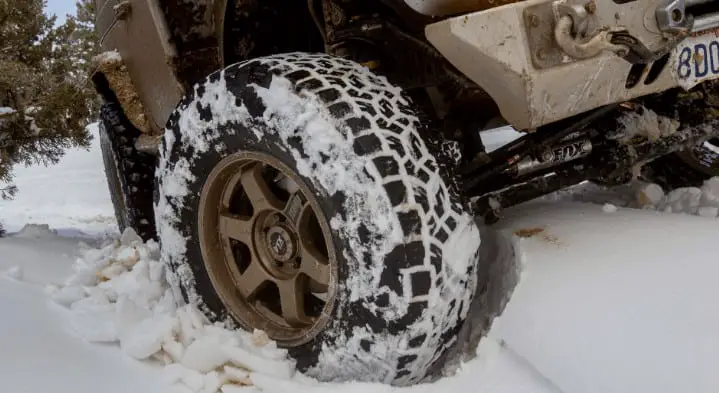 But in icy conditions, the Toyo performs better because of having narrow gaps in the tread design pattern, and the contact patch is also better optimized in this tire. So overall, it's up to you.
Craggy sidewall conservation
In terms of strength and durability, many features are included in these tires. In this section, the Falken Wildpeak ATW is a better choice. The shoulder blocks of this tire are found on the upper sidewalls, which helps it protect from the sidewall being craggy.
Stability
These tires have many sizes and weight differences, but they are very much stable. These two tires are considered two of the best terrain tires. So they tried to make them as stable as they could.
Keeping people's safety in mind, they provided advanced features to their tires that ensure stability to keep people safe when traveling. 
Of these two, the Toyo Open Country has a better review in terms of stability, but the Falken Wildpeak is also good.

Toyo Open Country AT3 Vs Falken Wildpeak AT3W: Off-Road Performance
Mud Terrain
Toyo AT3 has wider grooves, and it has the capability of grabbing mud and thrashing it backward, which is a great feature to have. Additionally, its open shoulder design allows mud to pass smoothly from the tires. 
On the other hand, the Falken Wildpeak AT3W has narrower grooves that easily stuff with mud and slip more. In addition to this, the shoulder of this tire is also narrower and compact so that mud can't pass from it as smoothly as the Toyo's.
Overall, the Toyo AT3W would be better for muddy terrains.
Snow Terrain
Agin, the wider grooves of the Toyo helps it to move forward on softer snow by thrashing them backward. However, this tire struggles on icy terrains because of having fewer sipes on the tread. 
The Falken also fails to perform as good as the Toyo on softer snows, but it performs better on icy terrain as its icy traction is excellent. 
Rock Terrain
Toyo has bold stone ejectors so that smaller stones or pebbles don't get stuck in the grooves, and the wider grooves grip better on rocky terrains. 
On the other hand, Falken doesn't have stone ejectors, so Peebles get stuck easily into the grooves, which provides less grips on rocky terrains.
Overall, Toyo will provide you with a better result in off-road conditions.
Weather-resistant
The Toyo Open Country and the Falken Wildpeak both of them have every feature that good tires should have. They will perform at their peak even in rough weather like snow, wet, muddy, desert, etc. 
In this kind of weather. Both of them will satisfy you. While driving, maintain the air pressure of the tires according to the condition of the road. Because they have weight differences according to their sizes, choose the perfect one for your on and off-road driving. 
Overall, the off-road experience will be good with the Toyo, excluding Icy conditions so it would be a good choice as a weather resistance tire.
Depth
In these two tires, the Falken Wildpeak AT3W endures for a very long time. It performs well in both on and off-road conditions and lasts for years. Its depth is deeper compared to the Toyo. Tires from Faklen are highly resistant and keep you unworried about their condition. 
Price Comparison
The Falken AT3W costs more than the Toyo AT3. Because it performs better and gives you more comfort while driving, you need to spend a little more money to purchase Falken's tires.
However, if you want a slightly lower-priced tire, you can choose the other option. The Toyo's off-road performance, Trade appearance, and other things will definitely satisfy you.
Falken Wildpeak AT3W Vs KO2
Before I say Falken Wildpeak AT3W is better, I also compare it with the KO2. Many of us have already reviewed that the Falken is a wider and deeper tire than the KO2 and performs better in off-road conditions.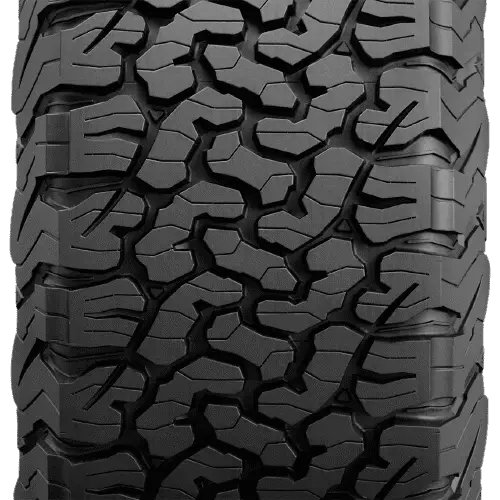 Well, the KO2 has a special rubber feature that makes it a better choice for only snow terrains. It performs superbly well on rough and soft snowy roads.
In other things, Falken directly beats the KO2. So, KO2 will not be a better choice than Falken. Rest is up to you. 
Cooper AT3 vs Falken AT3W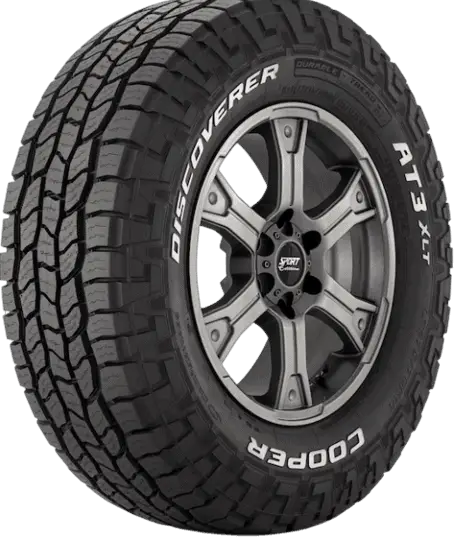 Another comparison should be made further between Falken AT3W and Cooper AT3. 
Falken is wider, and it has deeper treads in it. So that it can provide better off-road performance and its traction on the road is excellent. The hydroplaning resistance is also there to make it better.
Compared to Falken, Cooper is a cheaper one. It'll also give you a comfortable driving experience with less vibrations in the tires. But, if you consider other things like durability, weather resistance, trade designs, and other things, the Falken outplays the Cooper. 
Toyo AT3 vs Toyo Nitto Ridge Grappler
If we compare the Toyo AT3 with the Nitto Ridge Grappler, I must say that the Toyo Nitto Ridge Grappler gives a better on-road performance than the Toyo AT3's on-road performance. But in off-road conditions, Toyo AT3 does it better. 
Toyo AT3 has higher voids than Nitto to make a greater surface contact to provide a better driving experience in rough terrains. Also, it has a better resistance against snow and hydroplaning. 
Nitto provides less road noise and increases the comfort level. Overall, these two are direct competitors.
What Are the Benefits?    
Toyo Open Country AT3
Better Wet Performance
Best Off-Road Performance
More Durable
More Stable
65,000 Miles Warranty
Cheaper
Falken Wildpeak AT3W
Great Winter Performance
Better On-Road Performance
Gives More Comfort
Best in Winter Conditions
Best Value For Money
Are Falken Wildpeak AT3W Tires Good?
Falken tires are obviously very good tires. The Falken Wildpeak AT3W is considered one of the best terrain tires among all-terrain tires available on the market right now.
It has better on-road performance, supports winter conditions, and gives you more comfort while driving. Though its price is slightly higher than others, it's the best value for money. 
Which Tire Would You Choose?
If you ask me to choose between these two tires, I'll choose the Toyo AT3. Why? Because it has a 65,000-mile warranty which is 10,000 miles more than the Falken.
Additionally, in off-road conditions, it performs at its peak. Overall, it's more durable, stable, and, most importantly, cheaper than the other one. So, I'll go for the Toyo AT3. 
Conclusion
In a nutshell, both of the tires are made for harsh and rough conditions as well as daily usage. They have exceptional performance ability in snow, rock, and muddy conditions almost equally. Though there are some positives and negatives in both these two tires, they are better than other options available and enough to fulfill your needs. 
I tried to cover every single factor about these two tires in this article. I hope you'll be benefited after reading it.