If you have a mountain bike, you might want to carry that with your Jeep Wrangler. Now you might ask, can a bike fit in a Jeep Wrangler?
The methods for fitting your mountain bike inside a Jeep Wrangler are determined by the number of doors on your wrangler. But you should brace yourself for the steps to be a bit tedious. The good news is that it barely costs any money to transport bikes within a jeep.
In this article, we will show you how to fit your mountain bike into a Jeep Wrangler and some tips to help you with your bike transportation.
Can A Bike Fit In A Jeep Wrangler?
Many people want to carry their mountain bikes in their Jeep Wrangler while going out on adventures. This can be a money-saving way to carry your bike. But, it comes with other problems.
To fit a mountain bike inside your Jeep Wrangler, you need to follow the right instructions. With the help of some basic skills and tools, you can do it with ease. The process is different for a 4-door jeep and a 2-door jeep.
In a 4-door jeep, you can fit your mountain more conveniently. You just have to remove the front wheels to fit your bike inside your jeep. But, in the case of a 2-door Jeep Wrangler, you need to remove both wheels.
There are other options available, including multiple types of racks and holders.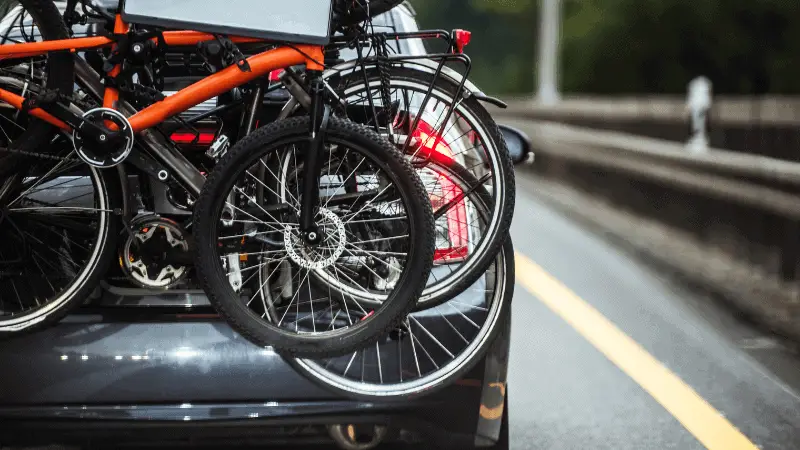 Tips To Keep In Mind When Transporting Bike Inside A Jeep
There are a few things to do to transport your mountain bike and fit it in a jeep. Here are the following:
Remove The Wheels Of Your Bike
It is better to remove both wheels of your bike when you are heading for a long journey and transporting your mountain bike in the Jeep Wrangler. It helps in lessening the noise bikes make when your jeep moves. It might sound like an extra hassle, but you will be thankful for the peaceful and noiseless journey.
Use An Upside Holder
You can use a roof-mounted bike carrier that serves as an upside holder. These are beneficial for effortlessly fitting your mountain bike into your Jeep Wrangler. It also helps fit more in your vehicle.
You simply sling this carrier on the top of your Jeep Wrangler and let your bike sit on top.
Try Using Soft Straps/Padding
Soft straps are a great way to protect mountain bikes from any damage during their journey on a jeep wrangler. They are also quite flexible. If you don't want to use straps, you can use make-shift padding. For example, you can use blankets or towels, which will also provide protection against scratches or rough bumps.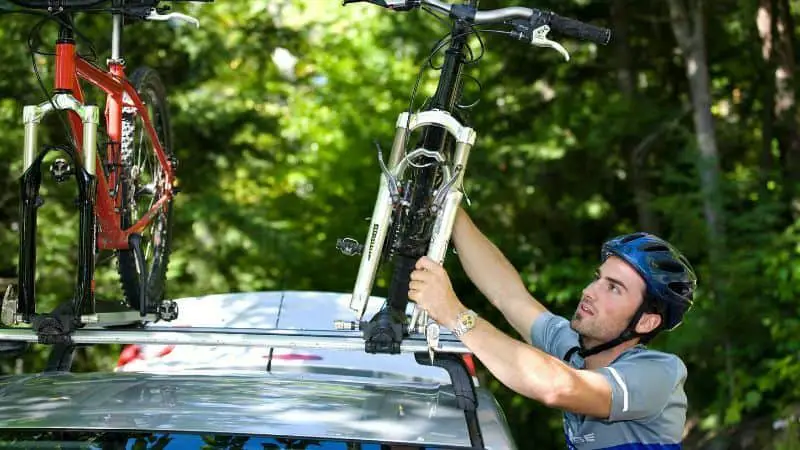 Use Bike stands
It would be difficult to fit mountain bikes if you have a two-door Jeep Wrangler. But if you use stands, it won't be a problem. For example, you can use top holders or roof racks. Also, tie-downs are a good alternative as they are easier to set up and remove.
Use A Bike Rack In Your Jeep Wrangler To Carry Mountain Bike
This is so far, our recommended way of transporting your mountain bike. You can carry up to 4 bikes with the help of a rack. There are different kinds of racks available which are‌:
A Rooftop Bike Rack
By using a rooftop bike rack, you can easily transport three or more bikes at once. Check out our recommended best bike racks.
A Hitch Bike Rack
A hitch bike rack is installed in the back of your Jeep and comfortably carries 4 mountain bikes. We recommend the Allen Sports hitch rack.
A Spare Tire Rack To Transport Mountain Bike
A spare tire rack is similar to a hitch rack. But you can not carry more than two bikes at once with this tool. Allen Deluxe is an amazing option you can go for.
Conclusion
Any mountain bike owners know how much of a hassle it is to take a mountain bike on trips. But it's easiest when you can transport it with your jeep.
So now you know the answer to "Can a bike fit in a Jeep Wrangler?" And with the mentioned guidelines, hopefully, you can bring your bike with you without worrying about transposing it.