Jeep is undoubtedly one of the most popular vehicle brands, known for its compact design and powerful engines. Unfortunately, it falls miserably short in the sound system category. Whether it's a long drive or regular use, a good sound system is a must-have. That's why we hear many jeep owners asking, "How can I improve my jeep sound system?"
Well, you can upgrade the sound system of your Jeep with many options. You can install a new stereo system with speakers in the front and rear, boost it with a subwoofer, an amplifier, and many more.
In this article, we will help you upgrade your Jeep Wrangler's sound system and give it some extra bass. Let's dive into it.
In-Depth Guide on How Can I Improve My Jeep Sound System?
A good sound system should be able to generate clear and loud music, have good bass, and have a good sound control system. Despite all the shortcomings, there is ample scope for Jeep owners to upgrade their sound system.
The upgrade solely depends on what kind of performance you're expecting from it. There are so many options available on the market currently, ranging from AM/FM radio options, hands-free calling systems, Bluetooth wireless music streaming, devices that support using disk or USB drives for both MP3 and FLAC, and many more.
Depending on the amount of cash you're willing to spend; here is a list of upgrades for your Jeep Wrangler sound system: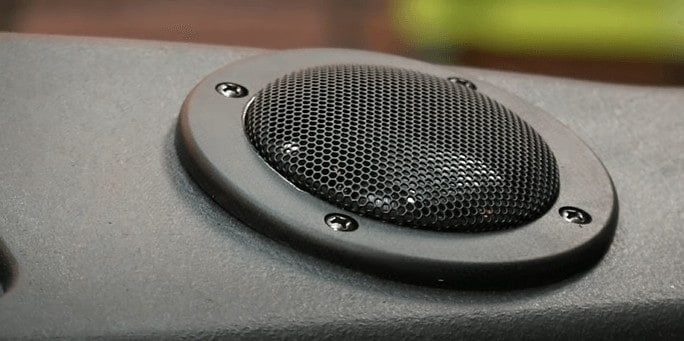 Current Stereo System In Jeep Wrangler
In the JL series of the Jeep Wrangler, you'll notice a pretty basic stereo system with small speakers on top of the dash and two on the bottom of it. In 2015, Jeep increased the speaker count to 8, along with two soundbars with 3.5″ tweeters.
It's a little odd that the company decided to reduce the speaker sizes. The current 6.5″ speakers in the dashboard are smaller than what the JK-chassis Jeeps used to have. Recently, they updated it with an Alpine sound system having nine speakers and a subwoofer.
Invest In Good Front Speakers
The front speakers generate the majority of the sound in your Jeep Wrangler. The speaker system in the Jeep wranglers is not capable of generating good sound and is fairly inexpensive. A good investment in the front speakers will give you amazing outcomes. Mark my words!
Many manufacturers make good-quality speakers for Jeeps. You can easily place them in the factory location. The prices depend on the quality of the speakers. But you can get the best speakers for around a hundred bucks.
However, the installation is a complex process that requires a good amount of time and money. Another great way of getting the best out of your Jeep sound system is car audio fabrication. They will cost you some bucks, but the results are too good to be true.
Mopar front speakers are one of the most popular and top-rated front speakers to go for.
A Subwoofer Adds A Lot To Your Jeep's Sound System
If your Jeep Wrangler doesn't have a subwoofer, or even if it does have a factory-made one, get yourself a powerful subwoofer. Subwoofers significantly enhance the overall sound quality by boosting the bass.
The low-quality speakers in your Jeep Wrangler desperately need a subwoofer to keep them connected. They minimize the strain on the sound added by those squeaky speakers.
The only problem with subwoofers is that they will cost you a hefty amount of cash. The price tag is justified since they come with an amplifier and a linear device. If you are getting a good subwoofer, make sure you get the best one.
We recommend the Alpine Electronics SBV Subwoofer System, an amazing subwoofer that fits comfortably under the passenger seat.
Unlike the price, the installation process is pretty easy if you understand the task. You can check out this YouTube video to get some help with the installation:
Get More Power With An Amplifier
If you want to step up the game, this is a must-have. An amplifier boosts the sound of your speakers and gives them more power. Most of the time, you don't need to buy an amp if you have already installed a subwoofer.
The perfect time to install your amp is while installing the front speakers. Depending on its size, the amp will fit easily inside the dash. But do not make the mistake of placing it under the passenger seat. The dust and moisture can potentially damage your device.
Installing an amp inside the dash is not an easy task. The amp needs a direct connection from the battery. Make sure all the wires are detached from the battery to reduce the risk of getting shocked.
Check out this video to learn how to install an amplifier inside your Jeep Wrangler properly:
Upgrade The Overhead Soundbar
The Jeep Wrangler includes an overhead soundbar just behind the front seats. Likewise, they do not produce good sound. So replacing them with an efficient soundbar system will increase the quality of your car's audio.
The overhead soundbars will help to increase the sound inside your Jeep and provide a better performance, especially for those sitting in the rear seats.
You can check out the replacement speakers from Alpine. They will help to improve your Jeep's sound quality significantly.
More Speakers To The Rescue
While there are options and some space available inside your Jeep for extra speakers, we recommend you not install them. They will make your ride congested and compromise passenger comfort.
But if you want to go for some extra boost, look for available space under the seats or in the trunk. An audio fabricator can help you a lot in this case by adding a customized audio option to the passenger side doors.
FAQs
How many speakers does a Jeep Wrangler have?
Jeep Wranglers come with a standard 8-speaker system. They also include an optional package including 9 speakers from Alpine with an 8″ subwoofer.
What Size Subwoofers Do I Need for My Jeep Wrangler?
The standard size for a Jeep Wrangler subwoofer is 8″. If you want a bigger subwoofer, you need to compromise the space in your cargo area.
Is the Jeep Wrangler's sound system good?
The factory-built sound system of the Jeep Wrangler is not up to the mark. They sound basic and nothing like the stereo systems found in modern vehicles. Thus, it needs some improvements.
Conclusion
The Jeep's sound system has disappointed most of its consumers. Jeep users mostly go for off-roading or long drive where an amazing sound system is a must. For these reasons, the jeep sound system needs to go through a good upgrade. So, how can I improve my jeep sound system?
Well, I hope we can provide you with the answer you were looking for. Now it's time to go for a drive playing some country music on your upgraded jeep sound system. What are you waiting for?