Soft top windows are one of those elements that immediately catch everyone's attention. As a jeep owner, you should always prepare yourself to face dirt, dust, or even animal drops on your soft top and soft top windows. So, how to clean Jeep soft top windows?
You can easily wash your Jeep soft top windows with the help of a microfiber mitt or rag and a good quality mild cleaner. You can also use regular detergents and warm water or vinegar for this purpose.
But things do not stop here. People make some terrible mistakes which lead to serious damage to their soft top windows. So, without further ado, let's get started on how you can effectively clean your jeep soft top window.
How Often Should You Clean Your Jeep Soft Top?
Many jeep owners do not pay much attention to their Jeep soft top and soft top windows as much as they do to the other windows. But little do they know that this completely ruins the look of their jeep. And like other parts, the soft top windows require regular cleaning.
Many believe that they should clean the windows only when they're absolutely cloudy and foggy. But the windows should be cleaned at least once a week to remove the dirt and debris that eventually ruins the quality of the window little by little.
But using a harmful and strong chemical cleaner or unsuitable detergents and soaps may also cause damage to your soft top and soft top windows. Keep it simple and do it once a week, if not, twice a month.
What Are The Best Products To Clean Your Soft Top Windows?
Choosing a good quality window cleaner suitable for your soft top will be your best friend in the long run. This is something you should be very generous with spending on.
A good quality window cleaner will clean all the debris and dirt, no matter how hard they seem to be removed.
The best thing about the specific soft top window cleaners is that they will cause no damage to the material of your window. They don't leave behind any unexpected residues or harmful oils.
Unsuitable harmful chemicals containing cleaners may cause your windows to turn yellowish, foggy, or even crack eventually.
So it is wiser to choose a suitable cleaner for a polished, clean, and sleek soft top window.
Our recommendations are:
The best thing about these cleaners is that they contain no harmful chemicals, including CFCs, petroleum, or ammonia.
They also act as a protectant by applying a layer that doesn't allow dirt and debris to sit on your windows.
Don't Use These Materials To Clean Your Jeep Soft Top Windows
Before focusing on what materials you should be using, let us highlight what you should not be using.
Most people make the mistake of washing the soft-op windows with a cloth and rag. This causes scratches on your windows.
For the same reason, avoid wearing terry clothes. Another big mistake most people make, especially when their jeep has aged a little bit, is the use of a squeegee to clean the dirt or wipe out the cleaner and sop water. You'll immediately see the damage after two or three washes.
So, make sure you use a microfiber mitt to gently wash or dry off the surface.
Do not use harmful chemicals. Never use bleaching powder or regular glass cleaners as they contain ammonia, which will ruin the quality of your vinyl or plastic soft top window. Refrain from applying harsh detergents to the windows.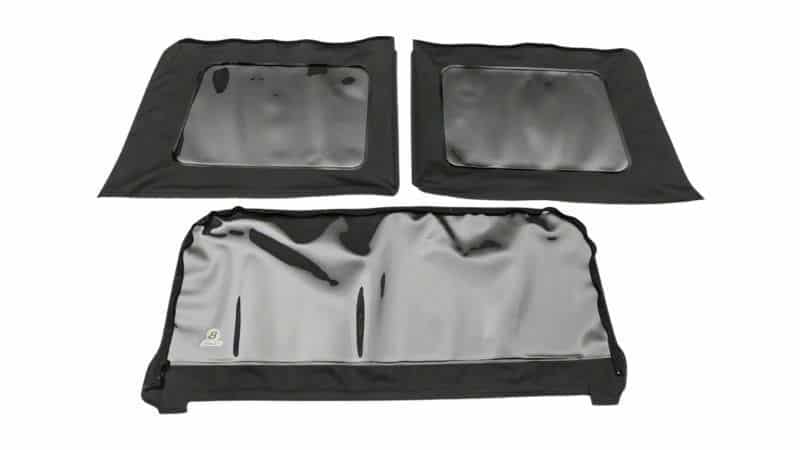 Step-By-Step Guide On Cleaning Jeep Soft Top Windows
This is the most important part. Cleaning a soft top window may sound like washing other regular windows, but it is not. It requires you to be careful about certain things. But once you know your ways, it is absolutely easy and convenient.
Here is how you can easily and safely clean your Jeep soft top windows:
Before Starting The Procedure
Before you just jump right into it, make sure to keep these things in mind.
Make sure you've allowed your jeep to rest so that the windows can cool off a bit.
Do not wash your windows if the temperature is too cold (below 12 degrees Celsius).
Make sure your jeep is under a shed.
Do not wash the windows in a place where dirt can easily find a way to the jeep.
Step 1: Rinse It Off Quite Well
Take a hose and thoroughly wash the soft top window. Pour water over it with some power so that the debris and clouds of dust are cleaned off. This will eventually lower the risk of getting scratches on your window and also make the removal of the dirt easier.
Do not rinse it with too much force as it may cause damage to the framework.
Step 2: Dry It Off And Apply Cleaner
Once you're done with the first step, spray the soft top window-friendly cleaner on the window firmly. Keep spraying until the whole surface is covered. Now take the microfiber mitt and wipe out the cleaner from side to side.
Repeat the process at least two to three times.
Step 3: Dry It Out.
If you've reached your desired level of cleanliness, you can now dry it out using a microfiber mitt or a rag. This is the only stage where we'd allow you to use a soft towel or rag to dry out the window.
Step 4: Put On Your Protectants
Haven't we always heard, "Prevention is better than cure"? This is the same in this case. Many people miss this important step. You should always use vinyl or plastic soft top protectants to lock in the quality of your windows and protect them from UV damage.
Cloudy Windows Require Polishing
If you're trying to treat a cloudy soft top window, then you'd need more than just regular washes. You need to apply polish to remove those scratches. Get yourself a good polish and apply it after cleaning the window with regular cleaners.
Apply it over the whole surface and wait for a few moments. Use a microfiber mitt to gently wipe it out. Do not force too much on the windows, this will cause more harm than good.
What Kind of Polish Should You Use to Clran Cloudy Jeep Soft Top Windows?
Vinyl windows are prone to damage if an improper substance is used. In addition, the soft top windows on your Jeep will need to be cleaned differently than the glass windows or the top itself. Therefore, we advise using specialized cleansers.
There are two widely used choices: regular polish and lemon spray polish.
Lemon Spray Polish
It will be ideal for clearing the haze on your soft top glass. This polish will remove all the scratches, filth, dust, and cloudiness on your windows in a few minutes with only moderate power and speed.
However, the fact that there are no adverse effects makes us love it the most.
Regular Spray Polish
We know it is a popular opinion, and several experts would recommend this polish spray. Although it does an excellent job of cleaning, we forbid you from using it. That's because it will eventually turn the windows of your Jeep yellow, which is irreparable.
Which One To Choose?
Since the lemon spray polish may readily eliminate the cloudiness with minimal effort and nearly no harmful effects on the window, we strongly advise using it.
A standard polish can also be used, but be aware that frequent use of this substance will harm your glass.
How Much Does It Cost To Clean Cloudy Jeep Soft Top Windows?
Whatever brand of polishing kit or protectant you use, cleaning cloudy Jeep soft-top windows won't cost you more than $60.
A soft top window restorer repair and cleaner polish will cost you $14. And a cleaner and protective kit cost $40.
If you already have a microfiber wash mitt at your home, it will save you $10. You may need more than one. So spend wisely.
For an estimated $40.00, Bestop presents a Cleaner and Protectant Kit for the Jeep Soft Top that includes a Cleaner, Protectant, and Polisher for the hazy yellow glass.
Performing the whole procedure by yourself will save you labor costs. It is not that tough. So we suggest you do this by yourself. Just be careful of accidents and follow the steps.
DIY Methods To Clean Jeep Soft Top Windows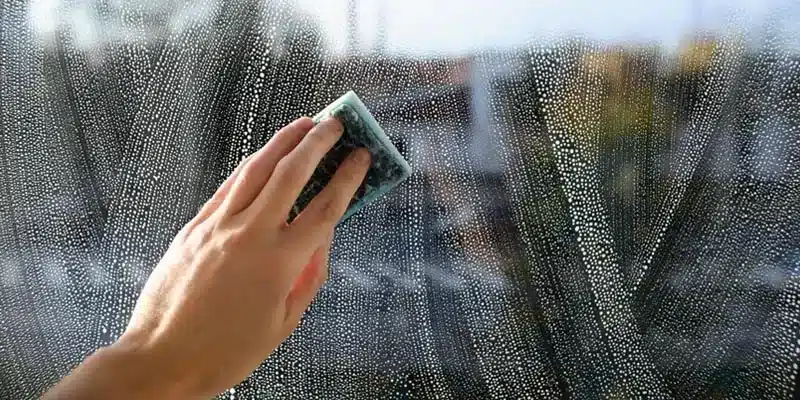 Having said that specific cleaners work best for cleaning Jeep soft top windows, you can also use some DIY methods to clean with the products available in your kitchen.
You can use vinegar and mix it with water to make a solution. This works best for easily removing dust and dirt without causing damage to the windows.
A mixture of mild detergents, warm soapy water, and lemon juice will also do the work for you. Never use ammonia-containing glass cleaners as they may ruin the quality of your windows.
How To Keep Your Soft Top In Good Condition?
Maintaining your jeep soft top window in good condition requires more than just washing. You should invest in a top-quality protectant. A protectant works wonders in safeguarding your soft top from the rough weather.
Before applying it, go through the manual as some protectants require a monthly application, and some last for a period of over three months.
Cleaning the inside of the window is as important as cleaning the outer surface. Make a habit of cleaning your soft top window regularly to keep its quality intact for the longest period possible.
FAQs
Should I use paper towels to clean the Jeep soft top window?
No. Do not use paper towels to clean the Jeep's soft top window. It will leave scratches all over the window as a result of friction from the tiny dirt particles.
Is Windex safe for Jeep soft top windows?
Windex contains ammonia and alcohol, which is not safe for soft top windows. They tend to make them breakable and crumbly over repeated usage.
Are glass cleaners safe for Jeep soft top windows?
No. Glass cleaners contain ammonia, which reacts with plastic and vinyl and degrades the quality of the window.
Should I use a squeegee to wipe out dust from a soft top window?
Squeegees and brushes are not safe for Jeep soft top windows. You should use a microfiber mitt for this purpose.
Conclusion
It is quite normal for a jeep owner to see how cloudy and dirty his top windows become over and over again. It might be quite frustrating if you have tried cleaning it but ended up having worse results. But it's an end to all those frustrations as now you know how to clean a jeep soft top window the right way.
Make sure you choose the right products and tools for this purpose. The results will be incredible.
Featured image source: jeepsareus.com