Jeep Compass is ranked as one of the least-featured SUVs in the market. However, recent upgrades have struggled enough to give good manners on the road to restoring its reputation.
However, the Jeep Compass is a popular small SUV, but is the Jeep Compass a good car? Read this article to find out what makes the Jeep Compass a great car and the reasons why it may not be the best choice for you.
I will cover the features, specs, performance, safety, and more to help you make an informed decision.
Jeep Compass is a decent SUV compared to its competition in the market. In off-road performance, it gives enough smoothness on the bumps. It scores 77 on reliability and 91 out of 100 on power-predicted reliability. The interior comfort is upgraded with upscale materials and modern car tech. However, the fuel economy is not so good.
Overview Of The Jeep Compass
Typically, a Jeep Compass is a little crossover SUV between the larger Cherokee and the more petite Renegade in Jeep's lineup. But Compass got various updates in 2022. These updates include exterior and interior styling, additional standard features, and car techs.
Its off-roading capability has increased because of these updates. On top of that, you will get easy-to-use infotainment controls.
It's basically a 5-seater SUV with a 177 Horsepower engine. The spacious seats make the drive more comfortable. The latest Jeep Compass version has a more powerful turbocharged engine. A new eight-speed automatic transmission system makes the transmission more fluent and dynamic.
However, some features keep it from being the ultimate choice for an SUV, such as dull handling, below-average cargo space, marginal gas mileage figures, etc.
The Jeep Compass supports Android audio and standard wireless Apple Car play. You will even get the Uconnect 5 infotainment system.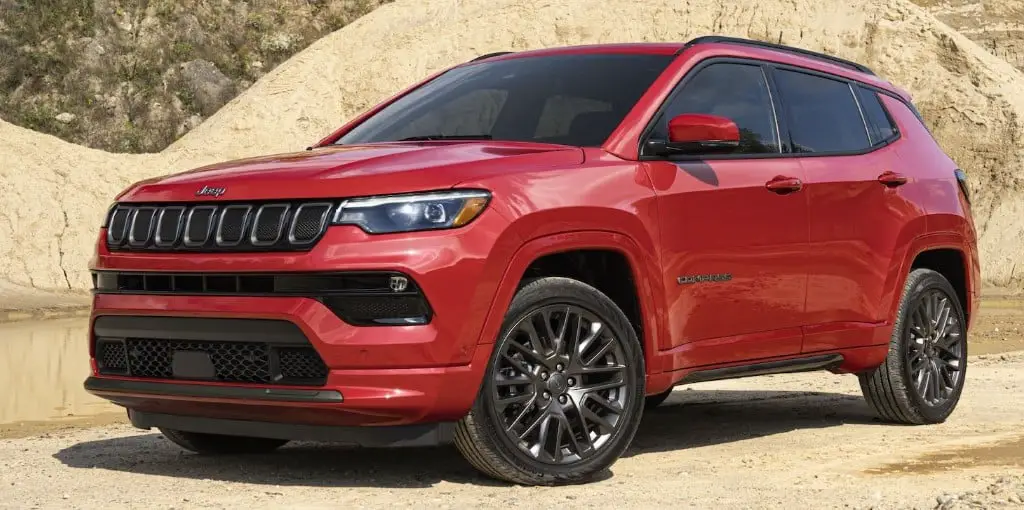 What To Like and What Not to Like Of A Jeep Compass
The Jeep Compass is not quite famous as an SUV among enthusiasts. Despite some below-average features, you might like or adore some of the other upgraded features that will inspire you to get a Jeep Compass.
Here is a list of what to like and what not to like in a Jeep Compass:
What To Like
The first thing to love about the Jeep Compass is its impressive interior design. Upscale soft-touch materials replace most hard surfaces and plastics. It gives an attractive look inside.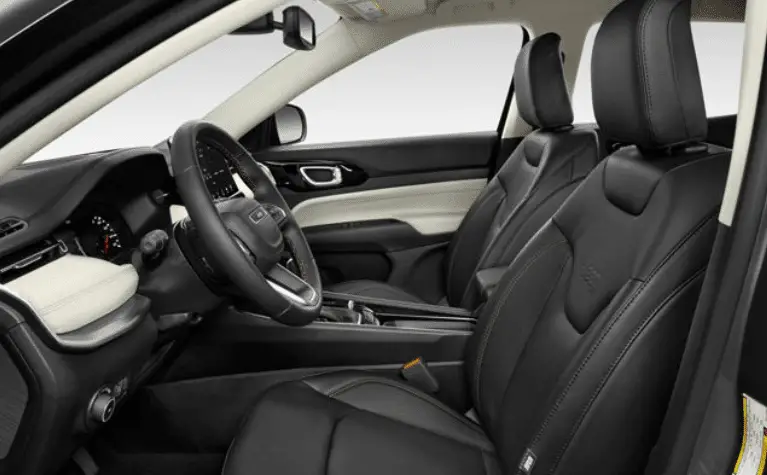 You will get an aesthetic vibe whenever you are on a Jeep Compass. It also receives a Uconnect infotainment system with vivid graphics. An 8.4-inch touchscreen gives you a better customization option.
You will also get extra space for small items inside the cabin. For example, under the touchscreen, you will get a large bin. Additional features include wireless phone charging, a dual-pane panoramic moonroof, and a power liftgate.
The Jeep Compass comes with blind spot monitoring and warning system, cyclist detection, and lane departure warning with the automatic emergency braking system. Adaptive cruise control gives better safety.
Jeep Compass is also made with civilized road manners points compared to other vehicles in its class. Due to the absorbent suspension, comfortable rides are possible.
What Not To Like
Even after such massive upgrades, it misses touching the power section. That's because Compass's powertrain lags in refinement and responsiveness compared to its competitors.
The engine of the Jeep Compass even gets slightly to 177HP from 181HP. On top of that, there's no solution to the noises from the engine.
Nowadays, the prices of gas are rising without any boundaries. And the Compass can't give you satisfactory fuel economy by a substantial margin. Some reviewers even said that it's worse than Nissan Rogue models.
Despite providing extra space than its previous models, Jeep Compass stays behind its competitors giving significantly less room for gear. Only the large opening helps strengthen the weak point, providing enough space to load oversized items.
Looking at the market, you will notice at least one electric powertrain or hybrid model, which provides better fuel economy and performance. It makes the Jeep Compass much more archaic though the company announced it to go electric in upcoming years.
How Does It Compare To The Competition?
Earlier, the Jeep Compass was neglected due to its weak engine power. However, the latest updates get them back into the competition.
Let's see how it compares to other SUVs in the market:
Off-Road Capabilities
Jeep Compass performs outstanding off-road like other SUVs. A select-terrain management system and a four-wheel drive make the performance smooth. On top of that, you will get automatic mud, snow, and sand settings.
You will also get Trailhawk trim that will make the trail drives easier. Additionally, the Jeep Compass has a low-range gearing system which helps to make decent control.
Jeep also adds an off-road suspension for better performance and a rock traction setting compared to other compact SUVs.
Two tow hooks and skid plates are other additional features. With all the new and advanced features, you can't ignore keeping the Jeep Compass at the top of the list of off-road SUVs.
On-Road Performance
The Jeep Compass is not good in terms of on-road performance. You can also tell it's not entirely as planted as other SUVs in the market.
The chassis will give you an unsettled feel whenever you want to take turns around the corners, which might lead to too much body roll. This situation appears at a higher speed. However, the straightforward infotainment system gives you a good drive.
Interior Comfort And Convenience
The latest update is more in the discussion because of interior changes. New Compass cabins look more admirable compared to previous models.
Manufacturers used upscale materials which are soft to the touch. The touch screen is quite responsive and comes with logical menus. It's pretty straightforward to click through, and you will quickly understand the graphics.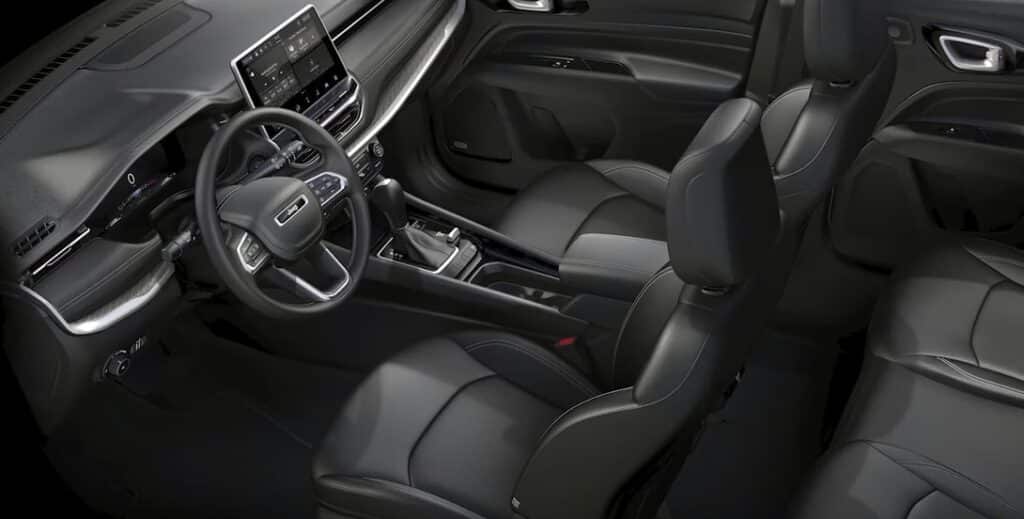 On top of that, you will get some physical controls. It also comes with Apple car play and android audio for more convenient use. Remote keyless entry is another standard feature.
Top spec limited trim level, supple leather seating, and dashboard stitching give a more attractive look. The whole interior has a two-tone color scheme. So, the overall impression is quite astonishing.
Read Related: Replace Your Jeep Compass Key Fob Battery In Just Minutes
Practically And Storage Options
As a compact SUV, the cargo space in the Jeep Compass is below average. With the rear seats folded, you will get 59.8 cubic feet increment in the available space. And a 27.2 cubic feet area in the back row gives you extra space.
On top of that, you will get an optional hands-free liftgate. Inside a Jeep Compass, up to five people can sit. Adults like you will find enough front and rear space to stretch out.
However, you might feel uncomfortable after the longtime use of these seats. Your ride with a Jeep Compass will be pretty relaxed on the pavement.
But the problem will appear with the vague steering during a turn, and passengers on the back might lean around the corners, especially in high altitudes.
Reliability Woes
The Jeep Compass model is quite reliable compared to other SUVs. It gets a reliability score of 77 out of 100. It also gets a 91 out of 100 regarding power-predicted reliability.
The score is quite good and considered the best because the average result differs between 81 to 90 in good SUVs. And the average score is 70 to 80, and below these ranges is regarded as a fair score. Therefore, you don't need to worry about the reliability of your Jeep Compass anymore.
On top of that, Jeep will give you 3 years of limited warranty, which is about 36000 miles. And 5 years of powertrain warranty which is around 60000 miles.
Fuel Economy
Jeep Compass has a 2.4-liter four-cylinder engine with 180 horsepower. That's why riders feel sluggish while driving.
The Jeep Compass gives slightly poor fuel economy compared to the standard SUV class. In the city drive, you will get 22 MPG with front-wheel drive.
On the highway drive, you will get 31 MPG with front-wheel drive. You will also get one less MPG on highways with the four-wheel drive models.
The nine-speed automatic transmission comes with four-wheel drive, and the six-speed automatic transmission comes with front-wheel drive.
Final Words
Jeep Compass has fantastic off-road performance with remarkable additional features like extra space on the rear seats, touch screen, Uconnect, support of Apple Carplay and android audio, etc. However, the Jeep Compass still needs to catch up on some features to stay in the tough competition of SUVs.
Hopefully, the discussion on the Jeep Compass as a good car has given our comprehensive review. So, research before buying the Jeep Compass and ensure you get the latest upgrades.
If you like a compact car that will give you enough support on off-road adventures, the Jeep Compass is a good choice. If not, you can look for other options!
Want to Check Car History?
If you want to check the car history of any used cars before buying, you can check everything!