Jeep Gladiator is a pickup truck version of the Jeep Wrangler SUV designed for off-road adventures. It's no wonder that Jeep Gladiator owners enjoy spending time in their vehicles.
If you're looking to customize your Gladiator's appearance and performance, there are various tire kits available for different tire sizes. Sometimes, selecting the best 35-inch tires for your Jeep Gladiator can be a challenge.
Fortunately, I've done the research and found the top-performing 35-inch tire suitable for all types of terrain. You can upgrade your Gladiator with 35-inch tires which can enhance your Jeep Gladiator's performance and give it a unique look.
However, when buying 35-inch tires for your Jeep Gladiator, you should consider your driving needs and preferences. The listed tires offer excellent traction and stability on challenging terrains, making them ideal for adventurous driving.
Top 3 Product Comparison & Our Top Picks
| Product Name | BFGoodrich KO2 tire | Kanati TrailHogs | Pro Comp Xtreme M/T2 |
| --- | --- | --- | --- |
| Item Image | | | |
| Our Pick | Top Pick | Best Overall | Consider |
| Tread Design | Interlocking Tread Design | Large Tread Blocks In Tread Pattern | Unique Tread Compound Coupled With Silica |
| Load Index Rating | 127 | 121 | 121 |
| Load Capacity | 3860 lbs | 3197 lbs | 3195 lbs |
| Rim Size | 16 inches | 20 inches | 20 inches |
| Ply Rating | 10 | 10 | 3 |
| | Check Price | Check Price | Check Price |
Why Jeep Gladiator Needs 35 Inch Tires?
When it comes to Jeep Gladiators, the most frequent size of off-road tire installed is 35 inches. Jeep Gladiator Rubicon and Mojave models, work fine on 35-inch tires, and in some instances, the installation of these tires doesn't even require any adjustments.
It's worth noting that you can use a 35-inch-tall wheel without raising the truck on the Mojave and 2020 Rubicon Gladiators. That's a big deal for the 35 discussions, and it's also a fantastic option for anyone who wants to complete their car by filling out the wheel wells.
Tires with a diameter of 35 inches are often referred to as mud-terrain (MT) tires. On the other hand, Gladiators, are designed for towing and hauling. Therefore, their suspensions are optimized for riding over rough terrain.
A common reason you should go for 35-inch tires for the Jeep Gladiator is its good gas mileage. In addition, MT 35-inch tires can safely be used with less air pressure than AT tires. What this means is that they can provide superior grip in demanding conditions.
However, 35-inch tires are the most popular for Jeep Gladiators because they give more ground clearance and better control on gravel land, hills, and valleys.
Factors To Consider When Choosing Tires
For successful tire installation, you'll need to have a clear purpose and know your stuff. Plus, having the right info can help you pick the perfect 35-inch tires for your vehicle. Make sure you have a plan in place and you'll be good to go.
However, the question is what characteristics the ideal 35-inch tire must have. Read on if you need a new pair of 35-inch tires but don't know how to judge their quality.
Tire Size
If your tires have begun to chunk and you're in the market for a replacement set, picking the right size is crucial for maximizing your off-road performance.
A company's "35" height may vary from that of another. Nitto tires are the go-to since the business's Grappler line of LT tires is the most size-accurate on the market.
However, true-to-size has less of an effect on a Gladiator size 35. When you upgrade to a 37, though, it becomes clear that it is so.
Standard-sized tires won't do credit to the capabilities of a Jeep or other large vehicle. As a result, bigger tires, like the 35-inch tires, are a suitable option because of their strength, toughness, and longevity.
Tread Design
The decision you make here will have far–reaching consequences. Tread design will decide how well your vehicle performs on the road. Also, the trail means how much gas you can get on the road, and how quickly your tires wear out.
Mainly, you'll have to weigh the importance of trail traction in the areas you most frequently visit against the necessity of street driving. Hybrid tires, mud tires, and all-terrain tires comprise the three main tread categories.
Tires should have a tread pattern that maximizes grip in all directions, even corners while minimizing hydroplaning on slick pavement, stopping distances, and fuel consumption.
Terrain Type
If you're looking to change up your tires for some off-roading', think about the type of terrain you'll be tackling. 35-inch tires are perfect for muddy terrain, so they're definitely worth considering.
All-terrain tires are among the most popular choices. They perform well on paved roads and rough terrains. These tires provide powerful performance and exceptional traction in various conditions, from paved streets and snow to pebbles and dry pavement to ice, all because of the interlocking tread portions.
The more daring road configuration calls for mud-terrain tires. They're designed specifically to excel off-road. Jeeps with these 35-inch MT tires can traverse rough terrain easily, including inclines with rocks, uneven roadways, sand, and loose soil.
The hybrid tire was created for those who wanted a compromise between muddy and all-terrain models. The tread pattern of the hybrid-terrain tires is designed to boost traction in dirt and mud, and the tires also give a brisk performance on dry pavement.
Load Capacity
T tires have a full load capability when inflated adequately to their maximum air pressure. Larger tires negatively impact both fuel efficiency and handling.
If you disregard the load rating of your tires, they could burst, causing you and your passenger's serious harm in an accident. Make sure you check the weight limit before you buy anything.
Top 5 35-inch Tires For Jeep Gladiator
I did my research and I'm confident these five 35-inch tires are the best for any kind of driver, vehicle, or off-road situation.
All the tires I've shown here are built to withstand high loads and deliver a thrilling off-road experience.
1. BFGoodrich KO2 35 Inch Jeep Gladiator Tire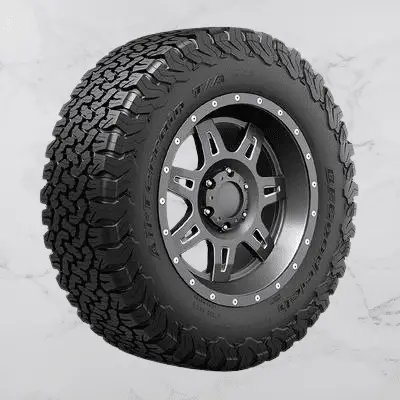 BFGoodrich KO2 is an all-road tire. Thus, You can drive on any surface without losing traction. With these tires, there's no need to worry about driving in the snow or rain, as they were designed to handle all terrain.
Increased tread block stability thanks to the 3-D Sipes' locking design leads to more uniform tread wear over its lifetime.
Many satisfied customers have driven thousands of miles on these tires over several years with very little tread wear. A few K02 owners have raved about the versatility and performance in various driving conditions. 
Pros
Designed to accommodate the toughest all-terrain
Excellent toughness against sidewall wearing
Belong to the top winter tire category
Eliminates the need for frequent tread cleanouts
Cons
They're noisy like a Super Swamper and wear out quickly
2. Kanati 35×12.50R20LT Trail Hog A/T-4 35 inch Tire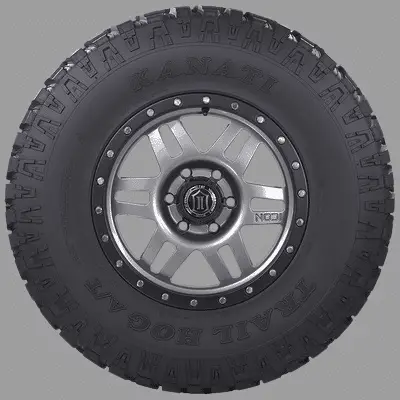 Kanati Trail Hog A/T-4 has an all-terrain tread design that performs well in wide climates and road conditions. This Trail Hog provides long-term durability and high towing capacity thanks to its 10-ply sidewall construction.
This is a fantastic 35-inch set of tires for off-roading and long-distance traveling since it has excellent traction and reactivity in various conditions.
Customers who have purchased this package have commented favorably on the quiet operation, reasonable price, high standard of craftsmanship, low noise, and excellent traction.
Pros
Better control with a rugged beveled shoulder block
Suitable for on and off-road and braking
Cleans out snow and mud from tire grooves
Eliminates the road noise while driving on-road
Cons
A lack of stability on the truck is sometimes reflected.
3. Pro Comp Xtreme M/T 2 Radial 35-inch Tire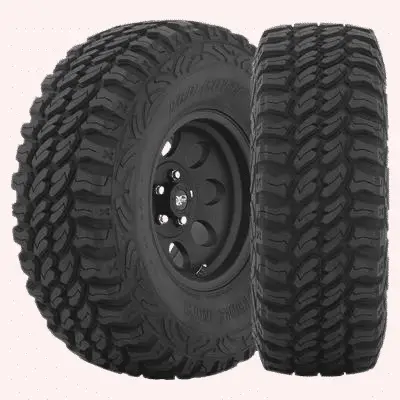 Whether you need to haul massive loads or drive across rugged terrain, the new Xtreme MT2 has the toughness and grip you need.
The aided aggressive open tread design ensures supreme grip and stability without the usual tire-squealing noise. It's better at cleaning itself in slush and snow, too.
According to one repeat buyer, these tires perform well in off-road conditions. On the highway, the ride is comfortable and relaxing. He is a big fan of the tread pattern and how aggressive these appear on his 1990 full-size GMC jimmy.
Pros
Huge advantages while driving on a loose surface at low pressure
Permits navigation on every terrain
Superior self-cleaning performance in snow and mud
Unrivaled control and grip without excess noise
Cons
4. Goodyear Wrangler DuraTrac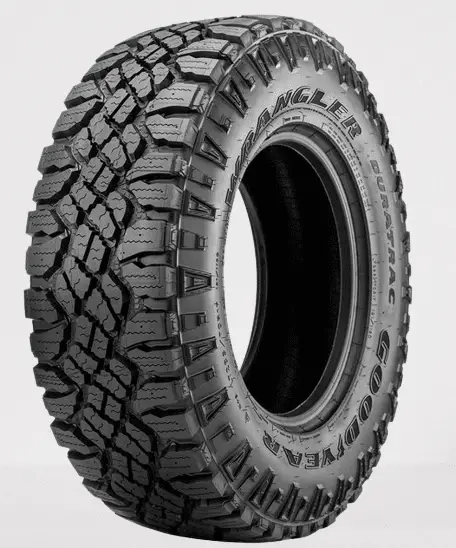 For drivers of full-sized trucks, vans, SUVs, and commercial vehicles that need tires that can handle all sorts of terrain, Goodyear designed the Wrangler DuraTrac On/Off-Road Commercial Traction truck tire.
Wrangler DuraTrac 35-inch tires have a rim lock that helps keep the wheels from slipping. Besides, a rim protector helps keep the wheels from getting damaged on- or off-road.
It's great for off-road traction and low-wind noise. Also, everyone's been giving them compliments. Plus, it can handle really well in all kinds of driving conditions and adverse weather – really makes them stand out.
Pros
Versatile tire offering competence in any off-road condition
Unmatched traction in all weather conditions
Not so loud as a mud tire
Expect to endure at least 50,000 miles
Cons
Somewhat wriggly on solid rocks
Impaired sidewall
If you have Jeep Wrangler and want to find the tire for that, you can read my recommendation about 2.5 Inch Lift and 33 Inch Tires.
5. Nitto Trail Grappler M/T 35 inch Tire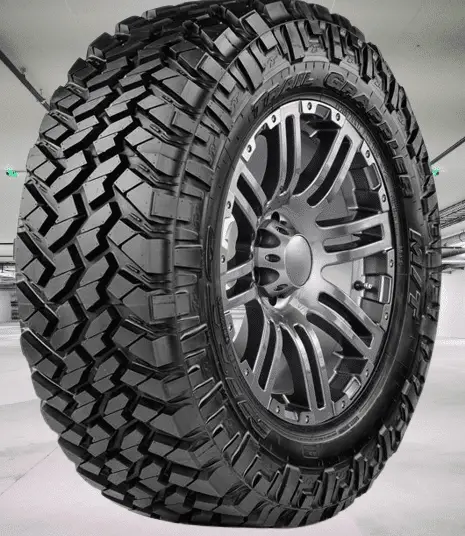 Your tires are the only contact point between your vehicle and the road to avoid losing control of your car. Therefore, you should pick a reliable replacement set.
The Nitto Trail Grappler M/T is designed to get you where you need to go without endangering your well-being. In particular, Nitto light truck tires have a reputation amongst off-road enthusiasts as being the most stylish on the market.
As of now, nobody has been let down by these tires, and that's saying a lot. After using Nittos Grappler on the Rubicon for several years with no issues, one customer is entirely pleased.
Pros
Specifically designed for off-road and sports performances
Smooth and quiet performance on high roads
Auto-cleaning dirt and clay out of the tire
Provides continuous traction in most harsh situations
Cons
Pretty hefty tires may reduce fuel mileage
Conclusion
Whether you use a Jeep Gladiator for off-roading or to get to work, the tires should fit perfectly, as a set of tires can make a big difference. The size and type of tire must be chosen based on how it will be used, the model, and any customizations.
Now that you're aware that 35-inch tires would be an excellent replacement for your Jeep Gladiator, I hope you'll be able to select the best available set.
I've also added the best 35-inch tires in various terrain types (all-terrain, mud-terrain, and all-season) to easier your buying decision.
So try to carefully consider your options and pick the best one that meets your requirements. Have safe travels and exciting rides!
BFGoodrich All-Terrain T/A KO2 Radial Tire
With CoreGard Technology, you can tackle the toughest terrain with confidence. Also, its advanced deflection design deflects protruding objects from snagging and splitting the sidewall.