Most Jeep enthusiasts want to customize their jeeps by modifying the parts, Jeep paint, and different gadgets. Removing the jeep doors is also an option. It's terrific for off-roading, especially in the summer. But is it legal to drive a jeep without doors?
You can legally drive your jeep without the doors. No specific state or federal laws mention the doors in any state. However, you must be concerned about attaching the side mirrors (one or two based on your state). There are strict laws about having side mirrors, even if you don't have any doors!
Customization helps to get exciting off-roading. So you can make such modifications. However, don't forget about the safety concerns during the customization and avoid the hassles.
Can You Legally Drive Your Jeep Without Doors?
Driving your jeep without doors might give you thrilling feels on hot summer days. But can you drive your jeep without doors legally?
Well, there are no specific federal laws mentioning this regard. So, you can drive your doorless jeep without breaking the law. It applies to all the states in the USA.
However, there are some instructions, or you can say minimum requirements, to fulfill when you are driving a door-less jeep. The instructions concern the side mirrors on your jeep. So, if you don't have the side mirrors alongside the doors, you might have to face law enforcement.
However, you would find some Jeep wranglers on which the side mirrors are attached to the doors. When you remove the doors, you must reattach the mirrors quickly. Only then would it be possible to enjoy a Jeep Wrangler without doors.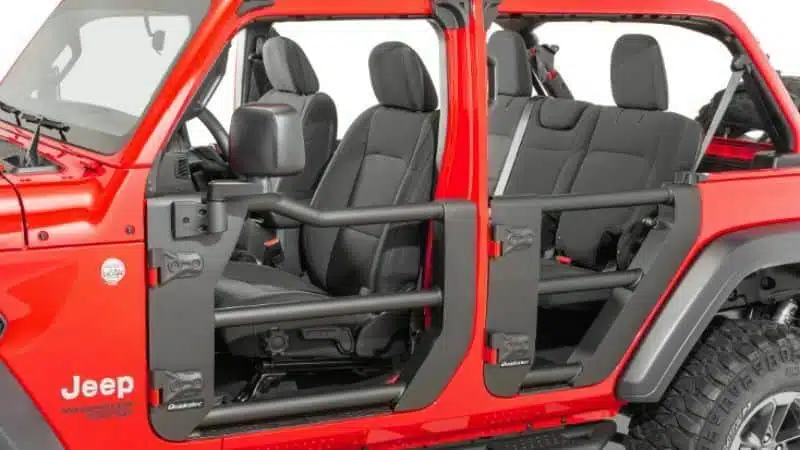 Requirements To Drive Jeep Without Doors
Is it legal to drive a jeep without doors in California, Texas, Ohio, or Florida? Though it's not illegal to drive a jeep without doors, you need to maintain some regulations, and it's all about the side mirrors.
The rules of side mirrors vary from state to state. Here are the details to look out for:
One Mirror
Having the flexibility of driving a no-door Jeep depends on your location. Very few states prohibited the no-door jeep wranglers. But most of them have made some modifications to the rule.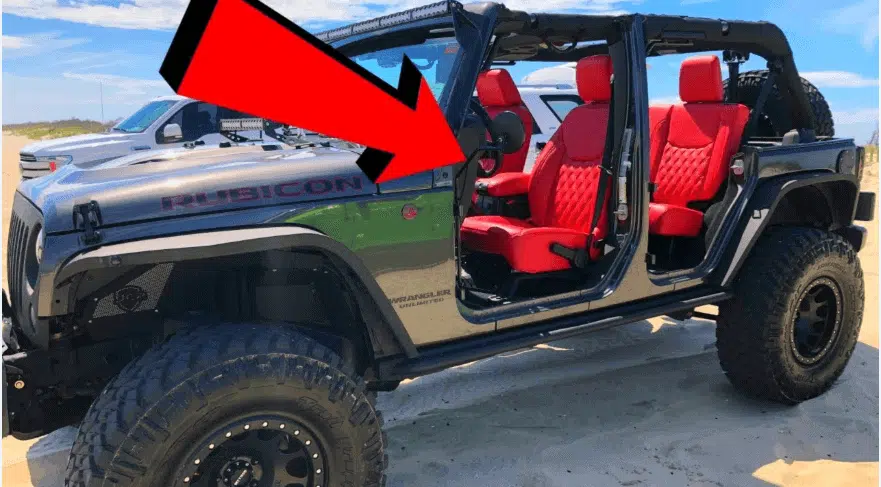 You must use at least one side mirror to avoid unwanted incidents. The side mirrors will guide you while reversing the lane or switching them. Here's our suggestion for a jeep-side mirror.
Take a look at the states that allow driving Jeep Wrangler door-less with one side mirror:
Alabama
Hawaii
Maine, Texas
Florida
Connecticut
Indiana
Delaware
Mississippi
New Mexico
Massachusetts
North Dakota
South Carolina
Montana
Minnesota
Oregon
Wisconsin
Utah
Tennessee
Two Mirror
How many mirrors are required on a vehicle? Well, one mirror is enough to ensure safe driving, according to some states. So, the state binds the law with having at least two side mirrors so that the drivers can observe both sides of the road.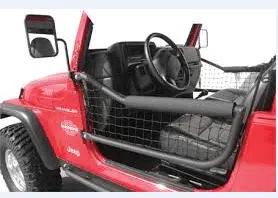 Even if the Jeep is without a roof, it can avoid maximum accidents by looking at those side mirrors. You can attach the mirrors on the corner, right or left side of your jeep. You can find a suitable two-mirror setup for your jeep wrangler online.
Here's the list of states that allow two Jeep mirrors without doors while driving:
California
Oklahoma
Arizona
Colorado
Washington
Rhode Island
New Hampshire
Safety Facts Regarding Driving Jeep Without Door
Even if you have permission to drive Jeeps without doors with mirrors, you shouldn't forget the safety facts. There's always a risk of driving with Jeep-side mirrors when doors are off.
Here are points to be concerned about: 
Weather
Off-road adventures on summer days can be pretty exciting. But driving a Jeep without a roof and doors is not the best idea if you live in an area with frequent rain.
Though the doorless Jeep wrangler is not waterproof, it can damage the electronic parts. On top of that, driving on rough roads on rainy days is pretty dangerous.
If your doors are detachable, you should bring them along or reattach the doors before going out in bad weather.
Accident Protection
You pull out the accident protections when you remove the doors from your jeep wrangler. Doors help stay in the car when there are impacts or collisions on your journey.
The Jeep doors are your first line of defense as they are made of steel or aluminum. Doorless Jeep mirrors might help to see the roads, but they don't provide any crucial protection to the passengers inside.
Can Be A Hassle
Even though you are driving legally without the doors, the local police can stop you in the middle of the road and ask you questions about your doors. The occasion would be more frequent if you are not driving a CJ or Wrangler model.
Frequently Asked Questions (FAQs)
Can I Get A Jeep Without Doors?
Yes, you can order a jeep without doors in advance. That's because most Jeeps come with doors. However, some Jeep Wranglers in the market don't have any doors. You can get one of the doorless Jeep Wranglers for off-roading purposes.
What's It Like Driving In A Jeep Without Doors?
It's pretty exciting and thrilling to drive a jeep without doors. The doorless Jeep also increases the fuel economy. That's why off-road enthusiasts buy or modify their Jeeps. The summer trips get more exciting with a Jeep without a top and doors. But be careful about your safety.
Does Driving A Jeep Without Doors Void The Warranty?
If you do the modification of removing the doors by yourself, it will void the warranty. So, your best chance is to modify with the help of the manufacturers by getting Jeep mirrors without doors or a door-less jeep.
Bottom Line
Off-road driving can give you Goosebumps, but you shouldn't forget about the law and safety. Jeeps are pretty convincing rides while going on adventures or long drives. It will aid the thrill if you customize your jeep a bit.
Hopefully, the discussion on whether it is legal to drive a jeep without doors has covered all the answers you need. Therefore, apart from the legality, you must have side mirrors on your Jeep and constantly prepare for the worst situation. And never drive without the doors in moody weather.